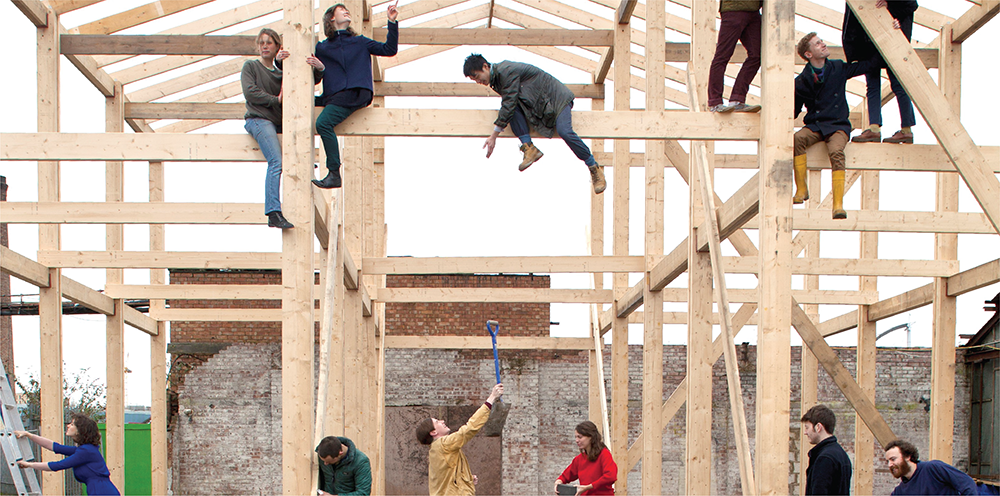 Textile Village Landscapist –
Assemble
Founded in 2010, Assemble is a multi-disciplinary collective based in London who work across the fields of art, architecture and design. Their work addresses complex urban situations, and spans housing, workspace, cultural infrastructure and public space. They create social, economic and organisational models as well as buildings, and engage in design projects from the scale of furniture to the scale of the street.
Their attention to detail and imaginative approach to re-use is typified in their work in the Granby area of Liverpool. The project brought ten long derelict terraced houses back into use; it also includes the ongoing Granby Workshop, a social enterprise to manufacture handmade architectural ceramics and Granby Winter Garden, derelict shells of two terraced houses turned into a community and art space. Recently completed projects include the new public art gallery at Goldsmiths Centre for Contemporary Arts, and Blackhorse Workshop, a public workshop in Waltham Forest.
Assemble X CHAT
The collaborative effort of CHAT and Assemble aspires to give new life to The Mills, a place where countless threads were produced in the past. In December 2017 and February 2018, Assemble's research trips included visits to various places in Hong Kong and Tsuen Wan with CHAT to meet local practitioners working in textiles.
These visits formed the basis for Assemble's design of The D.H. Chen Foundation Gallery, and some elements will be tested in "CHAT GO! Let's Build a Textile Village". The design aims to celebrate the textile industry's role in Hong Kong's past, present and future in an active and participatory way, providing an entry point into a dialogue with the textile industrial history in Hong Kong, showing how the legacy of the industry continues to shape the lives that we lead.
The collective also led a block printing workshop to demonstrate the use of raw materials in creative manufacturing.
---
Block Printing Workshop
Sharing their distinctive methodology and idea of public space, Assemble invites you to make unique wooden block-print fabric with natural dye for upholstering wooden benches.
Date & Time:
18 Jul 2018 (Wednesday) | 2:00pm – 5:00pm
19 Jul 2018 (Thursday) | 6:30pm – 9:30pm
Online registration required. Free Admission.