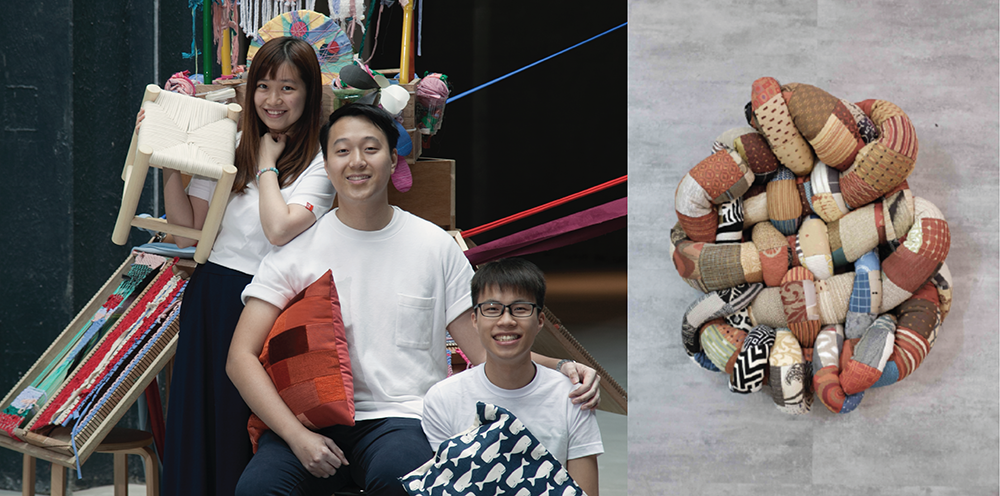 Textile Lodge No. 3 –
Made in Sample X Kraptr
Made in Sample
Made in Sample stands for recycling and remanufacturing discarded sample products with design and production in Hong Kong. A social enterprise, the brand produces environmentally-friendly patchwork and promotes sustainable space. While they bring the discarded samples back into use, the brand is also committed to preserving traditional craftsmanship by working with local craftsmen. They are dedicated to the notion of "Made in Hong Kong".
Kraptr
The founder of Kraptr, Dou (Cheung Shing) graduated from HKICC Lee Shau Kee School of Creativity. Dou loves nature and handicrafts, especially carpentry, dyeing and fabric art. From 2010 to 2013, he became an apprentice of Atayal aboriginal art, an ethnic community living along Taiwan's Da'an River, where he learnt their traditional dyeing and weaving techniques. He now teaches at HKICC Lee Shau Kee School of Creativity.
Lodge
Made in Sample upcycles abandoned furniture prototypes and gives them new lives; Kraptr is a handicraft workshop applying traditional indigenous weaving methods. Textile Lodge No. 3 will showcase an astounding transformation of upcycled fabrics and wood to a fascinating lodge filled with fluffy fabric tubes. You are welcome to rest on the couch, pick a fabric tube or two and start an "enormous" weaving experience.
---
Weekend Workshop
Weave A Stool Workshop
In this workshop, you will learn to fix the structure of a wooden stool and produce a natural and reliable furniture for your home. Using upcycled fabrics, you will weave a cushion for the stool and give it your own colour. The stool will be a colourful and delightful addition to your residence.
Date: 11 August 2018 (Saturday)
Time: 2:00pm-5:00pm
Fee: HK$700
Capacity: 15 per class
(It will be conducted in Cantonese)