Ticketing & RSVP
Prior to and upon your visit, kindly observe the Special Arrangements below.
All our events under Current & Upcoming Programmes are free of charge, except for specific workshops and VR experience Re-spinning the Yarn.
Regular walk-in CHAT Docent Tours are held free of charge during our opening hours. Availability of the tours are subject to the latest government regulations. Please check with our staff at reception for the latest arrangement of on-site programmes on the day of the visit. Thank you for your understanding. 
Special Arrangements
With the well-being of our visitors as top priority, CHAT will be implementing the following precautionary measures regarding sanitation, operation and programmes in response to the current COVID-19 situation in Hong Kong. Please observe these regulations with care during your visit to CHAT.
From 31 May,  in addition to adherence to Cap. 599F regulations for Scheduled Premises (place of public entertainment), all visitors (apart from exempted groups) must first scan the LeaveHomeSafe (LHS) venue QR code and comply with the Stage Three vaccination requirements of the Vaccine Pass, or provide certified COVID-19 Vaccination Medical Exemption Certificates, in order to enter CHAT's exhibitions.
To ensure the safety and well-being of CHAT's visitors, CHAT will sanitise venue facilities regularly and implement crowd control. Admission is offered on a first-come, first-served basis. CHAT reserves the final right to temporarily close the venue if there are any public health concerns.  Thank you for your kind understanding.
CHAT will strive to remain a space for inspirational journeys and dialogue even in these difficult times. Please stay up-to-date with our news via our website and social media platforms.
Hours
11:00am-7:00pm
Closed on Tuesdays
How to get there
Enter Your Location: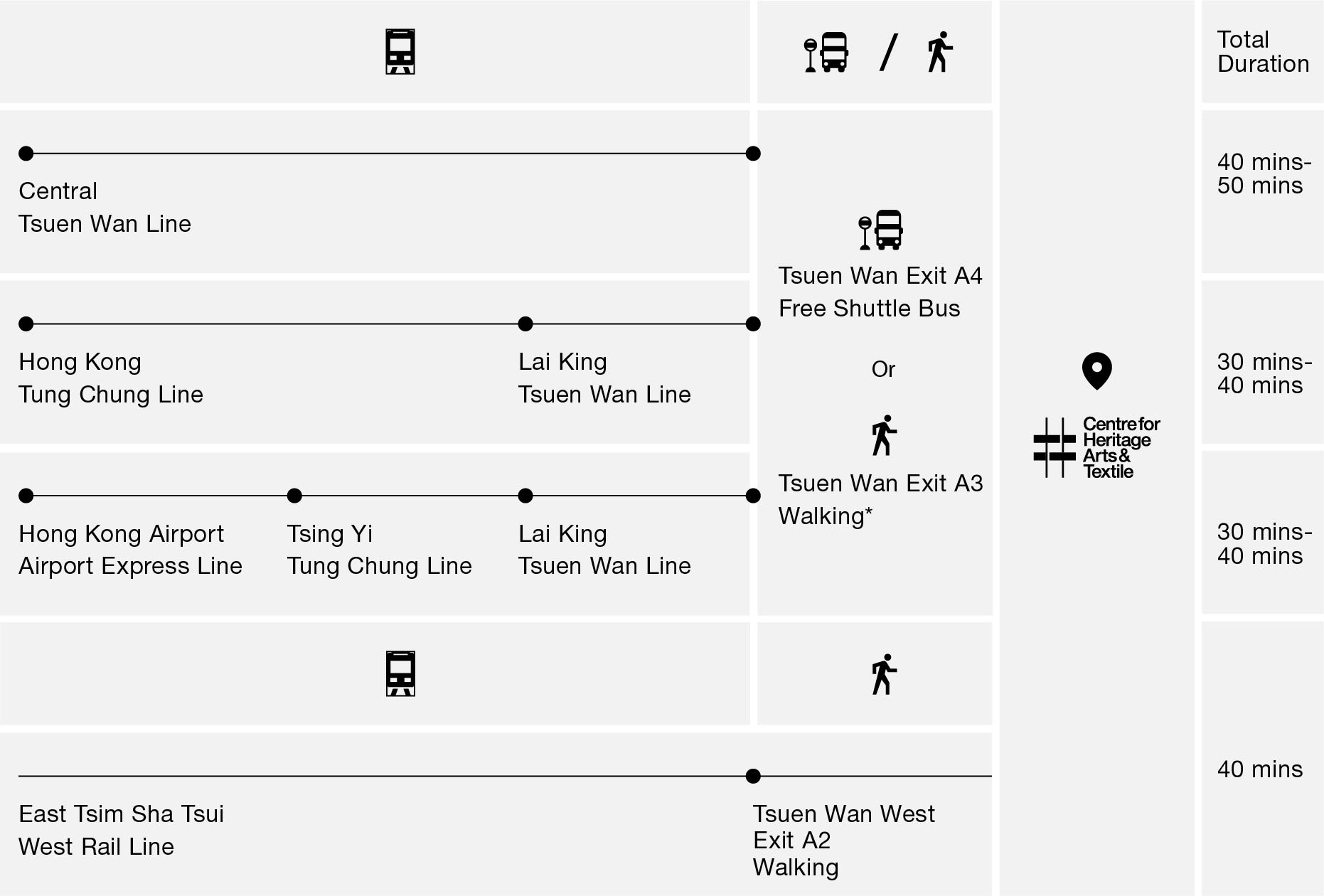 For the latest information of the free shuttle bus service, please refer to The Mills' website:
http://www.themills.com.hk/en/about-the-mills/location/
*Walking video: From Tsuen Wan Station to The Mills
By MTR
From Tsuen Wan Station Exit A3, turn right and follow signs towards D Park, then follow signs towards Fuk Loi Estate, cross Tai Chung Road via footbridge to arrive at Pak Tin Par Street. Walk 100 metres to arrive at The Mills.
From Tsuen Wan West Station Exit A2, walk along Hoi Kwai Road and cross the road towards the direction to Tsuen Wan Plaza, turn left onto Hoi Shing Road and continue to the footbridge straight ahead. Cross Tai Chung Road via the footbridge and turn right to depart the footbridge. Continue walking on Tai Chung Road for 5 minutes until you arrive Pak Tin Par Street. Turn left and walk 100 metres to arrive at The Mills.
By KMB Bus
| | |
| --- | --- |
| From Hong Kong International Airport | A31, E32A |
| From Wan Chai | 934 |
| From Lam Tin/Kwun Tong | 40, 234D |
| From Shatin | 48X, 48P |
| From Kwai Fong | 58M, 34, 235, E32A |
| From Tsing Yi | 68A |
| From Tuen Mun | 234A, 234B |
| From Cheung Sha Wan | 30 |
| From Hung Hom | 30X, 41R, 230X |
| From Tsim Sha Tsui | 234P, 234X |
| From Tsuen Wan | 39M |
Bus Stops: Castle Peak Road near Tsuen King Circuit
From: Tsuen Wan, Tuen Mun, Sha Tin, Hong Kong, Tsim Sha Tsui, Wan Chai, Kwun Tong, Lam Tin
To: Tsuen Wan, Tuen Mun, Hong Kong International Airport
Bus Stop: Mei Wan Street
From: Tsuen Wan
To: Tsuen Wan, Wan Chai, Hung Hom
Bus Stop: Fuk Loi Estate Tai Chung Road
From: Tsuen Wan
To: Cheung Sha Wan, Sha Tin, Hung Hom, Hong Kong International Airport, Tsim Sha Tsui, Wan Chai, Kwun Tong, Lam Tin
By Minibus
From Exit A of Tsuen Wan Station, please take Minibus 95A and alight at Hi-tech Industrial Centre, Castle Peak Road.
Parking
Visitors may use the car park at The Mills at a rate of $25/hour (for private cars only). Shoppers who spend a designated amount at The Mills can receive exclusive complimentary parking services. Redemption can be made at the Customer Service Counter at 1/F Mill 5 or G/F Mill 6, between 10am to 10pm daily. Parking spaces are subject to availability.
Guided Experiences at CHAT
Are you hoping to better understand the meaning of the artworks and exhibits on view?
At CHAT, we provide 4 types of guided experiences, including 'Walk-in Guided Tour', 'Group Guided Tour', 'Learning Tour on Sustainability' and 'Self-Guided Tour'. Find the one that suits you best.
Click here to learn more.
Accessibility
Enter the main entrance of The Mills at G/F through Pak Tin Par Street and turn right, the Centre for Heritage, Arts and Textile (CHAT) at 2/F can be directly reached by lift. Please ask our staff at the venue for assistance.