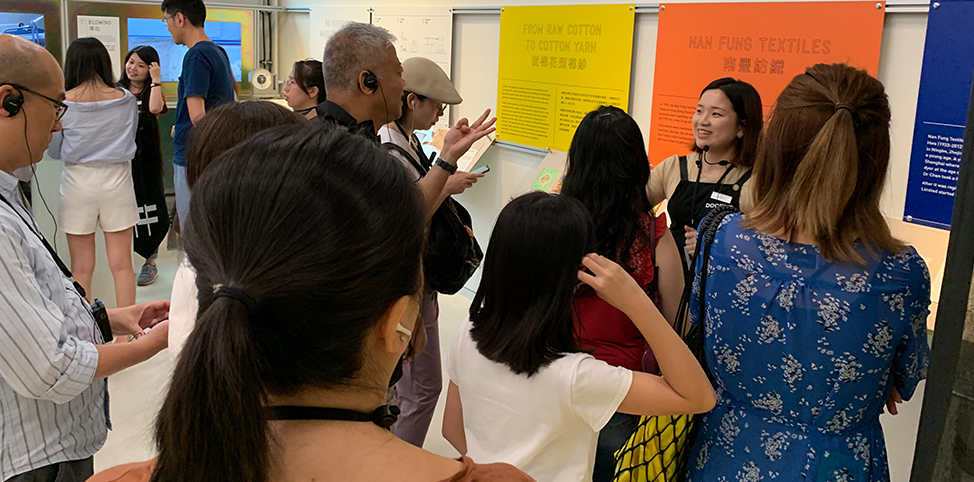 CHAT Highlights Tour
This tour covers highlights of both current exhibitions – Welcome to the Spinning Factory! and Gathering Delights – and other public art installations at CHAT.
Weekday Tour Schedule (Thursdays and Fridays):
4:30pm, 5:30pm (Cantonese)
3:30pm (English)
Weekend Tour Schedule (except 4 Aug, 1 Sep, 6 Oct and 3 Nov) *:
3:30pm, 4:00pm, 5:30pm (Cantonese)
3:00pm (English)
Duration of each tour: 45 minutes
*4 Aug, 1 Sep, 6 Oct and 3 Nov Tour Schedule
On these 4 Sundays, the CHAT Highlights Tour will be extended to include the CHERRY Draw Frame Demonstration. The CHERRY Draw Frame machine was donated by Tai Hing Cotton Mills Ltd., the last cotton-spinning mill in Hong Kong. The 1962 Japan-made draw frame constitutes an essential process in spinning production and serves as a witness to Hong Kong's textile history.
2:30pm, 4:30pm, 5:30pm (Cantonese)
3:30pm (English)
Duration of each tour: 60 minutes
Founding Donor 

& Programme Sponsor
Main Donor
Sponsor
Supported by