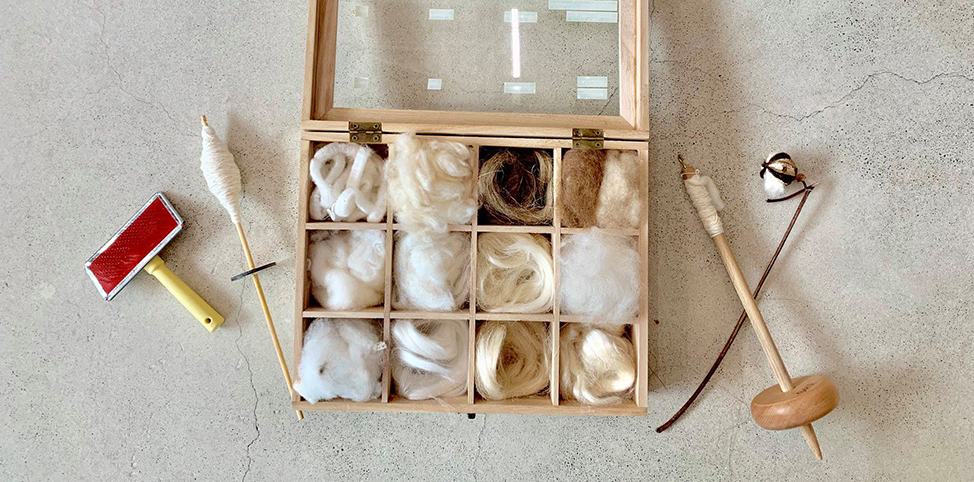 Design Your Yarn Label and Hand Spinning Workshop
$50 for a specially designed exercise book, Design Your Own Yarn Label and Hand Spinning Workshop. Welcome to the Spinning Factory! exhibition tour is also included.
Design Your Yarn Label
In the past, Hong Kong cotton spinners had different labels to brand their yarn products, such as Golden Cup and Golden Race of Nan Fung Textiles; Maple and Twin Beauties of Tai Hing Cotton Mill Ltd.; Red Rose of Hong Kong Spinners Ltd.; Bee and Golden Mountain of Nanyang Cotton Mill. The various labels identified different characteristics of the yarn products, such as thread strength, colour, or which fabrics they would be suitable for producing. Explore the labels displayed on the shelf and workshop station, and you can choose a sample and follow the instruction to design your own yarn label.
Hand Spinning Workshop
In Welcome to the Spinning Factory!, we learn about the different stages of spinning on an industrialised production scale through machine demonstrations and videos. At the workshop station, you can take part in a hand spinning workshop to understand the basic principles behind spinning and learn about different fibres and materials.
This workshop is suitable for participants aged 8 or above.
Capacity: 10
Language: Cantonese/English Subjected to participants
Founding Donor 

& Programme Sponsor
Main Donor
Supported by