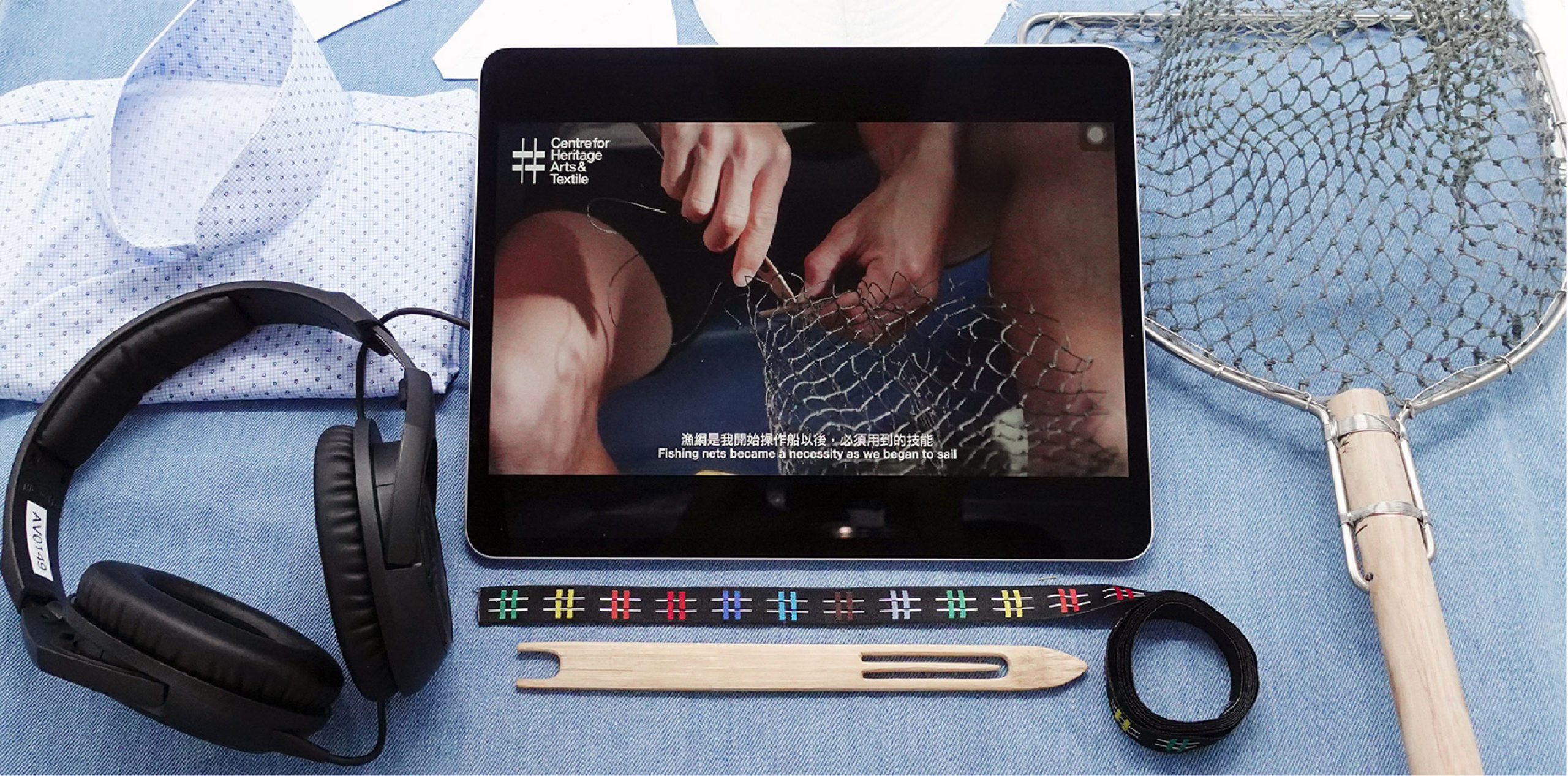 Makers of Hong Kong: In Conversation
'Made in Hong Kong' is a distinguishing emblem of quality and history that has carried different meanings over the generations past.
In the 'Makers of Hong Kong: In Conversation' video series, 'makers' of textiles from knotted fishnets to tailored saam fu are invited to share their making process, practice and their thoughts on the continued importance of 'Made in Hong Kong'. Topics of discussion will reflect on the displayed objects of Patternways: Visualising Hong Kong in Transition  and past displaysat The D. H. Chen Foundation Gallery.
Makers of Hong Kong: Knitting Shared Memories
In this interview with veteran knitwear producer Miranda Wong (Founder, Ms-Square) and emerging designer Phyllis Chan (Co-Founder, YanYan Knits), the pair engage in a cross-generational dialogue on the development of the local knitwear industry since the 1980s with particular focus on market environment, emergence of original designs and unique operation models.
Makers of Hong Kong: From Brocades to Neckties
Chuk Sheung Yu (former silk weaver) and K. K. Tung (Founder, Tung's Computer Weaving Neckties Centre) share on their career development in the local silk industry. Their stories reveal how, since the 1930s, the industry has continuously adapted to market conditions to create unique textile designs and business models.
Makers of Hong Kong: Tales of Tablecloths
Guest host and senior textile industry advisor Albert Chan introduces various weaving techniques and speaks to Gigi Ng, the 4th generation successor of Ser Wong Fun restaurant. In their conversation, they share about the application of traditional weaving methods in everyday life, and how the practice of using tablecloths in Chinese restaurants shapes our dining experience.
Makers of Hong Kong: Finding a City's Palate
Animation artist Lee Yuk Ki Florence created the colourful thematic illustrations for the 'Textile for Food' display. In this episode, she shares her creative process by revisiting the locations where she captured the textures and details of her work, and introduces to the audience the urban landscapes and objects that inspired her.
Makers of Hong Kong: Thinking with Tying and Interlacing

Guest Presenter Lee Chi Wing speaks with the owners of Cheung So Kee Wire Netting and Chu Kee Greengrocers. Through the conversations and demonstrations, they share about the design logic behind interlacing with metal wires and tying with 'salt water grass', and experiment with new shapes and functions.
Makers of Hong Kong: Shaping with Cloth
Guest Presenter Professor Siu Yan Ho speaks to Liu Chui Tong (Owner of Shun Hing Lung Kwai Kee Bean Products) and Fu Wing Cheung (Owner of Kwan Kee Store) to explore the history and use of textiles as tools for cooking.

Makers of Hong Kong: Culinary Style
Lisa Fong (culinary show writer and presenter) shares on her collection of aprons, exploring through them her experience in the television industry and her influence on the image of the modern housewife.
Makers of Hong Kong: Changing School Uniforms

Paul Lam and Peter Lam (Director and Managing Director of Kam Lun Tailors Limited) share on the conceptualisation, production and marketing of school uniforms, revealing the business's unique position in between fashion and tailoring.
Makers of Hong Kong: Patching Denim Culture
Peter Wong and Ching Siu Wai (former Editor and Art Director of City Magazine) share their experience putting together the special denim issue of City Magazine in the 1990s. The two explore how denim has shaped the popular culture of Hong Kong, as well as the important role that their editorial practice played throughout the conception of the issue.
Makers of Hong Kong: Refashioning Chinese Garments
Siu Lan of the brand Tailor Made by Siu Lan share her experience of being a tailor since she was 23 years old, imbibing traditional Chinese patternmaking into modern, one-of-a-kind yet everyday garments.
Makers of Hong Kong: Knotting Fishing Nets
Sarah Yip and Rex Law of Eco Cheung Chau share their experiences conserving fishing traditions and other intangible heritages of Cheung Chau.
| | | | |
| --- | --- | --- | --- |
| Founding Donor | Main Donor |   |   |