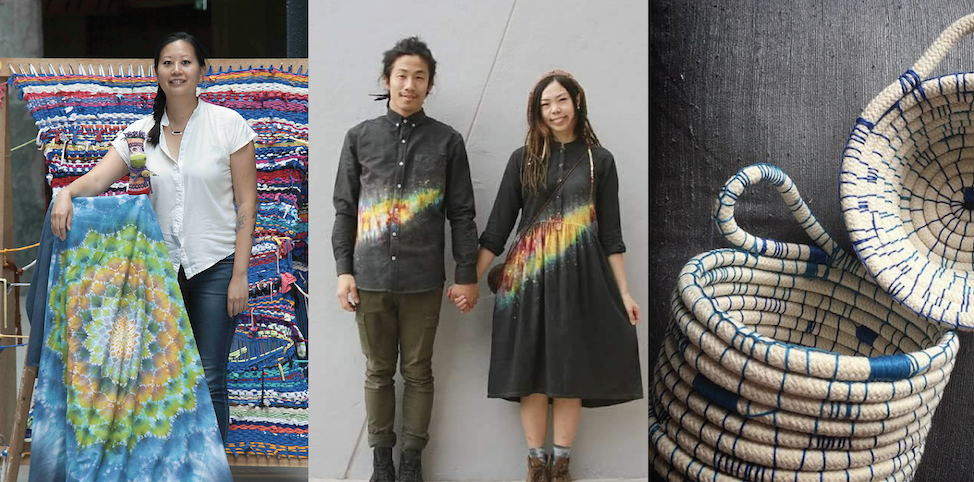 Textile Lodge No. 4 –
Giants Tie Dye X Lizzie Bee Foundation
Giants Tie Dye
Giants Tie Dye was founded in 2014 by tie dye artists Siu and Josh from Hong Kong and Taiwan. They travelled to Taiwan, Japan, Yunnan and other places to learn the art of dyeing, and are now specialised in tie dye. Their one-of-a-kind dyed fabrics, art installation and workshops took them to different places around the world. The brand has held multiple exhibitions and collaborated with various brands.
Lizzie Bee Foundation
Lizzie Bee Foundation runs arts projects to bring people together, enable social impact and enrich families and communities. Lizzie Bee believes that the power of creativity improves the well-being of the disadvantaged and enhances their lives. Art should be accessible to all regardless of socio-economic or educational background.
Lodge
After the indigo colour is extracted from a leaf, a group of elves would move in to the space. In this lodge named "The Blue Cave", you are invited to observe the different shades of blue varied by the mood, temperature and season of the elves community. As you walk through the interwoven cave of indigo and white, feel the change brought on by them. Journey deeper into the blue cave to enter the indigo lodge where you can dye white fabric strips cut from old clothes. Exchange these for dry strips dyed by others to weave a collective indigo cloth. This weaving develops with your participation to create a new carpet for the elves.
---
Weekend Workshop
Indigo Dyed Rope Bowl Workshop
Learn about the life and process of indigo dye from plant to product as well as hearing about different culture and functions of dyeing from around the world. Experience using indigo by dyeing rope which will then be turned into a functional object by constructing and sewing into a bowl to take home.
Date: 19 August 2018 (Sunday)
Time: 2:00pm-5:00pm
Fee: HK$550
Capacity: 20
(It will be conducted in Cantonese)