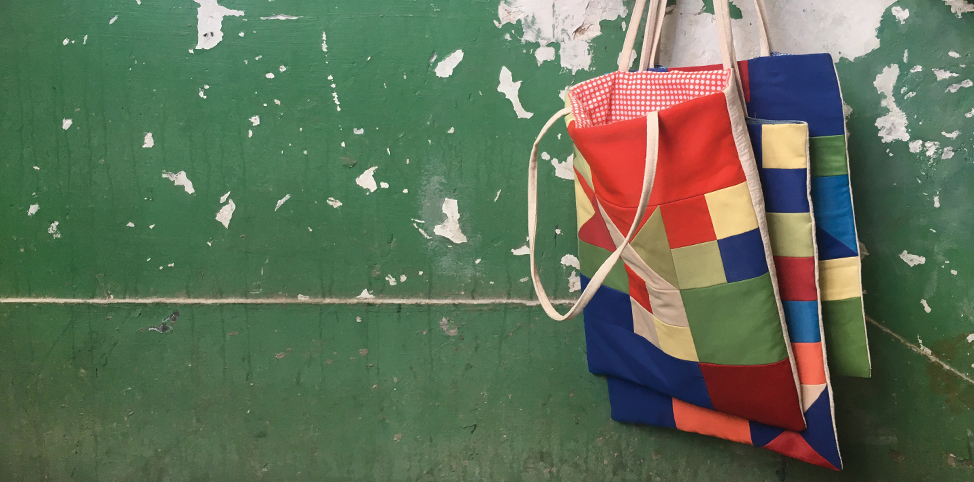 CHAT Sewing Workshop – Beginners Level Tangram Patchwork Tote Bag
Tickets $780 (Total 2 lessons; 4 hours/lesson)|RSVP
Come and learn how to make good use of leftover fabrics!
[Practice Sustainability]
In the fashion and garment industry, there are many leftover fabrics and some fabrics are even sent to landfills. Thinking about how to use these fabrics properly and effectively became the starting point in planning our CHAT Lab sewing workshop curriculum. After completing the two-hour sewing lesson last season, we have designed an 8-hour course: CHAT Sewing Workshop – Beginners Level Tangram Patchwork Tote Bag. We hope participants of varying levels would find the course easy to navigate and understand with our carefully designed syllabus.
[Paper Pattern and Sewing Techniques Practice + Artistic Creation]
This course is suitable for beginners. The tutor (a retired sewing worker) will teach participants the basic operations of the sewing machine and share the secrets and tips of bag making. We have also invited a retired paper pattern master to teach basic paper pattern theory and cutting techniques. Participants will learn the concept and proportions of the pattern-making of the accessories. Through mixing and matching different colours and shapes of fabrics (as in a Tangram) according to their own preference, participants will work on upcycling the leftover fabrics in CHAT Lab. In this 8-hour (two-day) course, students will learn how to make a tote bag starting from paper pattern, design, to accessory assembling. Based on your personal aesthetics, create a unique bag of your own.
[Learn from Experienced Retired Sewing Worker and Paper Pattern Master to Refine Your Skills ]
Auntie Hang and Master Cheung both have more than 40 years of experience in the garment industry and have been working with us and providing professional advice. Through developing upcycle sewing lessons, we hope to share more basic concepts of garment making and sewing skills with the community.
Date: This is a two-day sewing workshop. Participant must join both days to complete their tote bag.
Course 1: 10 & 17 August 2019 (Sat)
Course 2: 24 & 31 August 2019 (Sat)
Course 3: 7 & 14 September 2019 (Sat)
Course 4: 28 September & 5 October 2019 (Sat)
Course 5: 12 & 19 October 2019 (Sat)
Course 6: 26 October & 2 November 2019 (Sat)
Time: 2:00-6:00pm
Capacity: 4
Tutors:Cheung Chi Mau (Retired Paper Pattern Master); Kwok Hang Lin (Retired Sewing Worker)
Language: Cantonese
Venue: CHAT Lab
* Only suitable for participants aged 15 or above
Founding Donor 

& Programme Sponsor
Main Donor
Sponsor
Supported by