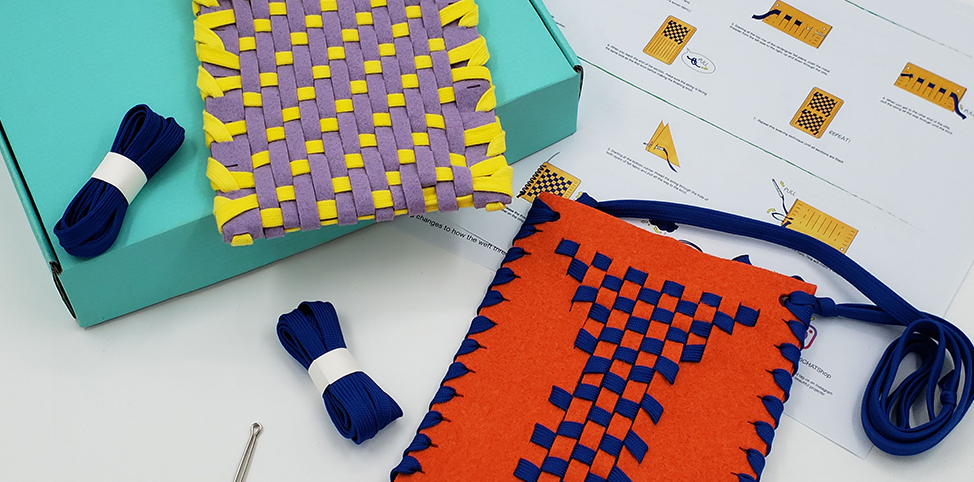 Weave-Your-Bag Workshop
Exploring the medium of weaving as seen in the woven tikar  (mat) in CHAT's Summer Programme 2021  Yee I-Lann: Until We Hug Again, our Textile Programmes team has developed a simple weaving kit, namely Weave-Your-Bag Kit, that introduces makers to the basics of weaving.
In this workshop, Textile Programmes team will use this kit to guide participants through basic weaving concepts, methods and examples. In a small group setting and under the guidance of our attentive tutor, participants can enjoy a fun-filled Saturday afternoon by following our step-by-step tutorial to make and bring home their very own CHAT-exclusive woven bag.
Experience: Suitable for participants aged 7 or above, younger participants will need supervision from a guardian; no prior experience required
Materials: All materials will be provided
Language: Cantonese with informal English interpretation
Additional Weave-Your-Bag Kits will also be available for purchase at CHAT Shop for our visitors to bring home the hands-on experience inspired by our exhibition.
Founding Donor
Main Donor
Partner