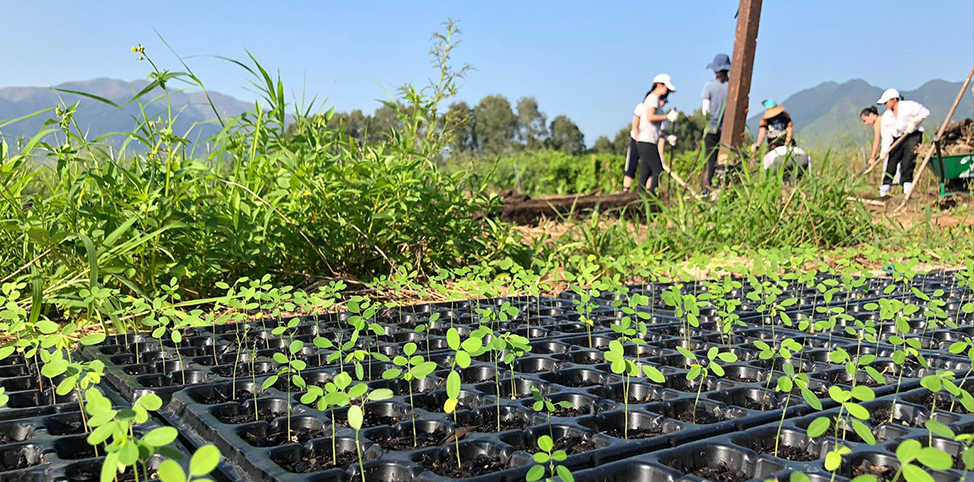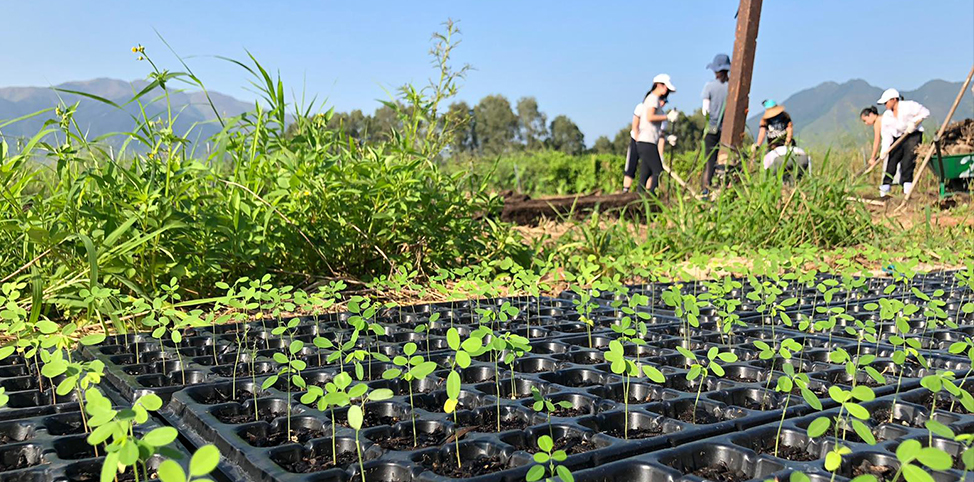 Seed to Textile
The textiles we wear are made of fabric. Most fabrics are woven or knitted fibres, some of which are derived from natural plants. This is why Seed to Textile, a year-long community project, traces textile manufacturing down to its origin.
The 'seed' was sown when Vivek and Juli Cariappa from Krac-A-Dawna Organic Farm, our collaborators from Mysore, India visited Hong Kong during Summer Programme 2019. Alongside CHAT programmes, Vivek and Juli introduced their operation ecosystem from growing, producing to selling their products to local farmers and dyers. Among their proudest products are indigo garments made of home-grown and -spun cotton and self-processed indigo.
The exchange continued last summer. We harvested leaves of indigofera tinctoria  taken from Kato Izumi's commission artwork, which became our first jar of indigo pigment. Since then, we have been partnering with The Mills and local farming education hub Sangwood – Kids Club to further cultivate the plant, recruiting like-minded learners (also known as 'Seeders') to experiment together, collaborating with artists and dyers to explore artistic interpretations of the relationship of human and nature.
This Summer, CHAT is delighted to wrap up the experiment and showcase the artistic explorations of two collaborators, Benjamin Hao and Beatrix Pang. Extracting blue pigment from a localised plant is not our only objective. Seed to Textile is an initiative to thread through and localise knowledge from different places and disciplines, and to foster an eco-friendly community.
Simultaneously with the Colours of the Earth  exhibition at The Mills in the same period, CHAT will turn the home-made indigo pigment into a vat and bring dyeing related workshops to our visitors.
Collaborating artists: Benjamin Hao, Beatrix Pang
Seeders: Elizabeth Briel, Barnard Chan, Glo Chan, Rachel Chan, Makie Chang, Ed Lau, Lorraine Lee, Vicky Leung, Candy Li
Acknowledgements: Britanny Boles, Juli Cariappa, Sangwood – Kids Club
Founding Donor
Main Donor
Indigo Planting Support