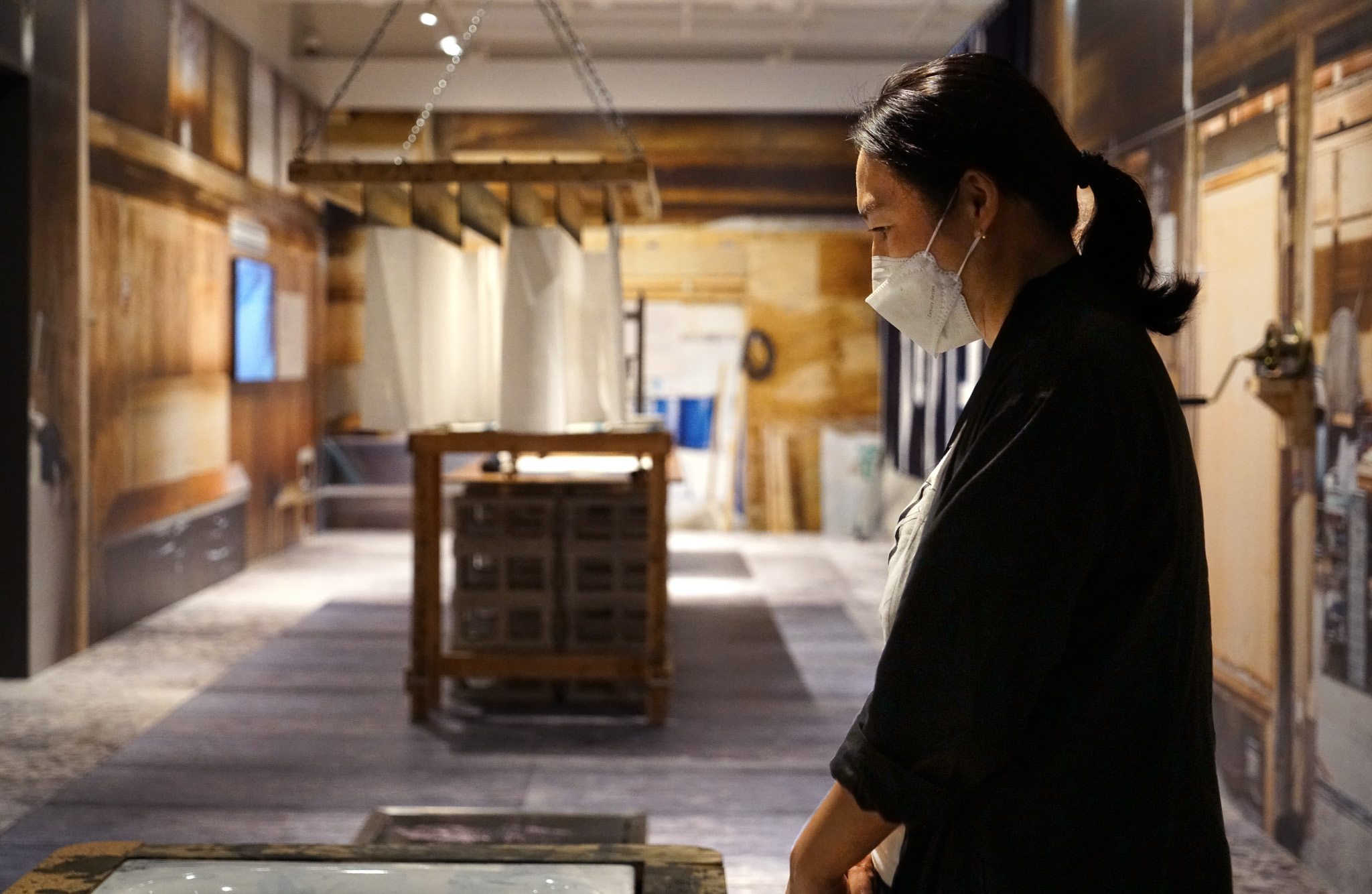 Thoughts on Blue: Takahashi Mizuki
20.12.2022
Takahashi Mizuki, the co-curator of the show, shares her curatorial perspective and personal musing on the value of work, and the significance and labour of blue.
Denim, an indigo-dyed fabric, is a hardy textile that was commonly used for workwear. A durable and practical textile, it withstands the wear and tear of those who worked outdoors or in intensive, gruelling conditions. The depth of the colour also helped hide stains, wrinkles and rips. Overtime, the term 'blue-collar' arose, referring to workers of manual labour.
On the occasion of its Winter Programme 2022, CHAT speaks to curators and craftspeople involved in Absolute Blue: BUAISOU Works with Japanese Natural Indigo  to explore the fascination with the colour, medium and craft of indigo and denim.
What does Blue mean to you?
To me, blue is one of the most beloved colours by artists. Visual artists have long been intrigued by blue. I still cannot forget the beauty of blue in Italian painter Giotto's Cappella degli Scrovegni when I visited Padova, Italy in the late 1990s. Picasso was known for his Blue Period paintings. French conceptual artist Yves Klein invented his own original shade – Klein Blue. I also remember when blue LED lights were invented, and Japanese contemporary artist Miyajima Tatsuo immediately started applying blue LED lights to his work.  
What is your best memory of the colour blue? 
When I visited BUAISOU's studio in Tokushima in April 2022, I was so moved by their passion to achieve genuine blue with natural ingredients. It requires so much time and labour, but the blue they created shows is a very solid blue colour – an absolute blue.
The BUAISOU team are laid back and friendly, but they are very self-disciplined and detail-minded in their attitude towards work. I can see their respect for the craft and the Japanese indigo dye tradition from their absolute blue colour.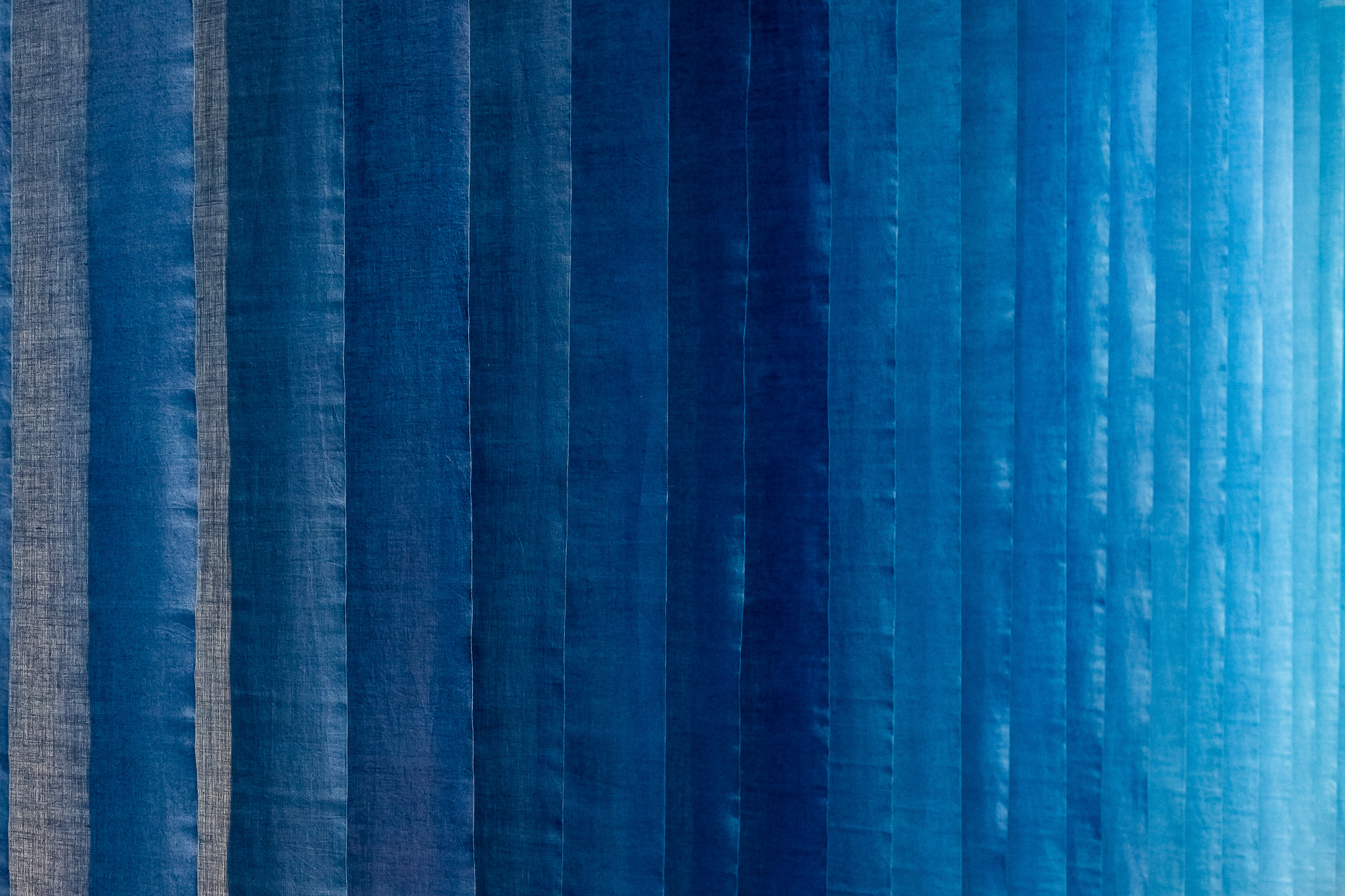 What was your first impression of BUAISOU's studio when you visited? 
I visited BUAISOU's studio in the springtime. Indigo vats normally emit a pungent ammonia smell, but the smell was not that noticeable inside the studio. The studio is like a secret laboratory where I could find many unique customised tools and equipment, scattered here and there. Natural indigo dye requires quite a lot of water, and spring water is drawn into the studio. I remember the sound of running water was very pleasant and meditative!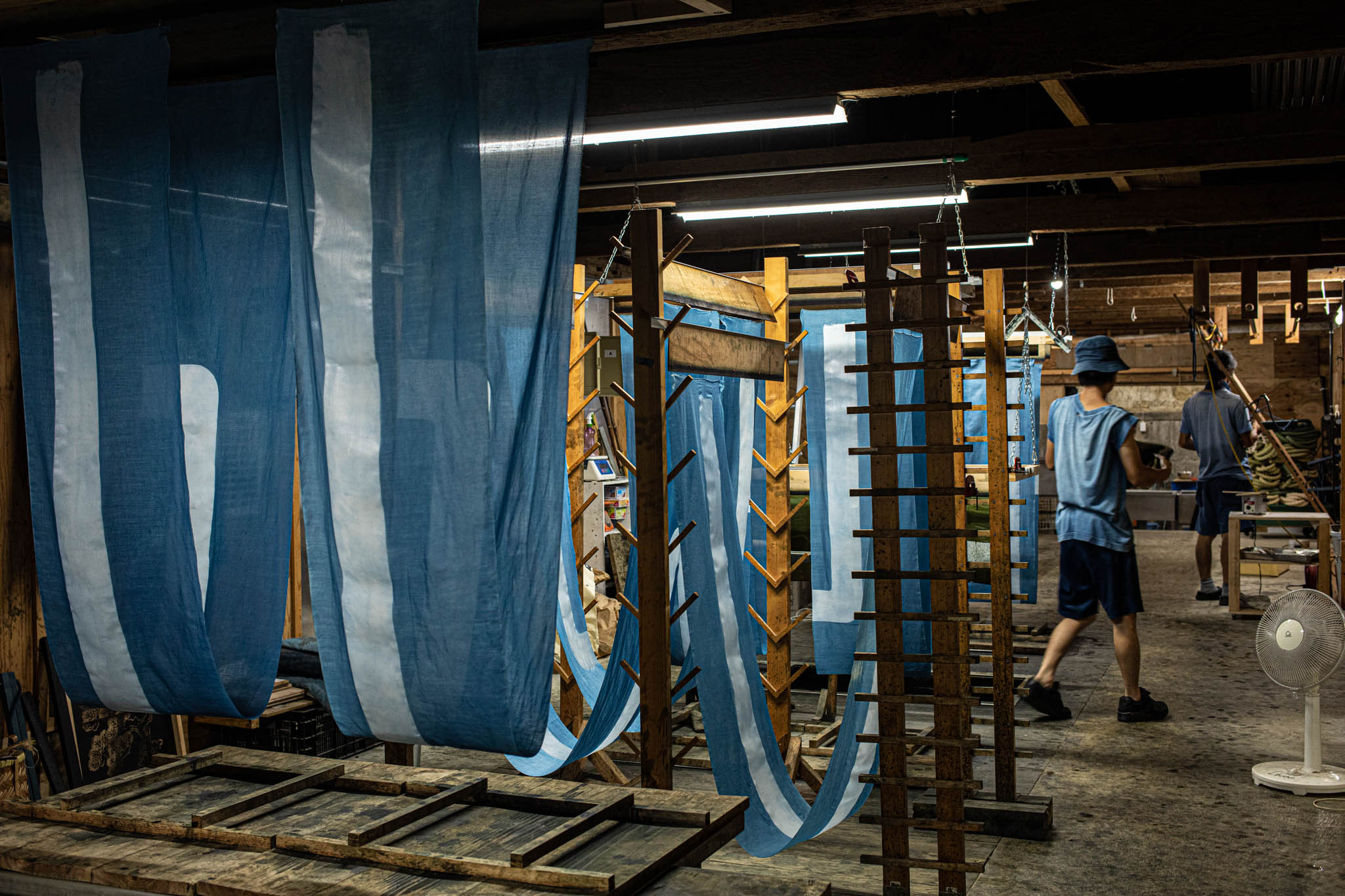 Image courtesy: BUAISOU; Photo: Nishimoto Kyoko
  
There are 4 large scale noren  in the exhibition. Why noren? 
The idea of noren  actually came from BUAISOU. Noren  is a curtain typically hung at the door or inside the home as fabric room divider. They are usually used to welcome people, so I think it is a good idea to use noren  to navigate visitors from room to room.
For BUAISOU, it was their first time making noren on such a large scale. The team was glad to see them installed at the gallery, as it was their first time seeing the noren  in full – they are simply too big to be installed in BUAISOU's studio.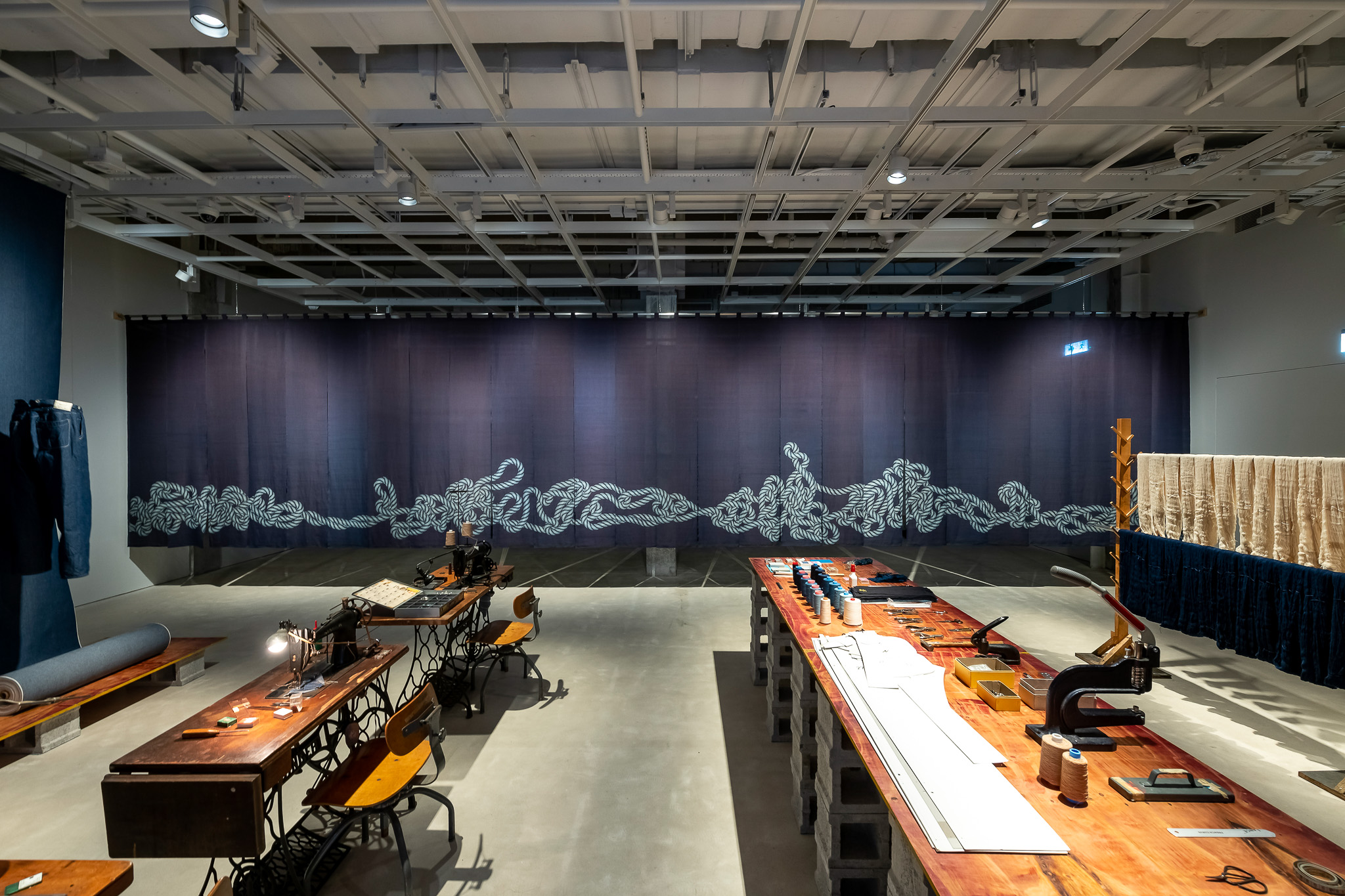 What was the most surprising thing you have learned while putting together this exhibition? 
How perfectly the noren  were made. The patterns match across the seams and even the tab top loops are hand-sewn. In Japan, we say 'gods stay in the details', which means if you pay utmost attention to the creation, you will end up with works of divine quality. I reckon this is true of the noren.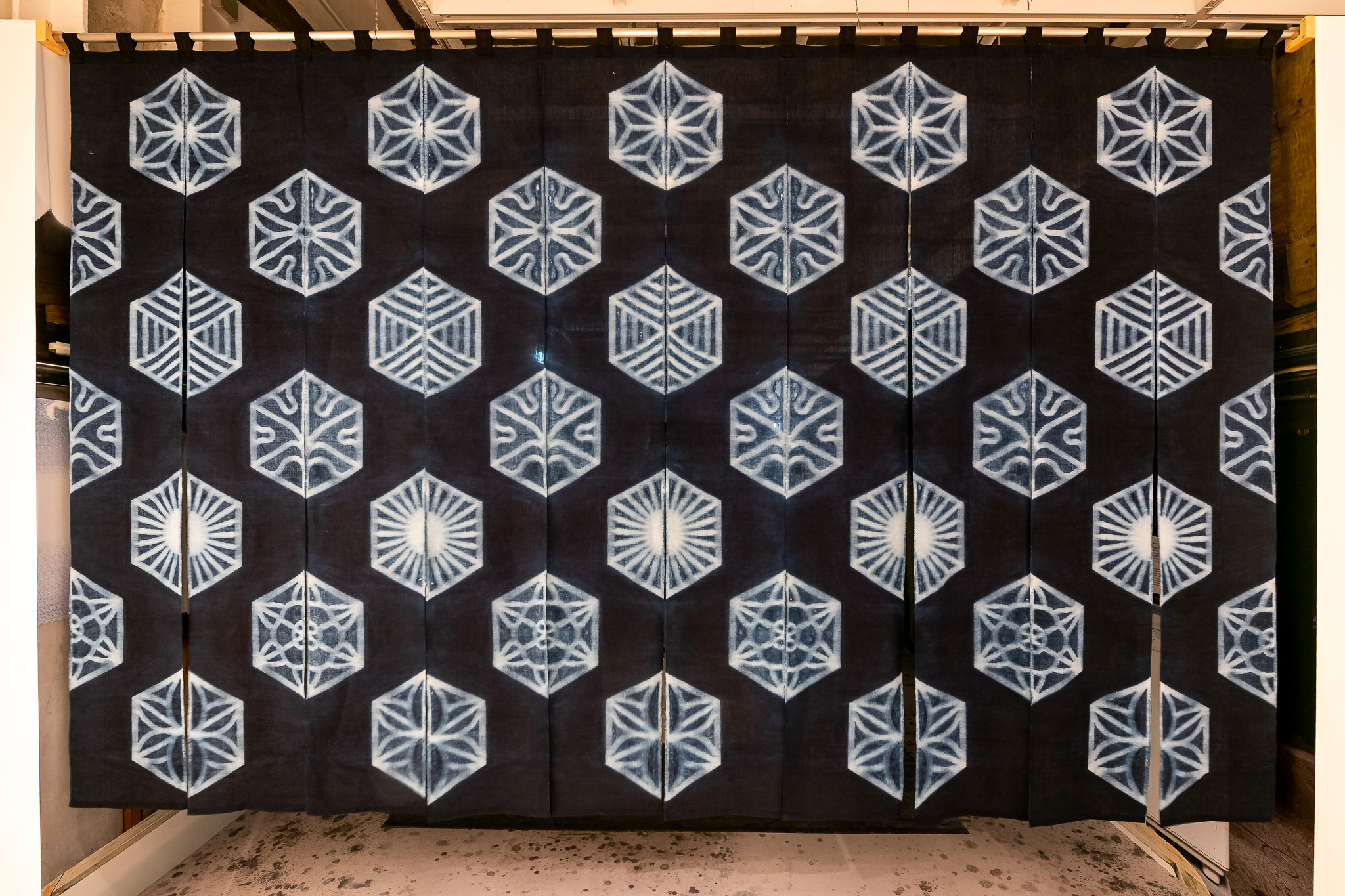 What is something blue that you own?

I have a pair of BUAISOU's jeans! It was a big purchase and one of the most expensive items of clothing in my wardrobe. But I know where the price is coming from – embodied within this pair of jeans is labour, time and BUAISOU's passion for their craft, which you can wear. The jeans are very comfortable to wear and I can move with absolute ease. I look forward to the jeans becoming my second skin!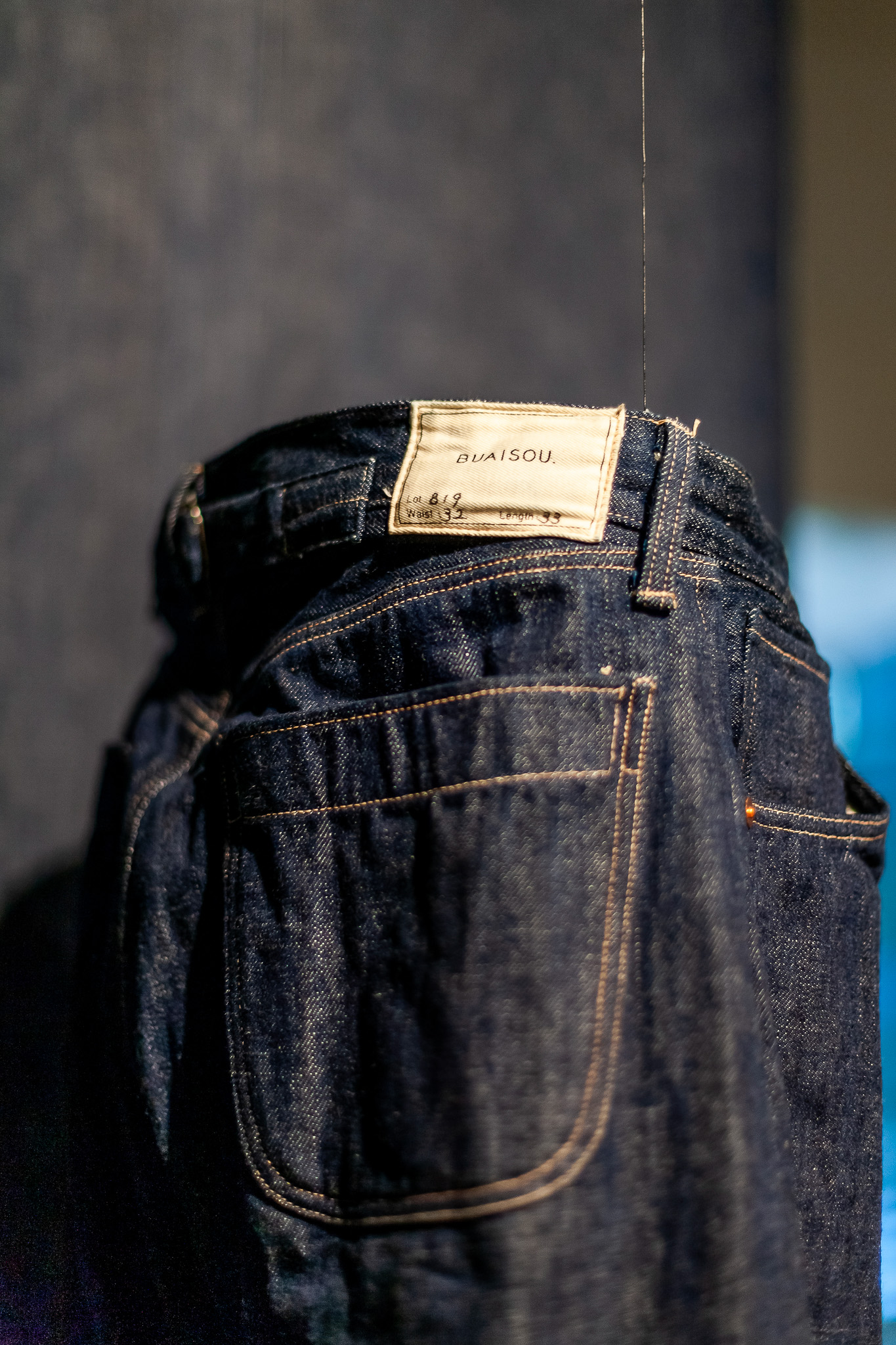 What is your takeaway question for visitors to the show? 
I want the visitors to look at their jeans and consider where they come from: Who made them? How they are made? Where is the price coming from?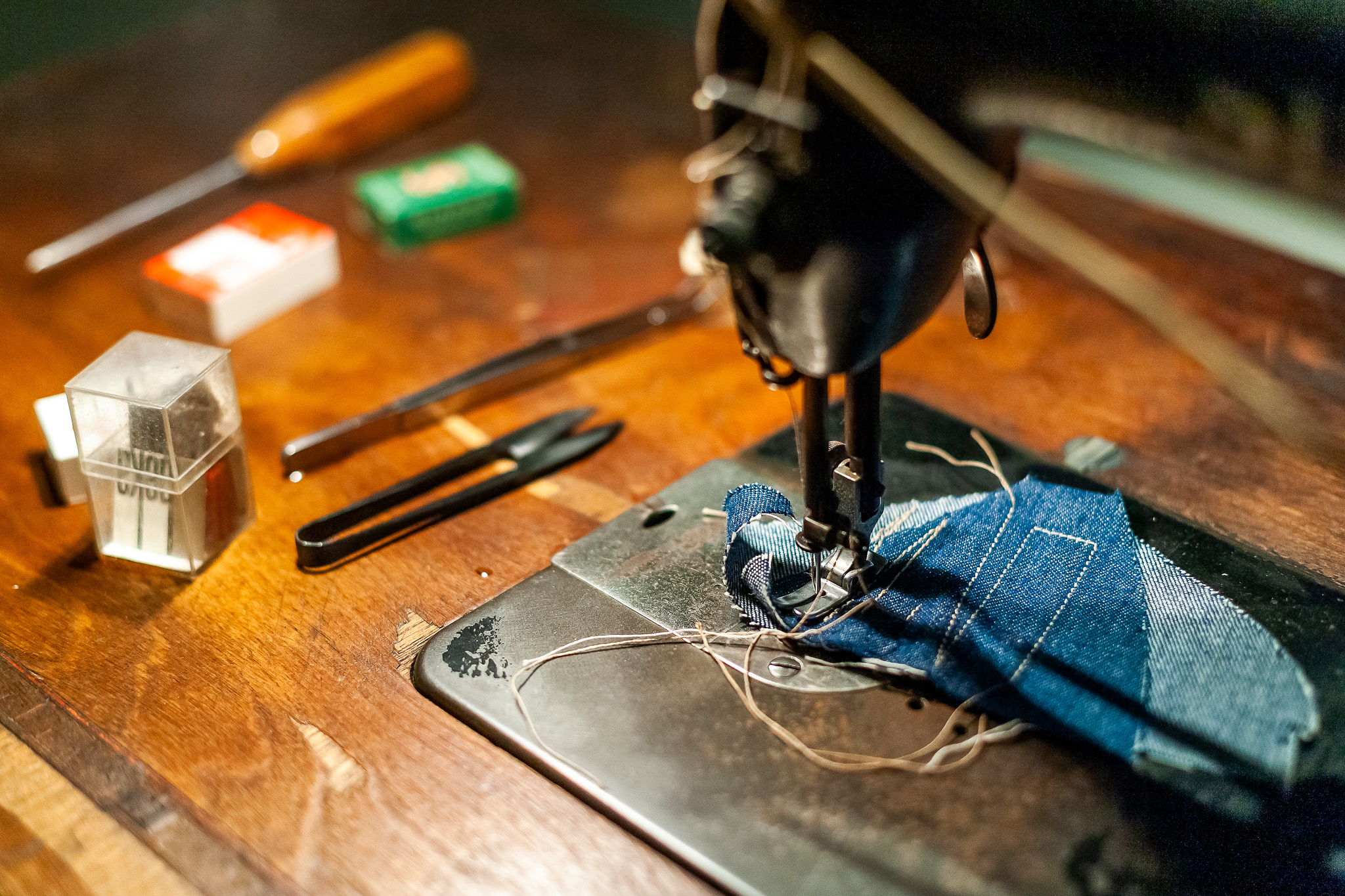 In the final exhibition space in Gallery 2, visitors can see how the workwear worn by BUAISOU members gradually becomes their second skin over time. As they know the amount of time and labour that went into making the T-shirts and the jeans, they really cherish them even if they are damaged and broken.  I like how they treat workwear as if they were companions.
Do we have such clothes in our wardrobes?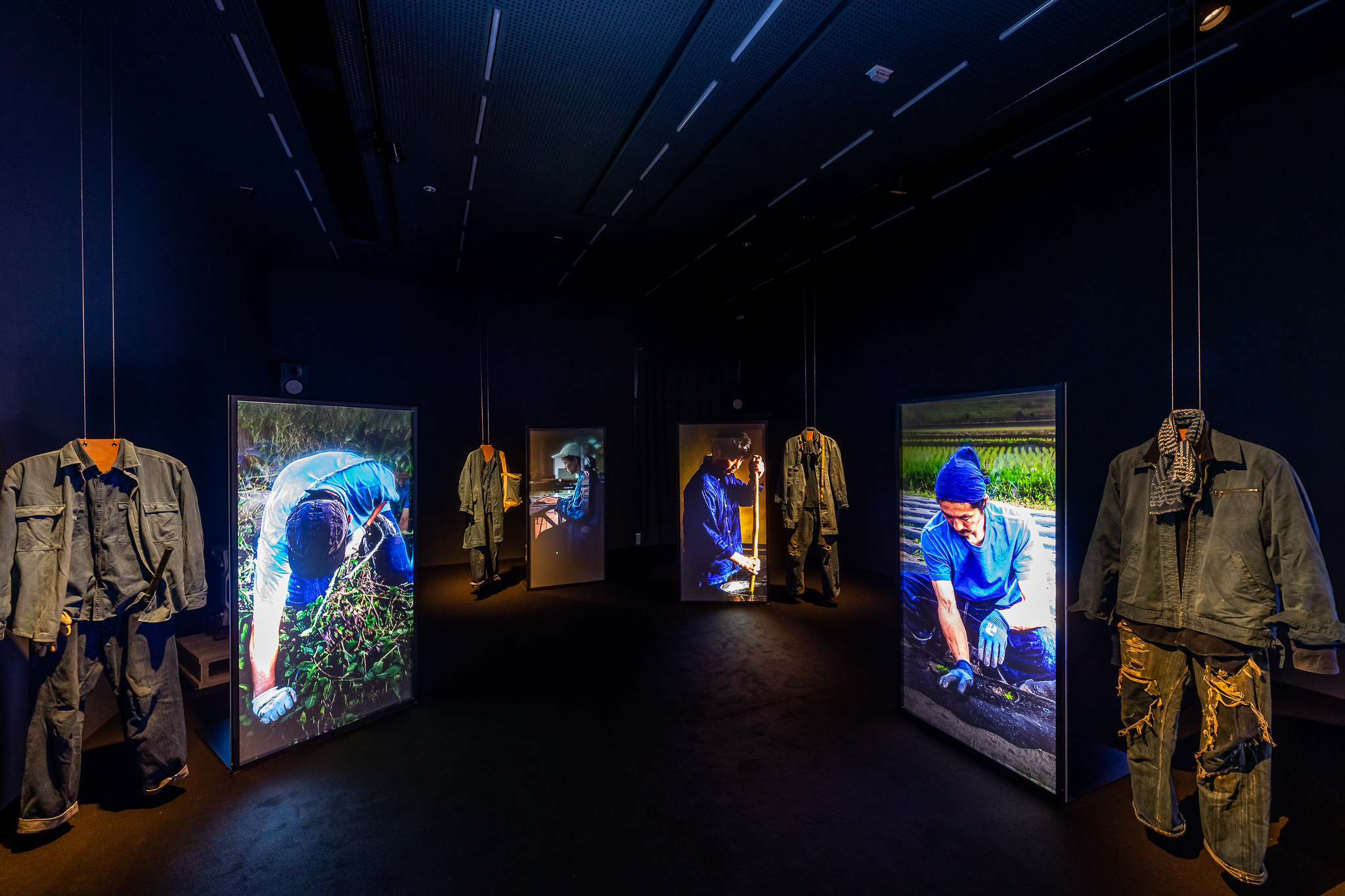 Absolute Blue: BUAISOU Works with Japanese Natural Indigo  is exhibited at CHAT until 5 February, 2023.
---