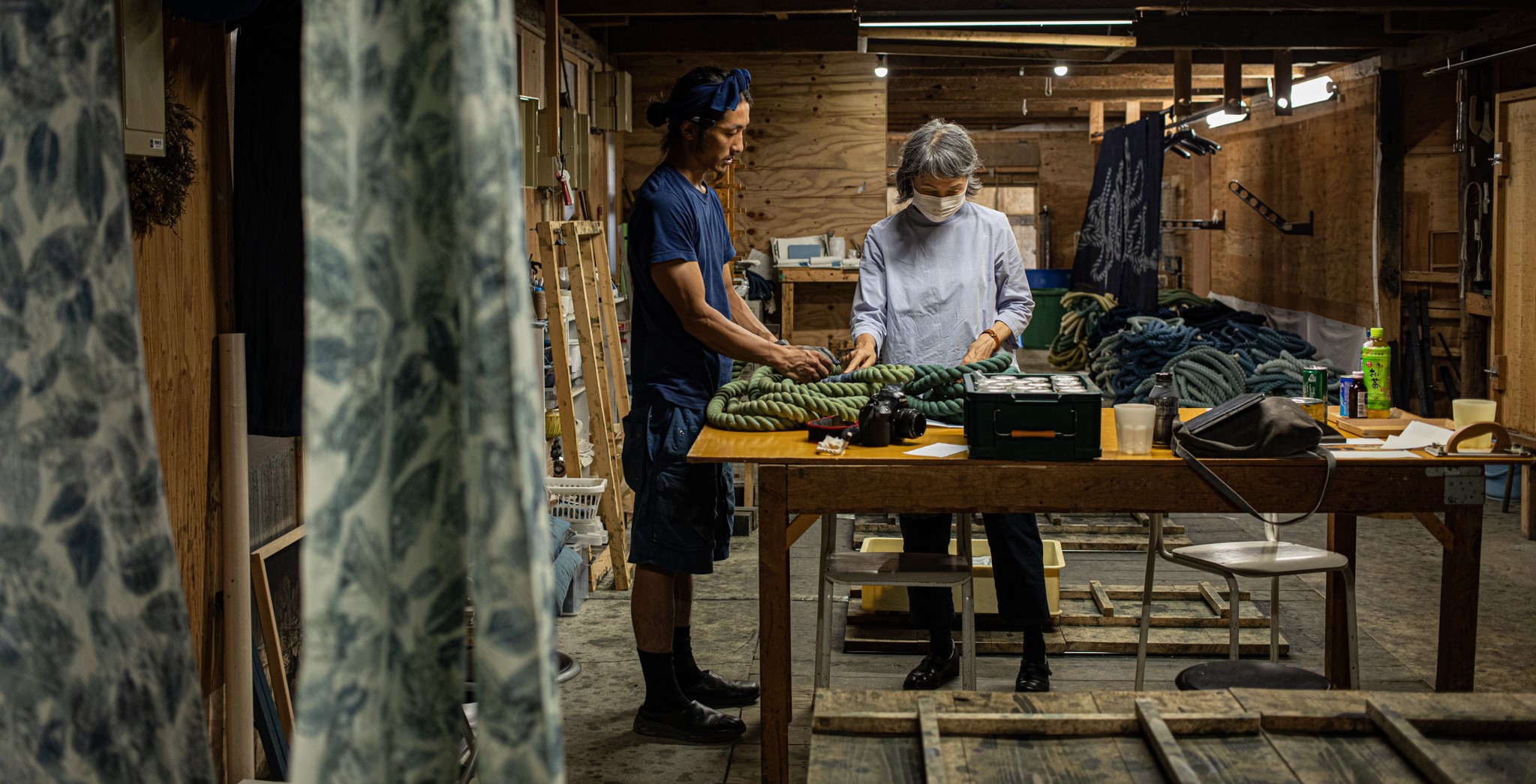 Thoughts on Blue: Sudō Reiko
31.10.2022
Sudō Reiko, design director at Nuno and co-curator of Absolute Blue, divulges her thoughts and personal memories surrounding indigo.
Isn't it interesting how some memories can cling to us despite time's ceaseless eroding forces? What are your earliest memories and how have they moulded your life, and woven themselves into the very fabric of your identity?
On the occasion of its Winter Programme 2022, CHAT speaks to curators and craftspeople involved in Absolute Blue: BUAISOU Works with Japanese Natural Indigo, to explore the fascination with the colour, medium and craft of indigo.
For legendary textile designer Sudō Reiko, her childhood memories of travelling kimono merchants and textile shops have irrefutably lent a hand into shaping who she is today. Let's find out more.
How do you feel about indigo?
I was born in a country town, Kakioka (Ishioka-shi) in Ibaraki Prefecture. There used to be an indigo dyeshop right across from my house, and my grandmother would always take faded or damaged noren curtains, and the like, there to be re-dyed. So indigo – its colour and smell – is something that brings back childhood memories. It's a magical colour that revives old fabric.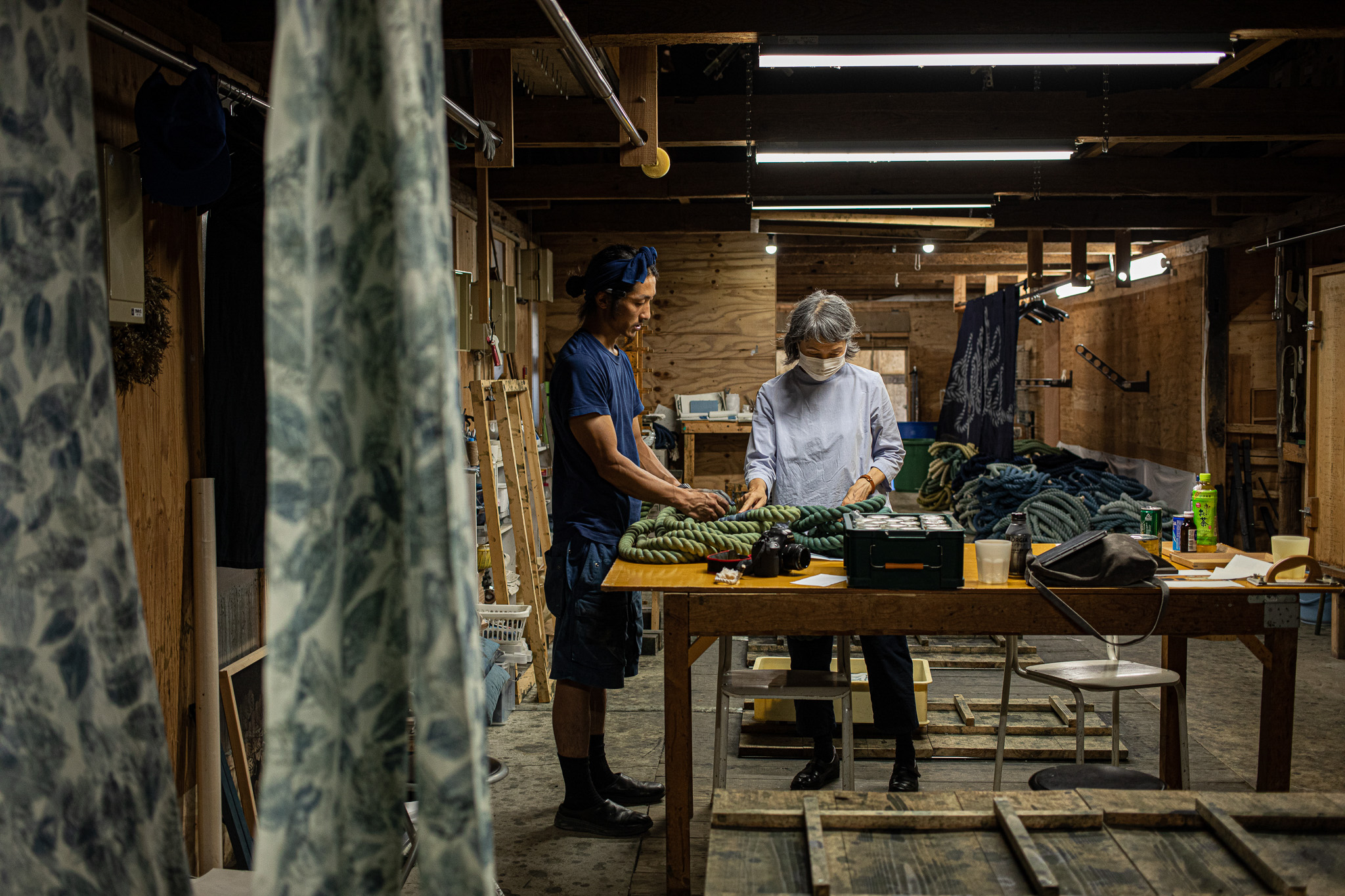 Image courtesy: BUAISOU; Photo: Nishimoto Kyoko
What is your favourite or most unforgettable recollection about indigo?
In 1984 when we founded Nuno, we dealt solely in three colours: unbleached, indigo and sumi  ink-black. In the middle of the shop we had a display rack hung with Hakata shibori  tie-dyed fabrics. Customers would look at the samples there and place their orders. I'll never forget how happy we were when we had repeat orders for tie-dyed indigo. The scent of indigo filled the shop. Memories of working there in that space comes back to me vividly.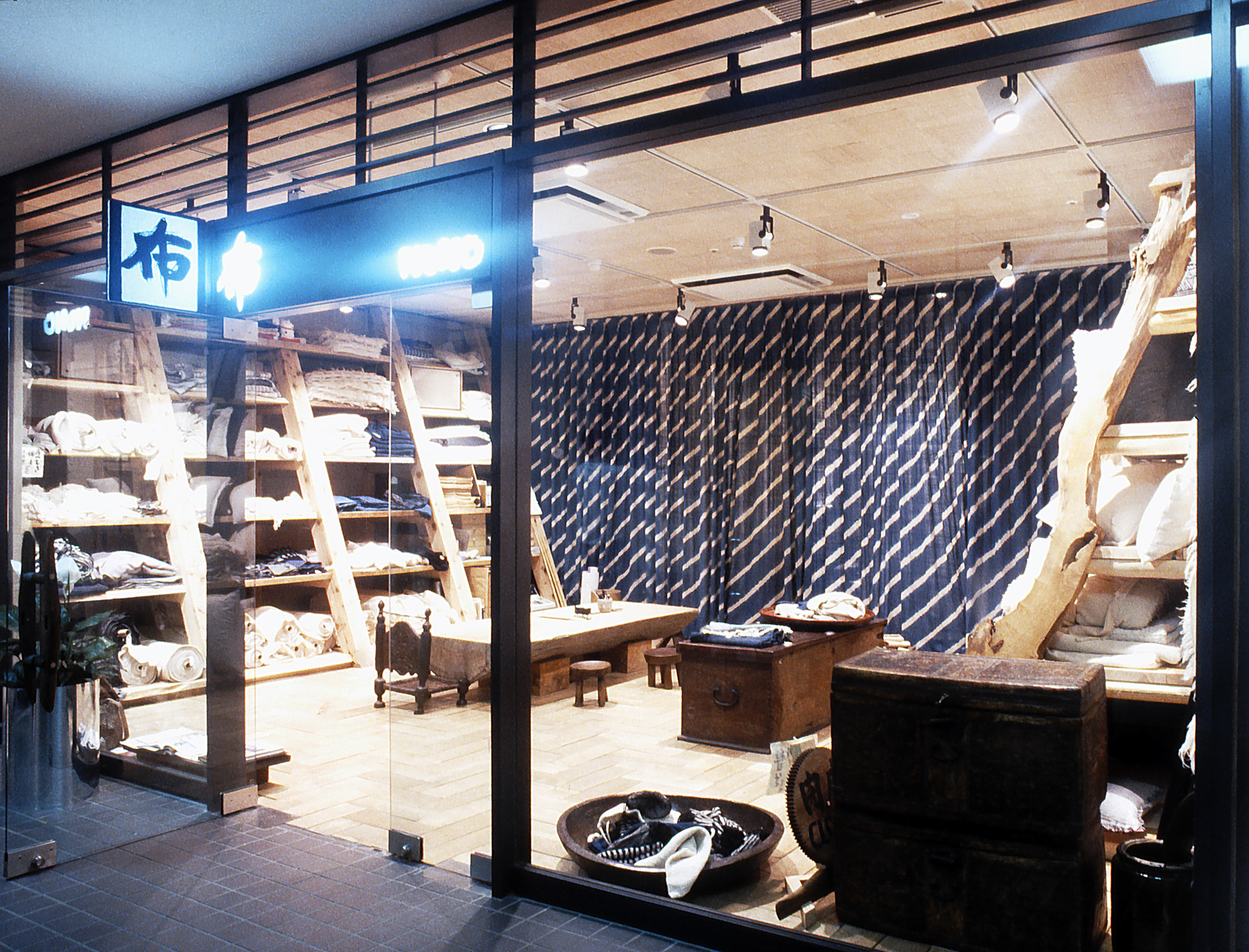 Nuno main store Roppongi AXIS 1984-96
Can you tell us about an indigo fabric or item that you own and the story behind it?
15 years or so ago, I visited the natural indigo studio Kosōen in Ome on the western outskirts of Tokyo and purchased a high-neck T-shirt, which became a keepsake from my mother-in-law, who passed away in 2018. Then there's a round-neck T-shirt I bought two years ago from BUAISOU. Both are precious to me.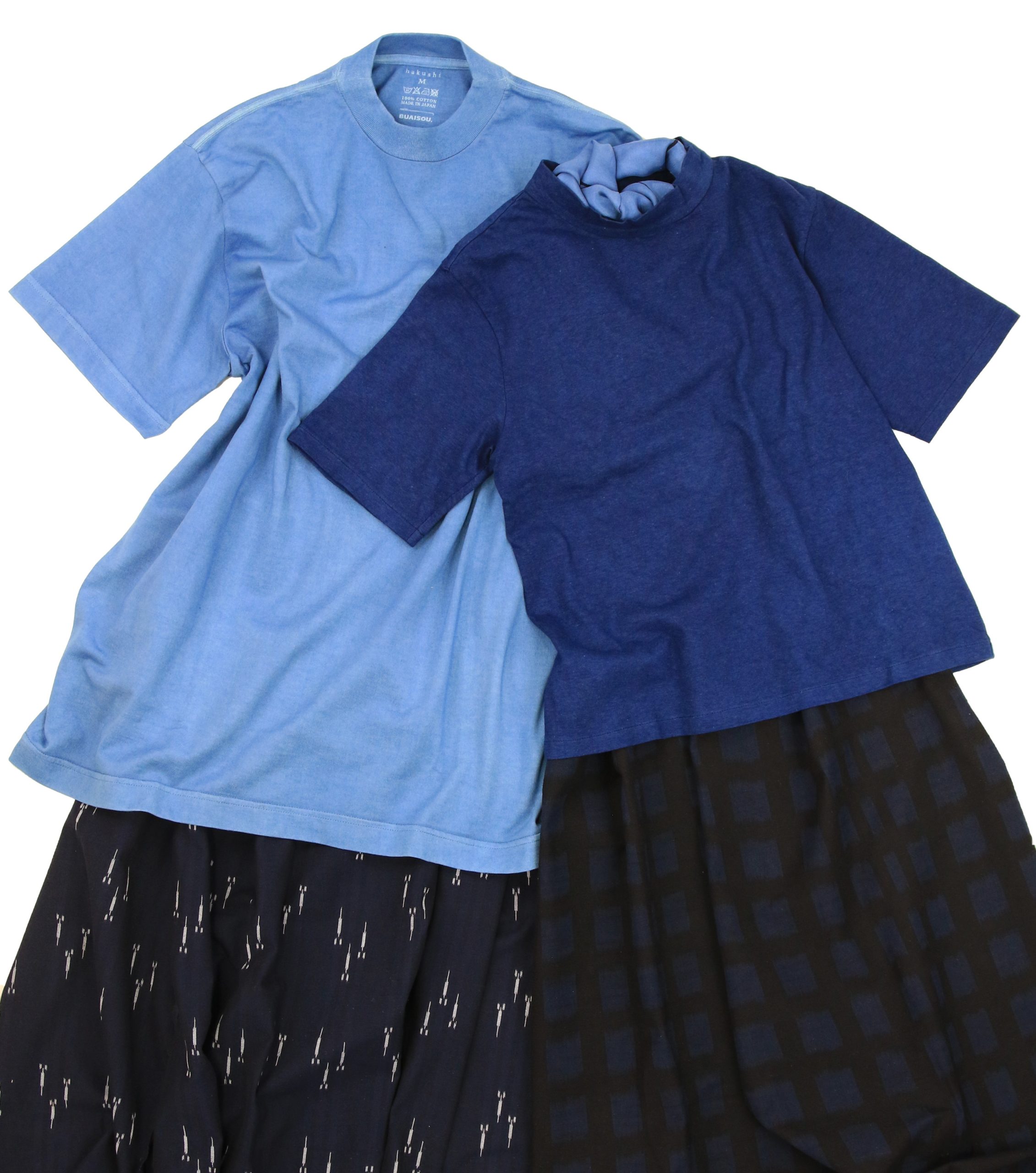 Also, there are ricefish- and square-patterned Kurume kasuri (ikat) fabrics I had woven at the Ikeda Kasuri Workshop, which I wear in summer. When I need a seasonal furoshiki  wrapping cloth for decoration, I have a plain weave of uneven tones made from thread dyed at the Kiryu Indigoworks, which has long since gone out of business.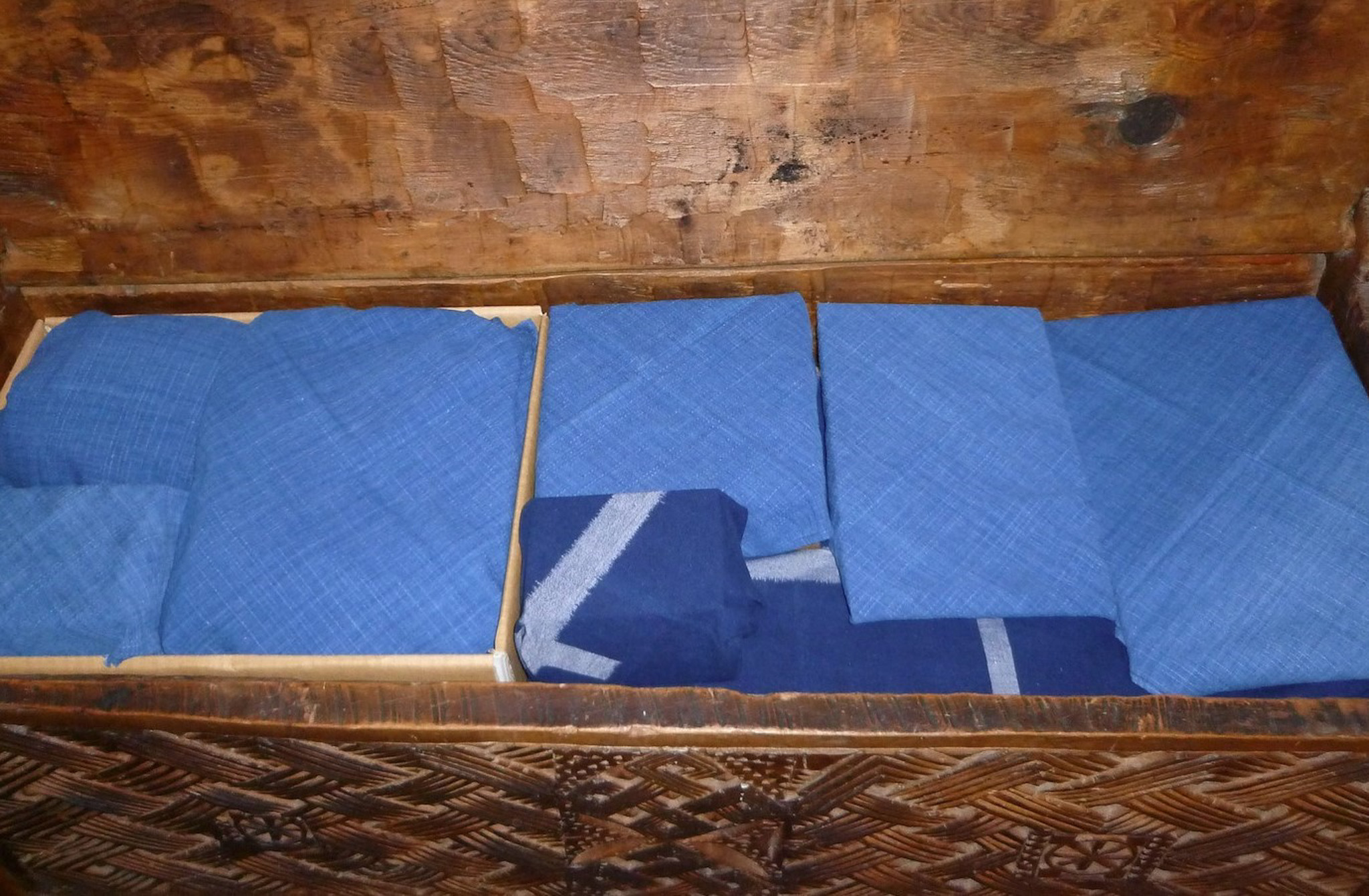 Indigo is naturally insect-repellant. I have a trunk I keep by the front door with seasonal decorations; little festive items for New Years, Girls Day (3 March), Boys Days (5 May) – all wrapped in ai (indigo-dyed) furoshiki.
Absolute Blue: BUAISOU Works with Japanese Natural Indigo is exhibited at CHAT until 25 February, 2023.
---