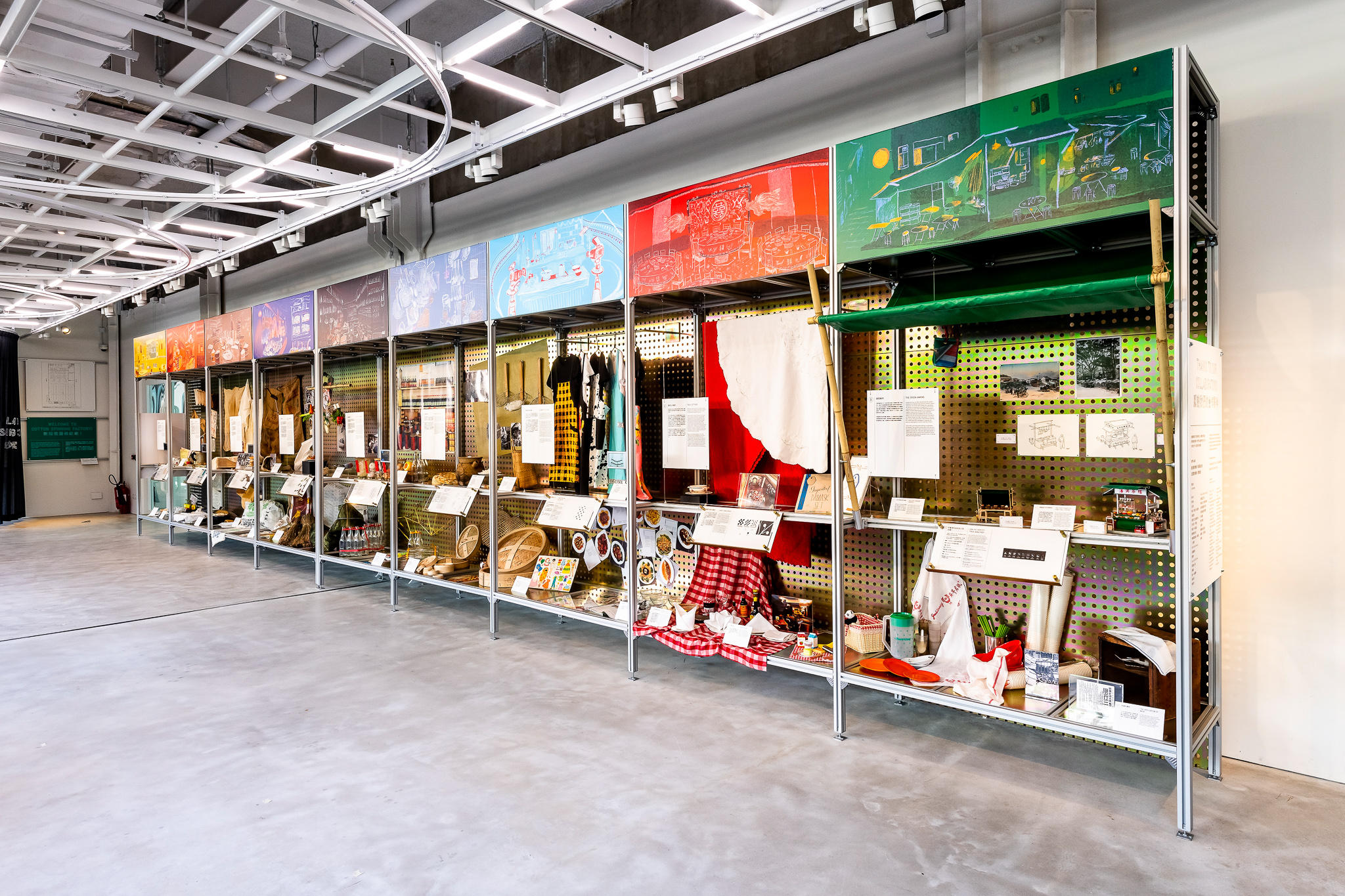 'Textile for Food': A Curatorial Perspective
18.08.2022
The D. H. Chen Foundation Gallery at CHAT pays homage to the textile industry in Hong Kong through exhibiting historical documents, machines and a special thematic display. In this article, Sunnie Chan weighs in on the curatorial process of the special display 'Textile for Food'.
At one corner of the display shelf is a cloth tea bag suspended over a metal teapot. One can easily reimagine it in action as it drains its rich tea leaves, release it of the steaming, aromatic tea.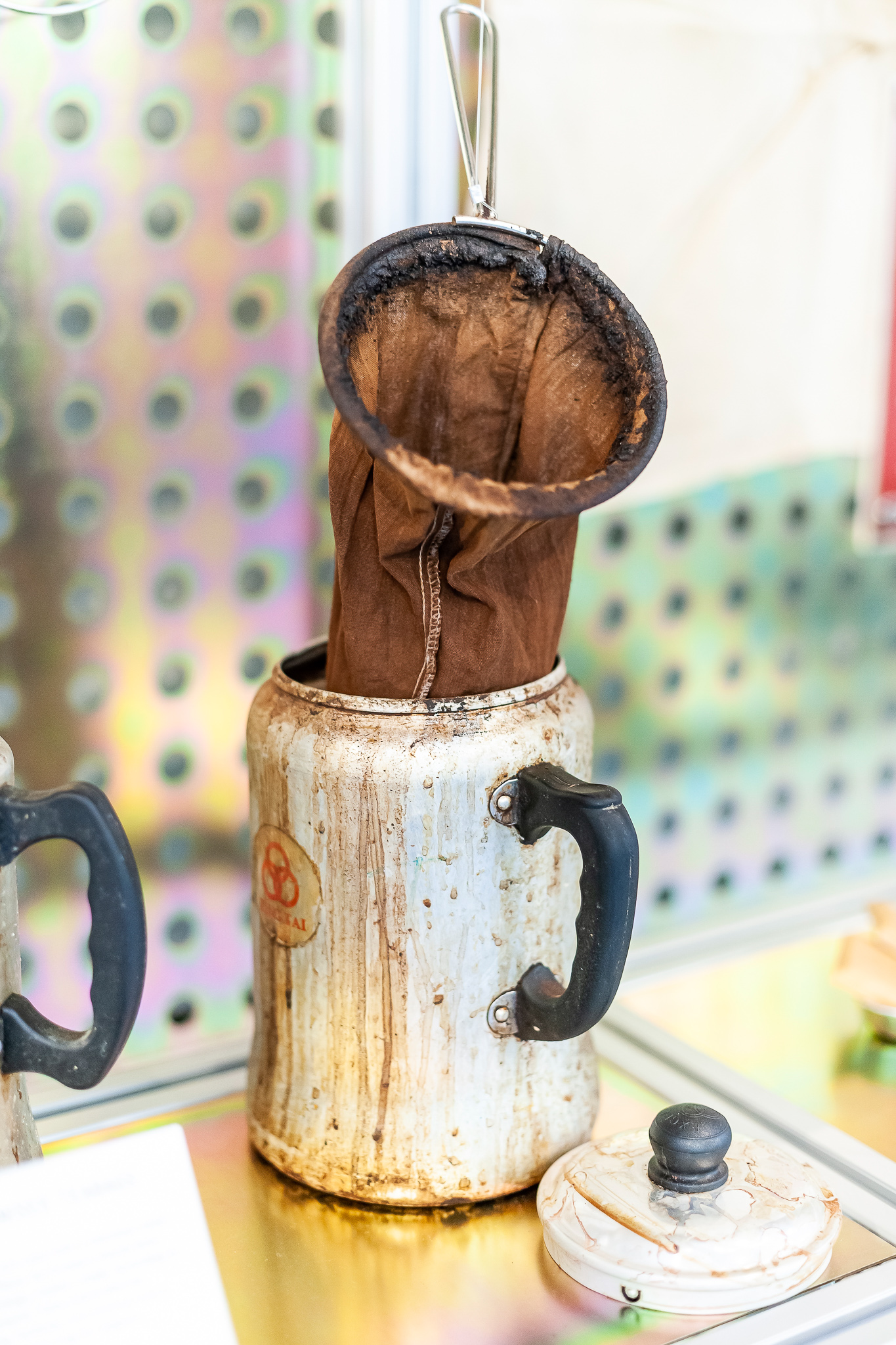 Teapot with teabag at 'Textile for Food' display
Likely a legacy of colonial days, milk tea is commonly found in eateries all around the city. Traditional Hong Kong milk tea made from black tea and evaporated milk is known colloquially as 'silk stocking' milk tea. What is textile's role in this beloved beverage and how do we place the object in context for our visitors to understand? Is it really made with silk stockings? How does the tea bag work? How is tea strained through it? What other forms of tea bags are there in use today?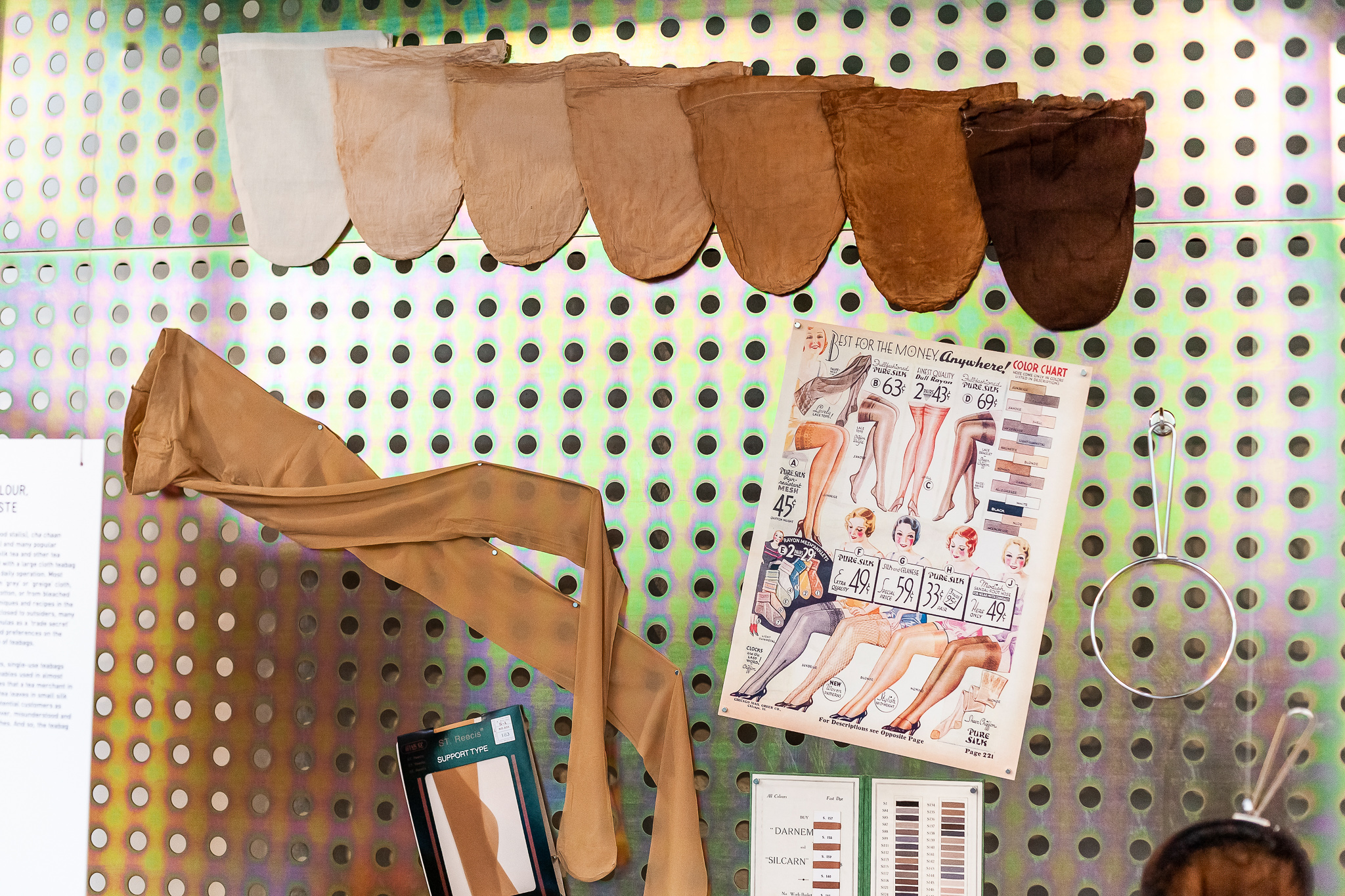 'A Filtered Colour, Aroma and Taste' at 'Textile for Food' display
It is with these questions in mind that we approach the 'Textile for Food' display at The D. H. Chen Foundation Gallery.
For Sunnie Chan, the curator of the display, 'Textile for Food' is a magnifying glass. It hones in on textiles and textile elements that often go unnoticed in the city's food culture. The metaphor of the magnifying glass is an apt one, as it allows viewers to see the magnified object in its full context; by contrast, the tunnel-vision focus of the microscope blocks out all but a small circular field of view.
Consider a display of nostalgia as pure context. Content would be delivered with an overriding sense of 'traditions in the past'. It fixes our gaze backwards, but never in the present. Our challenge, then, was to debunk the myth that exhibitions about the past must revolve around this pure-context, all-feeling nostalgia.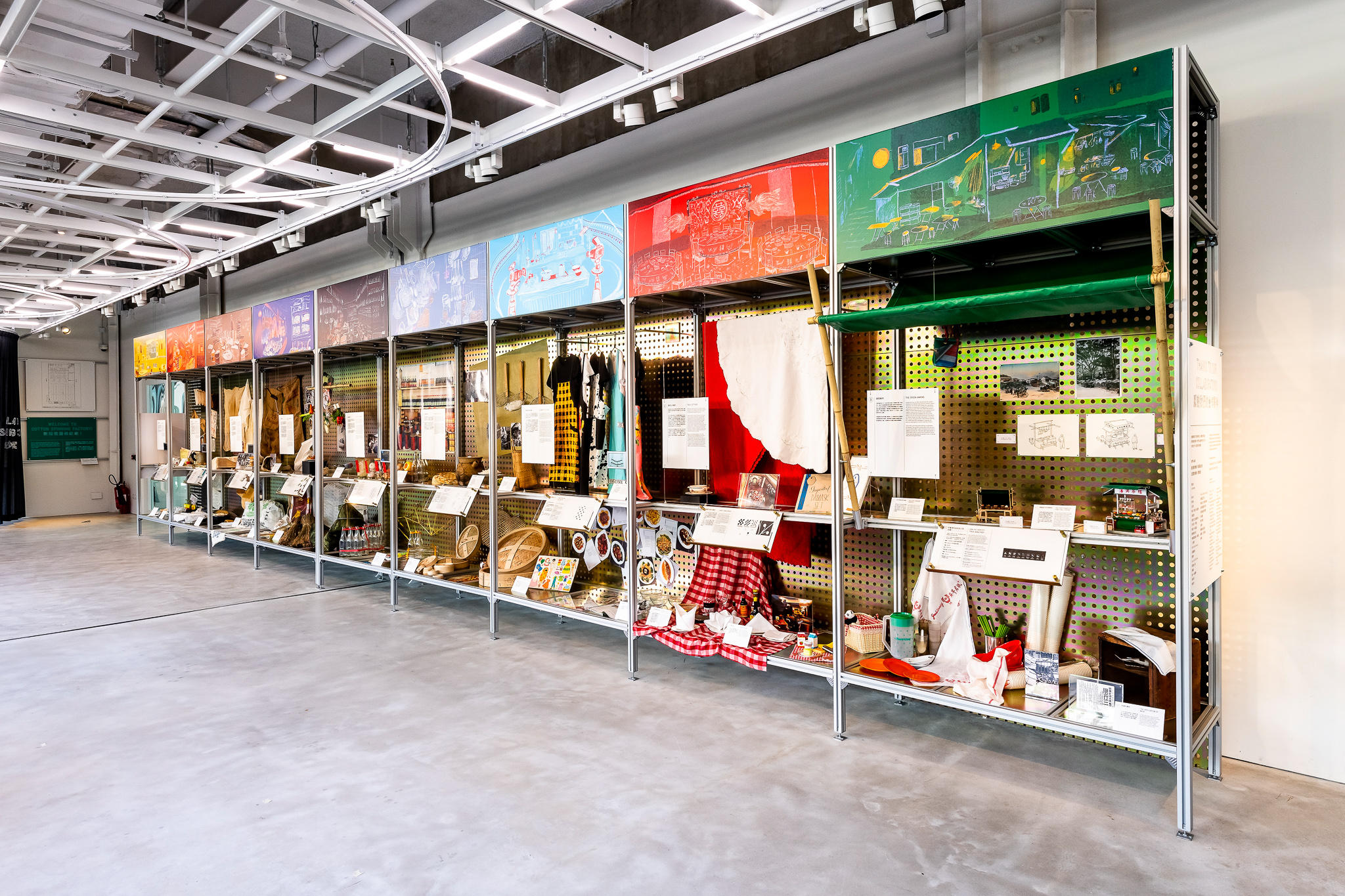 'Textile for Food' display
Accompanying several of the display shelves are video screens showing the exhibits 'at work' in their original environment, whether it be street stall vendors deftly making cloth-wrapped tofu using a double-wrapping method, or rice supplier demonstrating the sealing of rice sacks with a chain-stitch sewing machine. Across the top are thematic illustrations done by animation artist Lee Yuk Ki Florence depicting 9 snapshots of the city's urban foodscape, corresponding to the contents of the shelf below.

An illustration by Lee Yuk Ki Florence for the 'Textile for Food' display
More than just a stylised record of Hong Kong history, it was important that these illustrations be inspired by real locations that can still be found in the city today. Eagle-eyed viewers may be able to recognise a preserved meat shop, sauce vendor and a TV studio where cooking shows are filmed captured by Florence's lively brushstrokes and linework.
'Textile for Food' does not assume an authoritative position over the city's food culture. Each season, a new series of Makers of Hong Kong: In Conversation supplements the thematic display by celebrating the 'makers' behind it all. Venturing out into our various research locations to speak to our research subjects, we invite them and our guest hosts to add to the dialogue.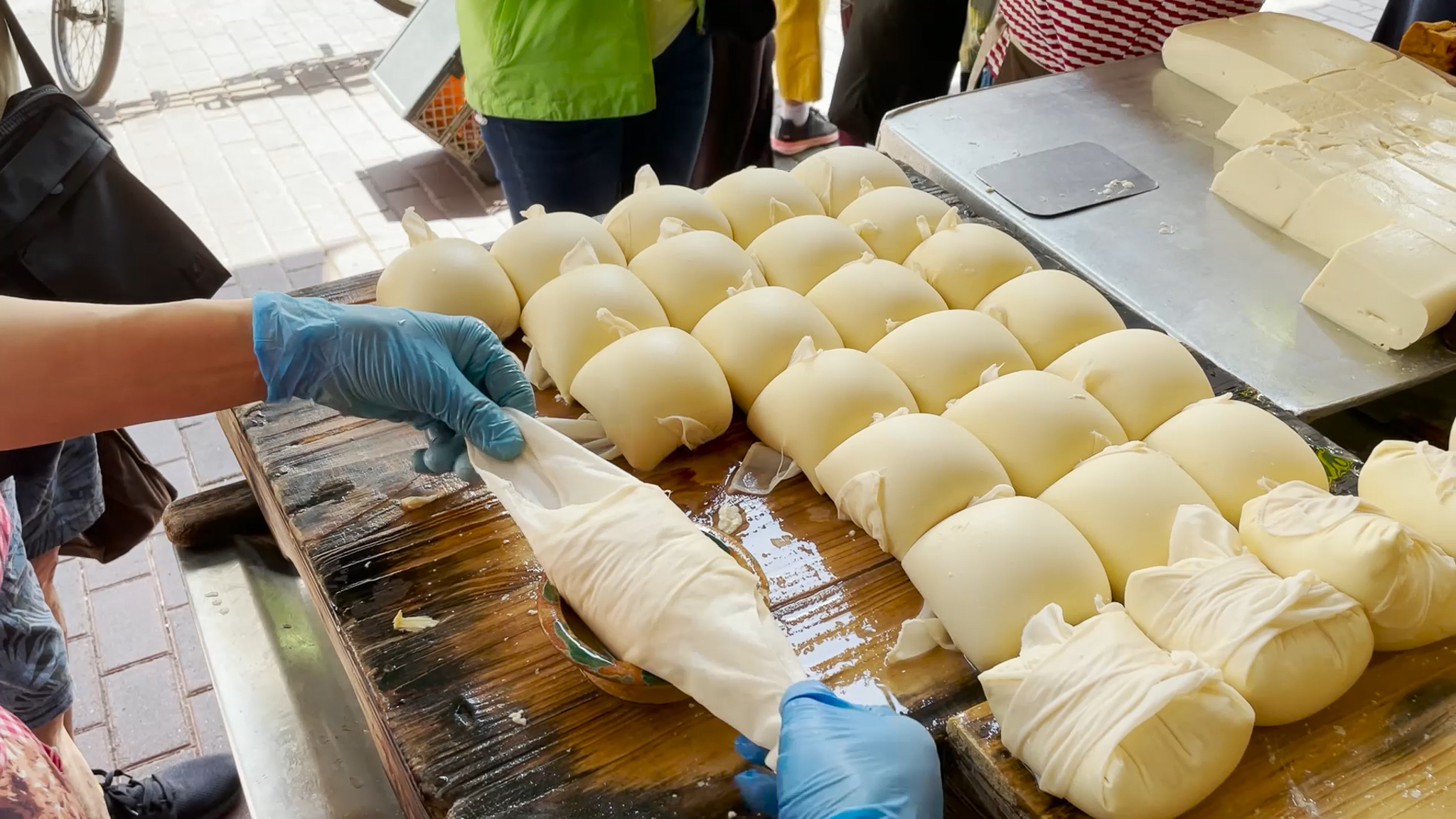 Cloth-wrapped tofu at Shun Hing Lung Kwai Kee Bean Products
Through this display and the various associated programmes, we draw attention to persistence of these textile techniques and materials and their place in our city's heritage. Not as ghosts of glory days past, but the way they linger in the city's social fabric, remain relevant and valuable from a social and cultural point of view, or have been transformed in innovative ways.
The 'Textile for Food' display is on view until 4 October 2022. Read more about 'Textile for Food' here.
---