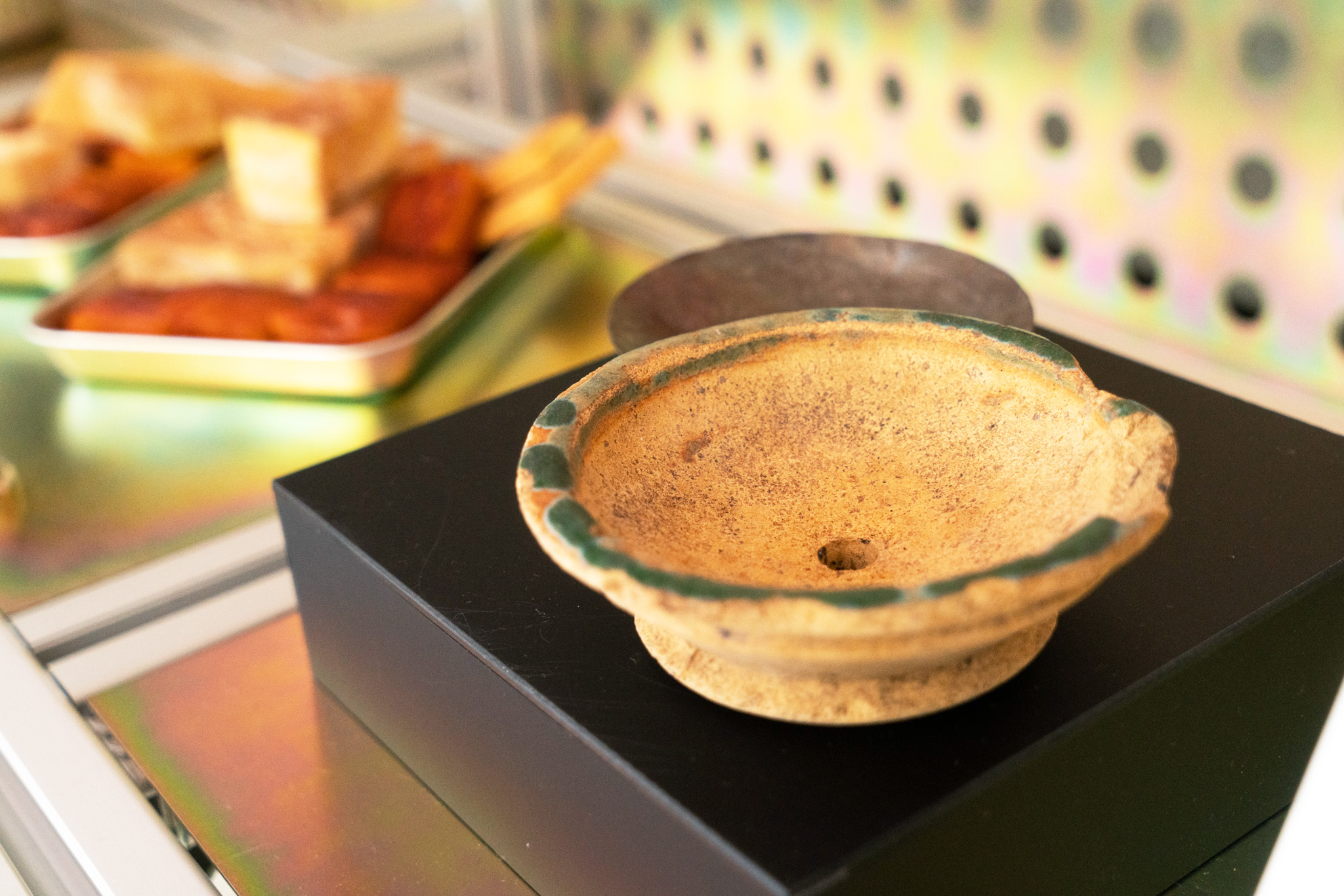 'Textile for Food': A Recipe
05.09.2022
The 'Textile for Food' display presents the way textile is involved in food making, food packaging and food presentation across 9 categories of textile objects and techniques. Find out more about the making of 'Textile for Food' from the curator of the display Sunnie Chan and one of the researchers Carmen Cheung, as they share about their tireless sourcing and research process.
Step 1: Sourcing the Ingredients
To tell an authentic story, it was important to showcase, whenever possible, objects that still are used in the industry. Finding the right objects sometimes means finding the right people.
To showcase the various tools used in the making of cloth-wrapped tofu, our curatorial assistant Carmen Cheung got in touch with Shun Hing Lung Kwai Kee Bean Products, a soybean product shop located in Cheung Sha Wan.
There she was able to procure a few objects on loan. The owner graciously lent out their greige cloths, which are plain weave cotton cloths used to wrap and give shape to tofu; a shallow metal bowl for scooping bean curd; and one of their two customised clay draining bowls, used to drain whey, the watery liquid left over from the curdled bean curd.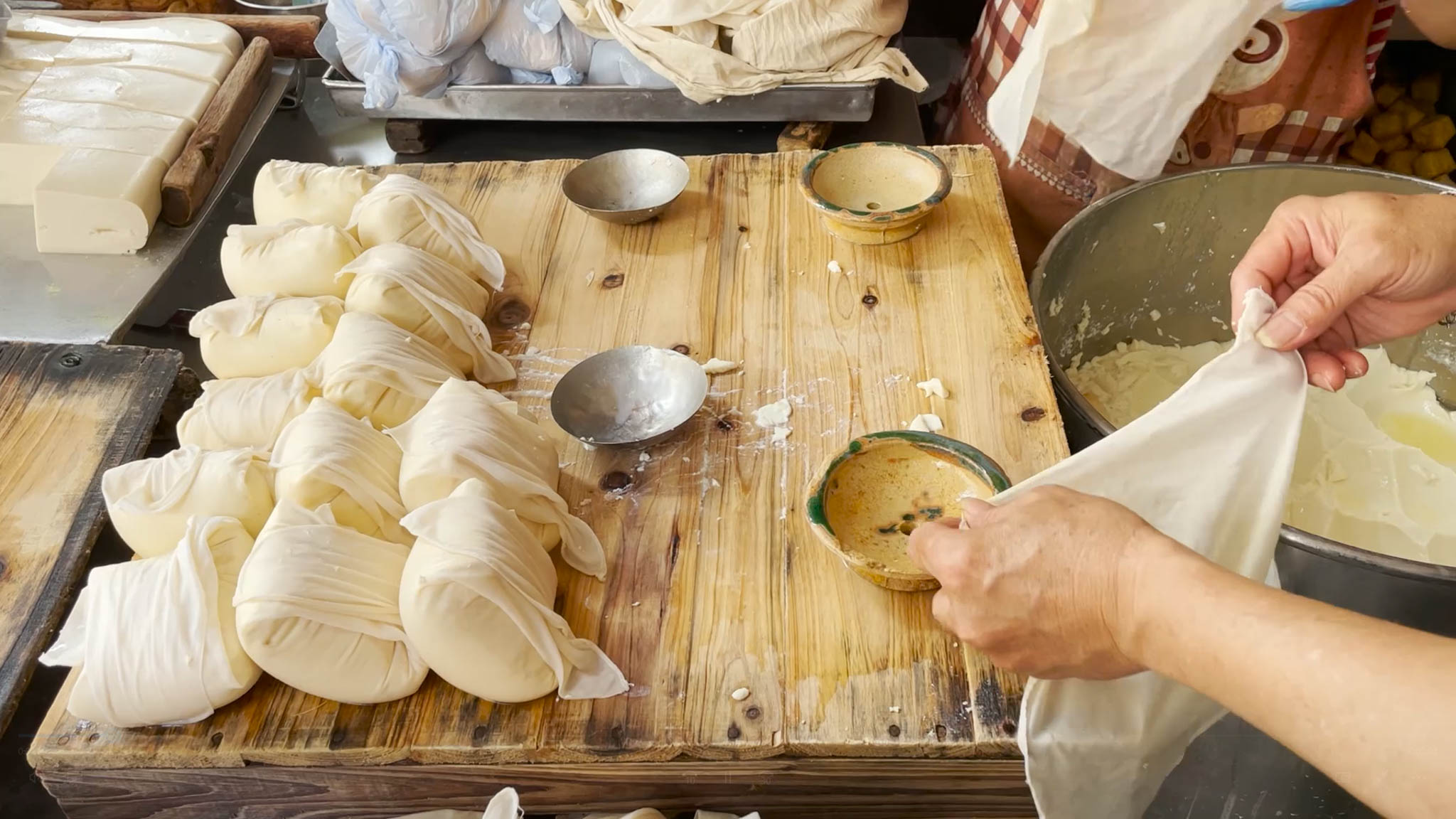 Cloth-wrapped tofu at Shun Hing Kwai Kee Bean Products
It was no easy task at times, asking vendors to part with items they use on a daily basis and have cherished. Trust was earned over multiple research visits, through conversations and actions.
The challenge of finding the right exhibits is complicated also by the conditions of the tools and materials. Food was perishable. To make tofu and other soybean products, most of the wooden or textile tools would be waterlogged, which, overtime, made them unfit for display.  
Step 2: Prepping the Sides
Videos are an integral part of the storytelling in 'Textile for Food'.
As an object, the apron or the tablecloth is easy enough to understand. Yet some objects require more dynamic demonstration to illustrate its use and highlight the mastery of the craft involved. On the right of a few selected shelves are small video panels showing the exhibit in action.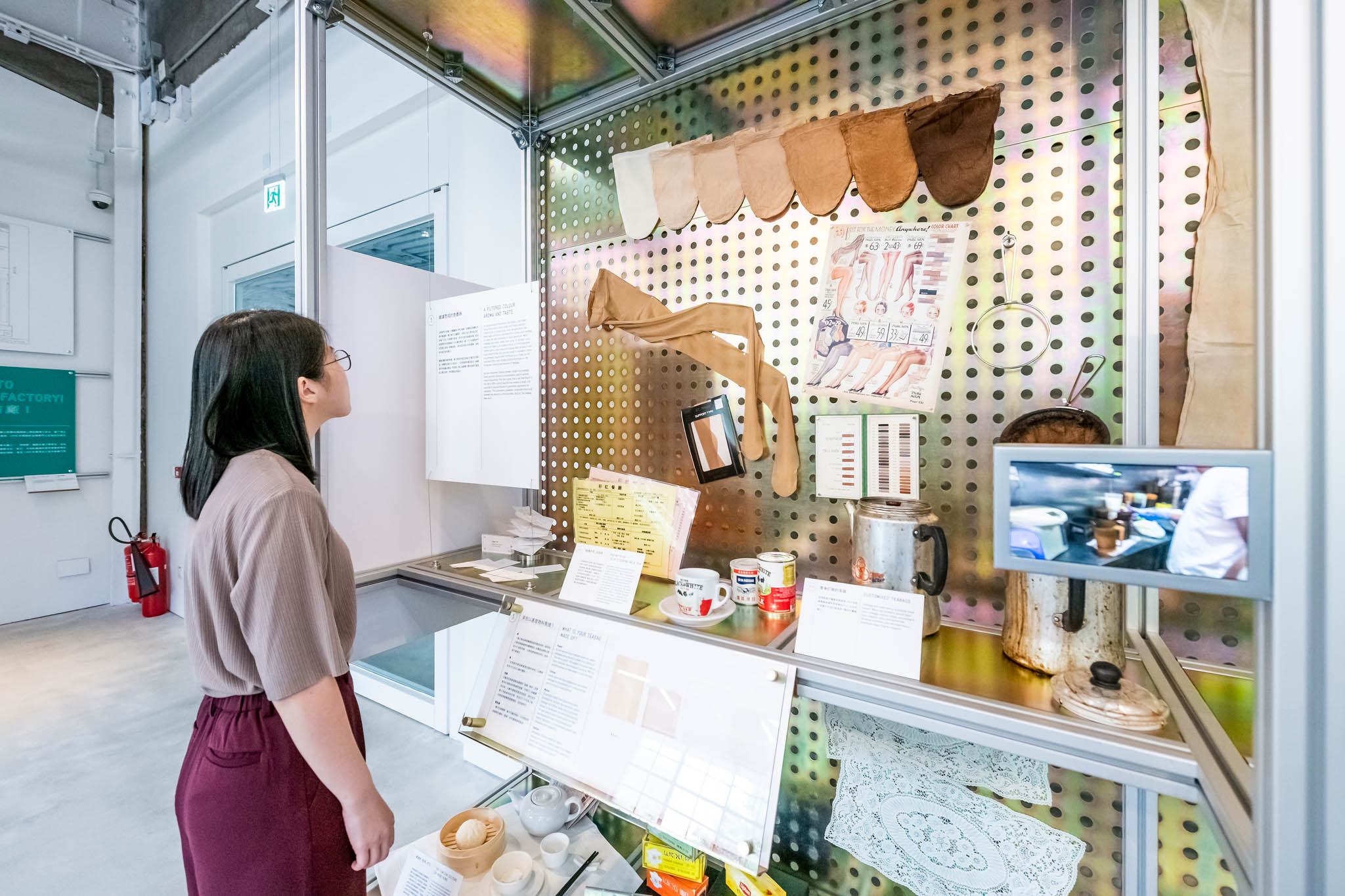 'Textile for Food' display
For these videos, filming usually took place at the start of the day before the eateries open. In shelf one, the tea maker of Man Shing Restaurant makes steaming pots of milk tea; in another, the vendor at Shing Tak Lung rice seller cuts open a rice sack using a hook with one slick motion, and demonstrates the handheld sewing machine, which mechanically closes these textile bags with a row of neat chain stitches.
Step 3: Plating Up
Months of research across the various districts, as well as facets, of the city are compressed and distilled into a 3m by 13.3m set of display shelves. What combination of physical objects, caption text, images and other visual content are required to evoke the fast-paced urban foodscape of a city constantly in motion?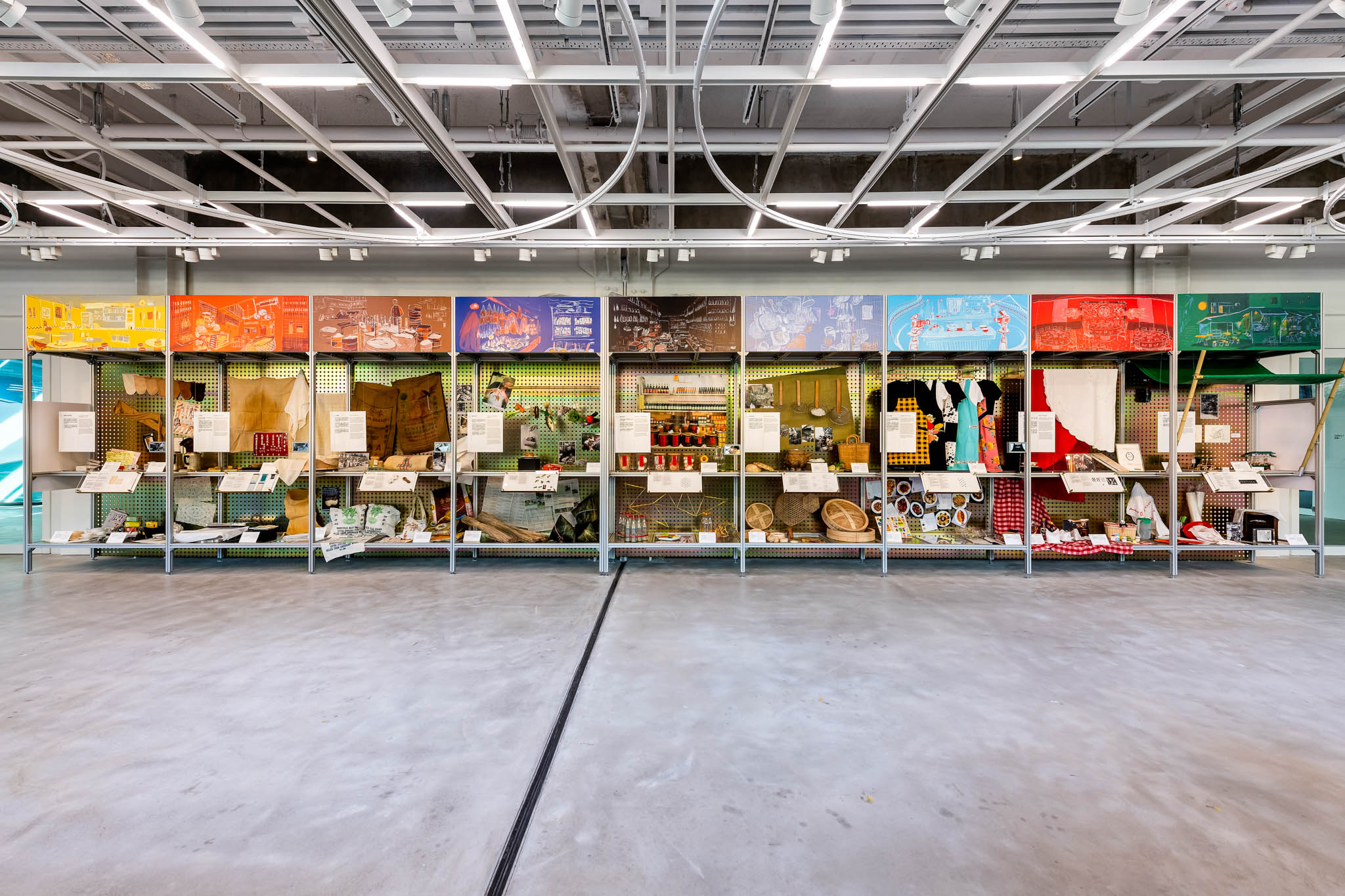 'Textile for Food' display
In each display shelf, information about the central highlighted object are also supplemented with related information. Visitors may be familiar with the different types of tablecloths used in the city, from chequered to damask. But did they know that the name damask is often attributed to the city of Damascus, a weaving centre in Syria? Have they ever noticed that different types of sausages sold at cured meat shops are differentiated with different coloured strings?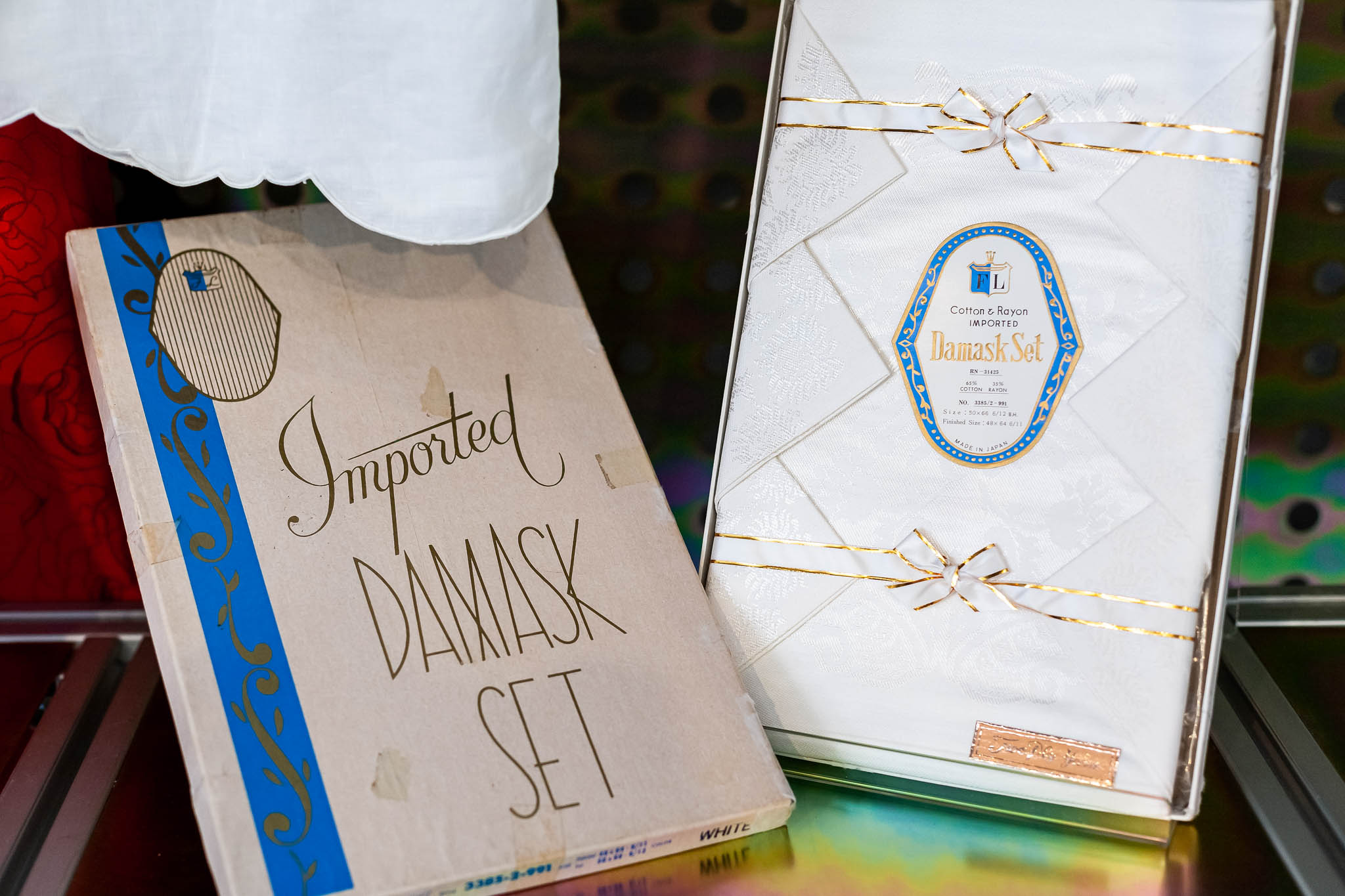 Damask tablecloth at 'Textile for Food'
To diversify the exhibition, our curatorial team also looked beyond mere objects to find images, documents and other supplementary materials for a comprehensive presentation.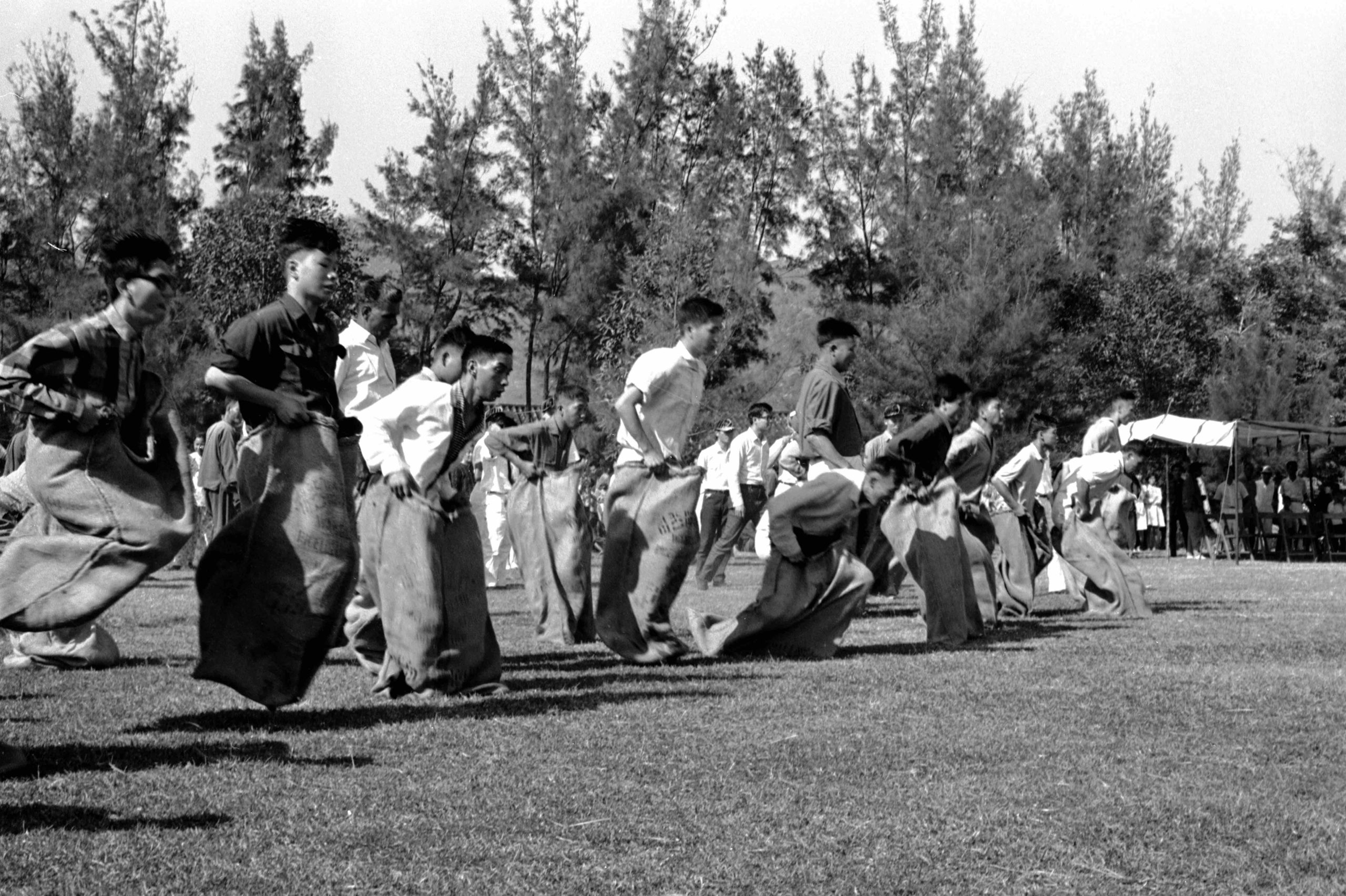 Gunny sack race from the late 1960s. Image courtesy: Photo Library, Information Services Department
One rare precious find was a photo of a gunny sack race, used to illustrate the myriad applications of the rice sack. The team searched far and wide before finally locating one such photo from the piles of photo contact prints from the Information Services Department archives.
To evoke the vernacular resourcefulness of local dai pai dong owners, our production team, with the help of construction contractors, designed a small awning of bright green canvas to accompany the last shelf.
How do we make a choice? Do we choose an object simply because it looks good on the shelf? Or does it stimulate the curiosity of our visitors so that they will actively respond to it?
Sunnie Chan, Curator of the exhibition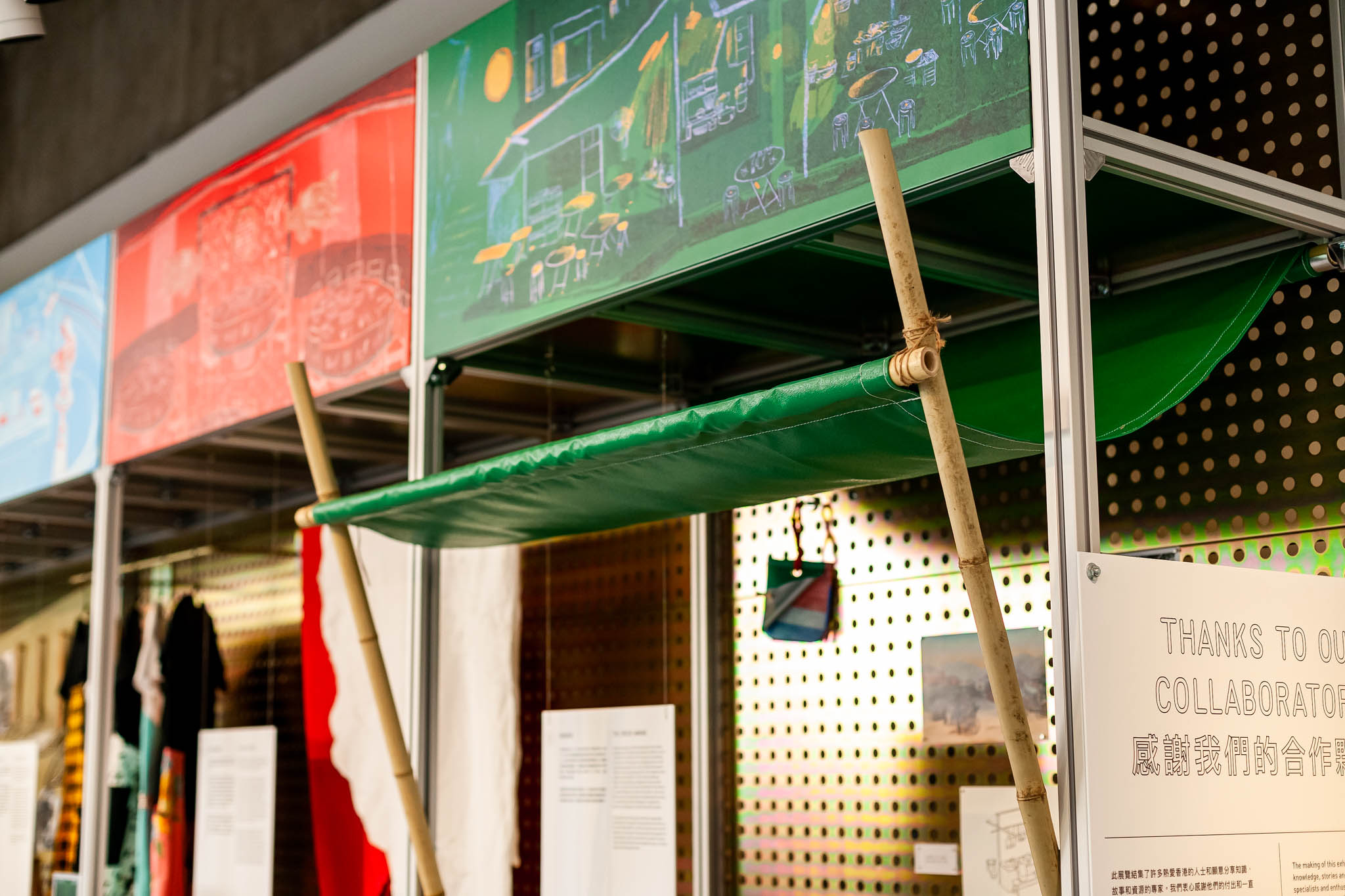 Canvas awning at 'Textile for Food'
Special Orders:
Over the months of preparation leading up to the unveiling of the display, there have been key moments and objects that have held a special place in the hearts of our research team.
Carmen's most memorable find is the draining bowl from the 'Shaping with Cloth' shelf.
For the soybean product shop vendor, the draining bowl was akin to a family heirloom. Fashioned from an ink bowl, a common stationery used in Chinese calligraphy, the draining bowl has a customised hole at its centre for draining whey.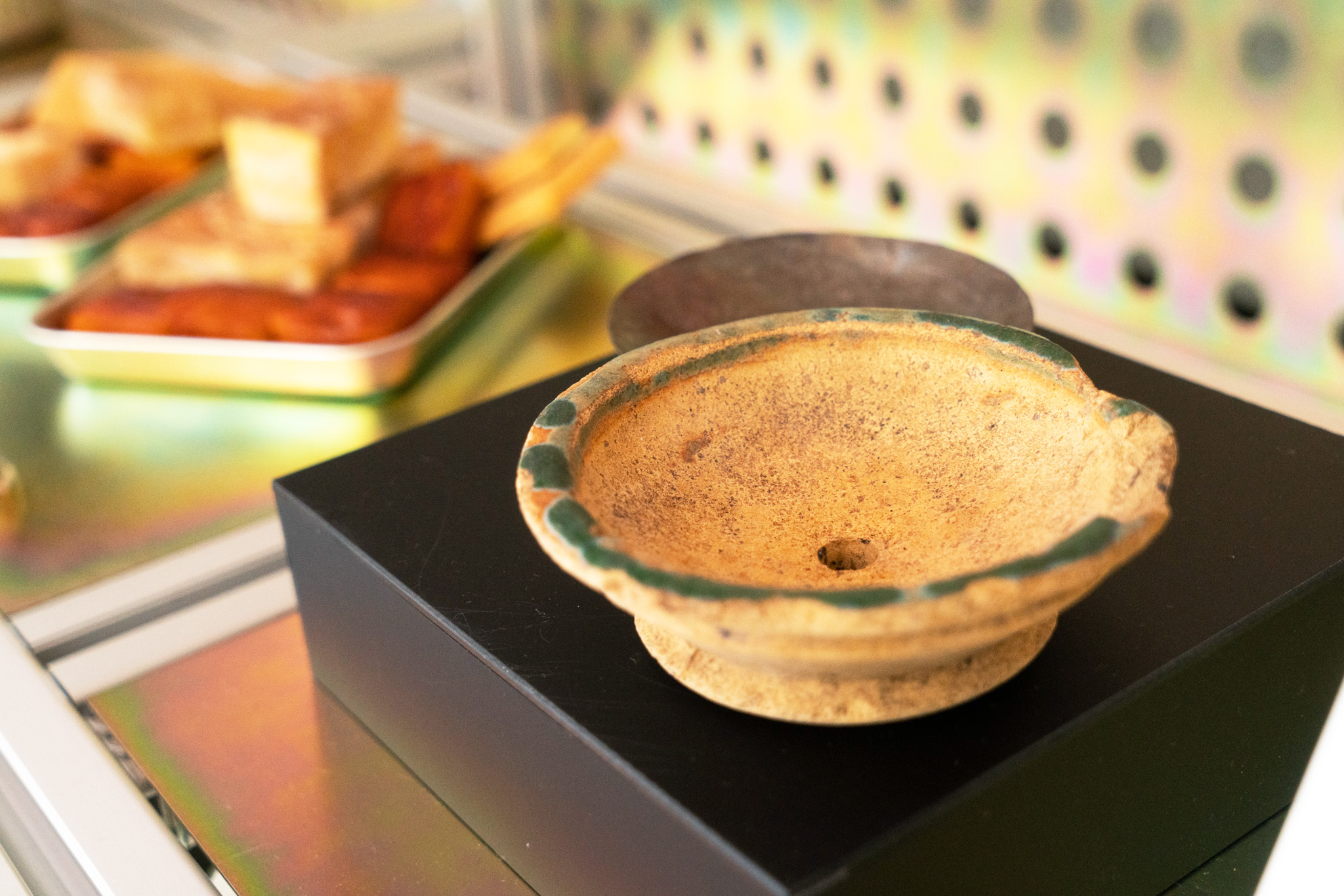 Clay draining bowl from Shun Hing Lung Kwai Kee Bean Products
This soybean factory is known for their tofu double wrapping method. After bean curd is placed onto the griege cloth, the cook deftly wraps and twists the fabric to form a more compact bundle and to squeeze out excess liquid. The bundle of bean curd is allowed to rest in its wrapping, before the process is repeated again for a better shaping of the tofu. These steps are quickly done on the draining bowl, so the whey can be drained away.
For the vendor to part with this precious object was a testament to the trust and relationship she has built, not just as the subjects of her research, but as a fellow resident of the city with whom food culture can be shared.
To Sunnie, cooking show presenter Mrs Fong is a legendary figure hailing from her childhood.
With a designerly and systematic approach to her work, Mrs Fong seemed to infuse meaning and logic into every procedure of her work during her 20-plus-year career.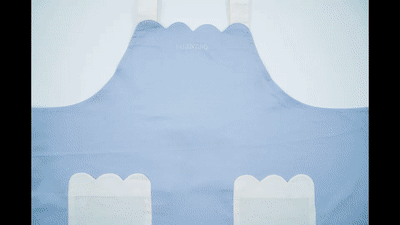 Mrs Fong's aprons
Even the way she prepares all her cooking ingredients in concentric glass bowls and her use of the apron as an anchor piece of her image speak volumes to a certain order, style and form of propriety that is visionary in that age. For Sunnie, this thoughtfulness and attention to detail is not dissimilar to the honing of a craft. And from a design perspective, this makes Mrs Fong an interesting and relevant case study relatable to Hong Kong's audiences.
'Textile for Food' is exhibited until 4 October, 2022, read more about the display here.
---