Alma Quinto
Residency Period
Sep–Dec 2018
Born in Urdaneta, Pangasinan province, the Philippines, Quinto is a visual artist, educator, and cultural worker, whose works aim to empower downtrodden lives and heal broken dreams. Her works have been exhibited in international institutions, and she has been invited to various biennales and triennales, including the Kuala Lumpur Biennale 2018, the Yokohama Triennale 2005 and the Havana Biennale 2004.
Throughout the 3-month Artist-in-Residence programme, Quinto will engage with the local community and seek creative collaborations to enrich the exchange between experiences and learning.
She will share her research, experiences and collaboration during her residency with her immersive installation work.
Selected Solo Exhibitions
2015
Power Icons @ Women Online, Oracle Hotel, Quezon City
Mutya ng Ilog, Letters to the River for Fluid States, De la Salle University, Manila
C.P. Garcia Homes: Build at your Own Risk for the Offsite, Out-of-Site Exhibition under Project
Bakawan, Stud Farm, University of the Philippines, Diliman
2014
Floating Wombs, Makiling Gallery, UPLB supported by the UPLB Gender Center
2012
weDREAMforCHANGE (House of Comfort and other works from affected communities), Museum of Three Cultures, Capitol University, Cagayan de Oro City
2009
Payatas, Avellana Gallery, Manila
2008
Arms (an interactive exhibit), Sigwada Gallery, Manila
House of Comfort (3 tapestries), Osaka Prefectural Women's Center, Osaka City, Japan
Selected Group Exhibitions
2016
Floating Wombs, Earth Manual Project, Thailand
2015
Floating Wombs, Earth Manual Project, Maryknoll Ecological Sanctuary, Baguio City and Museo Iloilo
Synesthesia, NCCA Open Gallery, Manila
2014
Floating Wombs, Earth Manual Project, Ayala Museum, Makati City
Yesterday Once More, Erehwon Center for the Arts, Quezon City
Desiree's Courage and Yolanda's Dreams, Yesterday Once More, Erehwon Art Space, Quezon City
2013
Floating Wombs, Earth Manual Project Exhibition, Design and Creative Center Kobe (KIITO), Japan
Grounded, Lopez Museum, Pasig City
Publications
"Ang Kanin sa Aking Sinapupunan" (Rice and Gender) with Dr. Prospero Covar in Palay, Bigas, Kanin (a corebook), UNDP, NCCA, BLAFI, AWIT, 2010
"Visual Arts for Development", Sining-Bayan: Art of Nation Building (Social Artistry Fieldbook to Promote Good Citizenship Values for Prosperity and Integrity, UNDP, UPNCPAG, BLAFI, 2009
"A House that Comforts and Connects: Finding Strength in Trauma", Agung, March-April 2008
"Building a House of Comfort through Art Collaboration", SUKI, Japan Foundation, Manila official newsletter, vol. X, Issue 3, March 2007
"Create and Collaborate: My Ayayam Experience at the 2nd Yokohama Triennale", SUKI, Japan Foundation, Manila official newsletter, vol. IX, Issue 3, January 2006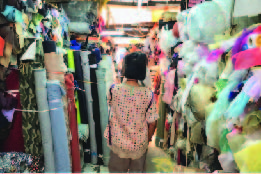 "Alma doing research in Sham Shui Po by visiting Yen Chow Street Hawker Bazaar (Pang Jai)"