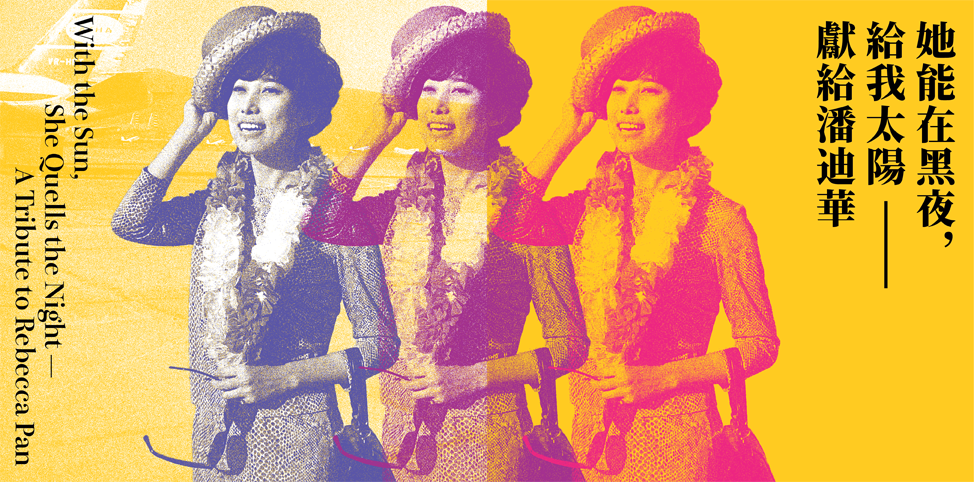 With the Sun, She Quells the Night – A Tribute to Rebecca Pan
With the Sun, She Quells the Night – A Tribute to Rebecca Pan is dedicated to the Hong Kong cultural pioneer whose career spans across entertainment, music and art, and who continues to inspire emerging talents today. Conceived in close collaboration with the artist herself, the exhibition rejuvenates archival materials through a variety of display methods and combines the historical material with the contemporary art of today. Together, the integrated exhibition experience places into dialogue the past and the present, Rebecca and us.
From young girl to self-assured star, impressionable entertainer to original artist, daughter to mother – each turn of the exhibition presents a defining moment of transformation in Rebecca's multi-dimensional life. We begin with her formative years in 1930s Shanghai, arrival to Hong Kong in the 1940s, international music career of the 1950s and 1960s, landmark projects of the 1970s, through to her continued dedication to bring tradition to wider audiences today. In the making of this legendary figure, Rebecca reveals herself as someone who is creative, honest, at times uncertain but above all courageous – one who has lent a resonating array of emotions, experience and materials for contemporary interpretation.
Artist Enoch Cheng worked closely with the CHAT curatorial team in the shaping of the holistic exhibition experience. Cheng further captures the pioneering spirit of Rebecca in a large-scale film installation, comparing our maverick to the folkloric White Snake of Pai Niang Niang, Rebecca's seminal production from 1972 that is also regarded as Hong Kong's first musical in the Chinese language. Elsewhere and throughout the exhibition, previously unseen footage of Pan's personal and professional life, attentively recorded by long-time pupil Chan Chung Ki, will be displayed to animate all facets of the gleaming star.
Beyond a retrospective, the exhibition display and event programming also depict wider entertainment and travel cultures that shaped and were negotiated by Rebecca. As Rebecca's career bore witness to the seismic shifts of the 20th century, so too are we presently confronted with the unfolding of disorientating times. With the Sun, She Quells the Night turns towards Rebecca for inspiration and imagination once again: How can we navigate our circumstances with similar dynamism, grace and tenacity to become the best version of ourselves?
We hope the cross-disciplinary nature of the exhibition affords you much expansive thought, reflection and dialogue – there is yet more to hear and learn from our dearest star, Ms Rebecca Pan.
About the Exhibition Participants