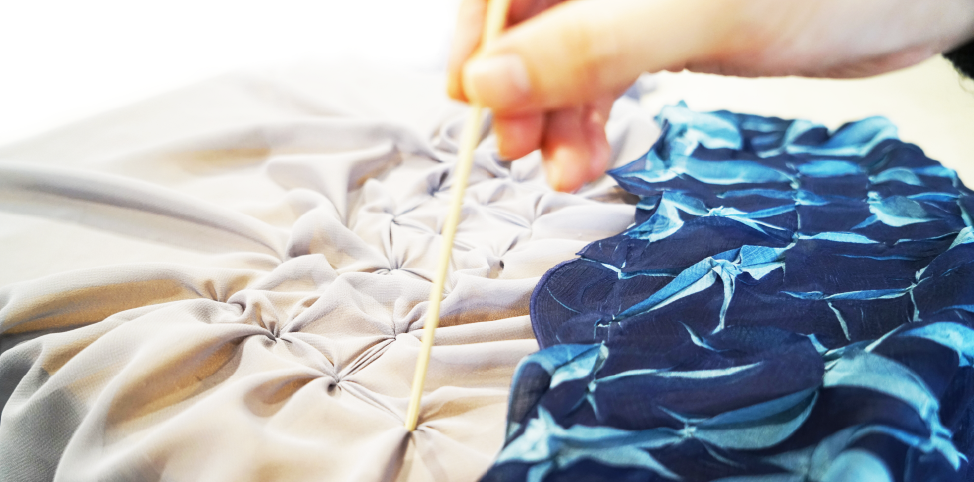 Resist Dye Workshop: Tsumami Shibori Fabric
Tsumami means pinch in Japanese and shibori is a technique of shape-resist dyeing, involving manipulation of fabric to obtain varied patterns. In this method conceived by Nuno, fabric is manipulated three dimensionally and then dyed, with the patterns emerging once fabric returns to its two-dimensional state.
Sudo Reiko's practice is marked by experimenting with materials and subverting textile techniques, the tsumami shibori scarves, one of her most iconic designs, are an example of this.
In 1994 while searching for ways of doing shibori without having to tie and dye, her team explored the then nascent dye-sublimation technology that transfers colour and prints onto synthetic fabric using heat. By developing a manual system to pinch fabric along with sublimation paper, Nuno created a fabric that can be dyed partially, yielding an unexpected pattern and achieving a very surprising result.
During this workshop, participants will learn the tsumami shibori technique to create a handkerchief or handbag accessory.
Suitable for age 12 and above. Children under 12 should be accompanied by an adult and will be provided materials for one participant. No previous experience is needed. All tools and materials are provided.
Capacity: 6
Language: Cantonese & English
Founding Donor
Main Donor
Supported by