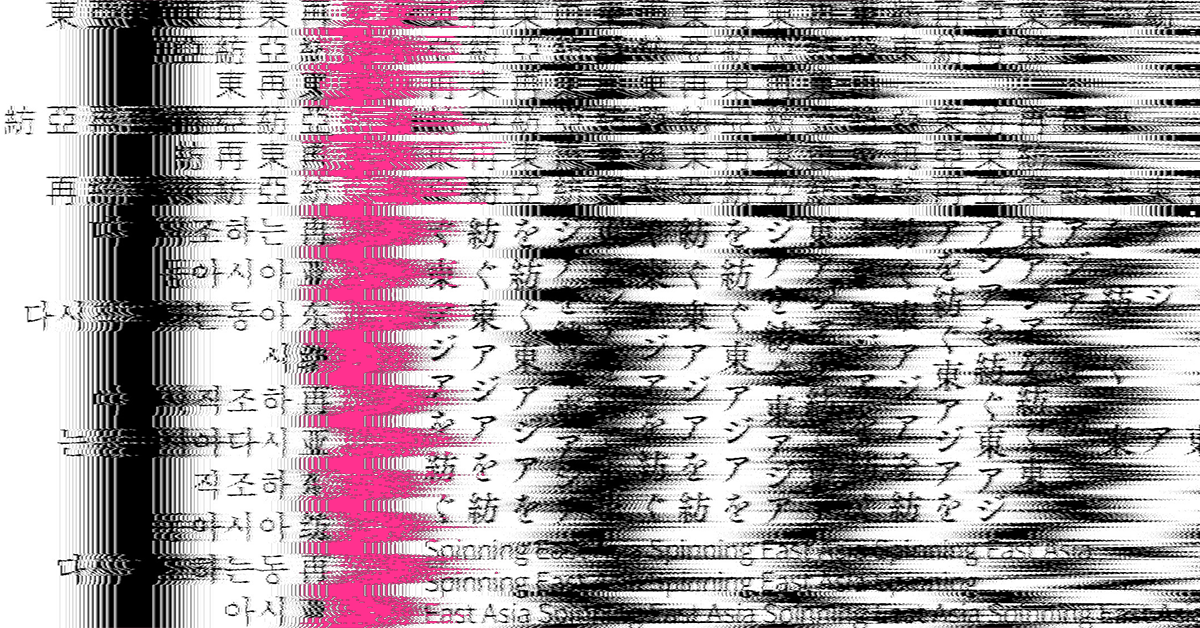 Following Traces: Spinning East Asia Creative Forum
Spanning the Winter 2021 and Spring 2022 Programmes, the Spinning East Asia series presented by CHAT explores and attempts to make sense of the socio-cultural complexity of East Asia through the multiplicity of textiles. Before the official launch of the exhibition series, a series of online sharing entitled Following Traces will invite a few participating artists from the exhibition, as well as researchers and fellow speakers to share their thoughts, investigations and creative processes as they worked on these new projects. The speakers will trace the source of their ideas, their moments of inspiration and challenges they have encountered in a colloquy that will give rise to further discussion and creation, and open up the floor to invite audience members to pose questions and responses.
The exhibition will be presented in two parts, featuring more than 40 artists, designers and researchers. The first chapter, opening in Winter 2021, sets out to survey the impact and potentials of 'design' in East Asia informed by social structures, recorded histories, science and technology, family values and more, explored through more than a dozen creative works.
The second chapter, to be launched in Spring 2022, invites contemporary artists and designers who are either active in East Asia, or their research and creative work focuses on the region and its culture. The exhibition tasks them with conducting various forms of collaborative research, surveys and creation. This gives rise to multiple modes of understanding East Asia through exchanges and interactions.  
Tuesday, 5 October 2021
Home Textiles and Social Order, 'Textile-Texture' in Urban and Architectural Surfaces, Everyday Social and Work Spaces in North Korea

The speakers will explore the close relationship between textiles and human living space from distinct perspectives. These range from the historical development and anthropological contexts of textile use in private spaces, to the materiality and conceptual effects of textiles and fabrics in the construction of architectural surfaces. The talk will be followed by an investigation of cotton-spinning production spaces to cast light on the lives of ordinary people under divergent ideologies and political-economic structures.
Session 1:
5:30-7:00pm (Hong Kong, UTC+8)
Speakers: Ren Jie, Charles Lai

Bilingual subtitles of Session 1 video
Presentation by Ren Jie
As the most personal of fabrics next to clothing, how do domestic textiles relate to social order? How is their development intertwined with political and cultural changes? Ren's research will focus on domestic textiles throughout Chinese history and in contemporary life. Starting from the most everyday fabrics, Ren Jie will explore, investigate and re-examine their significance and value.
Presentation by Charles Lai
Through analysing the cultures, material histories, properties and the anatomy of respective construction systems, Lai's research project aims to reveal the conceptual and physical roles of textiles and fabrics in the construction of architectural surfaces. His project is particularly interested in how different materials negotiate with forms, especially in less-noticed details, moments and corners where anonymous contractors and craftsmen might have improvised of their own volition, thus reflecting more truthfully the 'natural' behaviour of the architectural materials. It will also take into account the aging, modifications and repairs to the material as these processes reflect the materiality and critical reception of the architectural surfaces, and how these materials have been imagined as 'dressing' for buildings.
Session 2:
7:30-9:00pm (Hong Kong, UTC+8)
Speakers: Calvin Chua, Yim Dongwoo
Presentation by Calvin Chua
면방/Myeon-bang/Cotton Room/棉紡, a commissioned work in CHAT's Winter Programme 2021, is a dramaturgical reproduction of a North Korean textile factory floor. Carefully reproducing factory setting, architectural features and propaganda artefacts, the installation reveals the contribution of the textile industry to economic development, cultural production, the empowerment of women and urbanisation. Calvin Chua's presentation will focus on the development process of the installation, which is based on research in the field and engagement with workers and business owners in North Korea.
Presentation by Yim Dongwoo
Yim Dongwoo will provide another perspective of examining North Korea through its 'microdistricts'. Microdistricts are socialist residential developments that provide housing, along with daycare, kindergartens, schools and shops, on the principle of people's basic needs being met within walking distance. Many of the microdistricts also include small work-units within the compound. In North Korea, daily necessities are produced in these small work-units and are sold in shops in the microdistricts. Yim will focus on how these microdistricts were built over time and where they stand today.
Wednesday, 6 October 2021
"Artist as Designer" in South Korea, Revisiting the Land of the Abandoned Japanese, The Making of a Revolutionary Character by Spinning and Weaving
How do artists and designers work? Under what circumstances do their creative and everyday lives converge? Artists, scholars and curators in these two sessions will look at these intersecting trajectories at the respective latitudes of historical research and creative practice.
Session 3:
5:30-7:00pm (Hong Kong, UTC+8)
Speakers: Hyun Seewon, Helen Jungyeon Ku

Hyun Seewon' sharing notes (Original text in Korean, English version by Google Translate)
Presentation by Hyun Seewon
Since 2010, there have been regular collaboration between artists and designers in South Korea across different mediums, such as exhibitions, publications and products, and the establishment of creative groups and collectives. Through the study of the creative practice of several designers and artists, Hyun Seewon's research will explore the institutional forces driving this phenomenon, the evolution of the thinking underpinning it and its possible future development.
Session 4:
7:30-9:00pm (Hong Kong, UTC+8)
Speakers: Lee Kai Chung, Isaji Yugo, Kong Yuye

Presentation by Lee Kai Chung and Isaji Yugo
The collaboration between Lee Kai Chung and Isaji Yugo started in early 2020 with a dialogue about Manchuria. Lee began his research on the Greater East Asia Railroad Project, and Isaji recalled his late relative Katsuki Murai's experience in Japan's agricultural emigration project in Manchuria from the 1930s until the end of the Second World War. Lee and Isaji, who come from different cultural backgrounds, have overcome travel restrictions during the pandemic and developed a methodology that examines the entanglement in this history of displacement, exploring the ambiguity and complexity inherent in the true nature of Manchuria.
In this session, the two artists take on reverse storytelling—participants will follow Lee's virtual tour of Gongzhuling, a town south of the then Manchurian capital where the agrarian migrants lived and tilled virgin soil. The artists will retrace their field research itinerary, which re-enacts the migrants' flight when the Red Army took the territory in 1945. Isaji reads from Murai's memoir Adversity, the narration resonating with the landscape images of the one-time utopian settlement and the desolate northeast China of the present.
The artworks collectively created by Lee Kai Chung and Isaji Yugo will be presented at CHAT's Spring Programme 2022.
Presentation by Kong Yuye
In the 1940s in a small village in Shanxi, China, three women—a local peasant, a woodcarver from Beiping, and a writer from Shanghai—were brought together by weaving. Each was transformed by this old rudimentary technology. Through the three women's stories, Kong Yuye explore technical politics, China's women's liberation movement, revolution in an organic form and an alternative history of labour behind the radical social transformation in China.  
Tuesday, 19 October 2021
Shezi Island, Drifting Identities, Design and Consumerism of Modern Japan
The two sessions will present radically different ways of thinking and working. The two groups of visual artists in the first session began their practices through questioning the notion of 'identity'. Starting from a state of uncertainty and led by open discussion and continued reflection, their creative processes make us wonder what will eventually be presented in the exhibition. The researchers in the second session inquire and reconsider design histories through object-led investigations and research, uncovering contexts like needles piercing through established narratives.
Session 5:
5:30-7:00pm (Hong Kong, UTC+8)
Speakers: Chu Chun-Teng, Yamauchi Terue and Jeon Gisun/Matsuda Motoyoshi

Presentation by Chu Chun-Teng
Chu Chun-Teng is in the process of developing a new video work about Shezi Island in Taipei, a remote island removed from modernity and situated on a sandbar formed by the confluence of two rivers. This place of inconstancy and ambiguity echoes Chu's artistic practice, which explores the inexorable frustration and predicaments we experience when confronted with both survival and desire. As well as sharing his creative process and his experience living on Shezi Island, Chu also relates his experience of residencies in China and elsewhere in Asia.
Chu Chun-Teng's new work will be presented at CHAT's Spring Programme 2022.
Presentation by Yamauchi Terue and Jeon Gisun/Matsuda Motoyoshi

Yamauchi Terue and Jeon Gisun/Matsuda Motoyoshi are participating artists in CHAT's Spring Programme 2022. 
In the exhibition, the two artists attempt to reveal a panoramic perspective of the boundaries or frameworks in human mind to encourage us to critically think about what we believe as a premise or basis for living is only one factor of existence. In this on-line presentation, two artists will share their continuing dialogue and creation process.   
Session 6:
7:30-9:00pm (Hong Kong, UTC+8)
Speakers : Ian Lynam, Nomiyama Sakura

Presentation by Ian Lynam
Ian Lynam's presentation addresses the career of legendary designer Sugiura Hisui (1876-1965) and examines the relationship between business and design from an economics and cultural perspective. Through his research about Sugiura Hisui, Lynam will analyse the rise of consumerism in Japan, how kimono fabrics were marketed to the masses and the veritable interplay between Japanese and Western aesthetics. Lynam will also include previously unpublished images of some of Sugiura's projects, some of them extremely rare—all delivered in formats accessible to experts and the general public alike.
Wednesday, 13 October 2021
Flowers and Personal Experience, Textile in East Asian New Wave Cinema, Hong Kong as a Memory
An investigation into the sense of time will serve as a prompt connecting the two sessions. Silk flower craft has a long tradition across East Asia. Its artificial nature has also had various cultural-political associations in different eras; the staggered development of textile technology in various parts of East Asia has given rise to isolated pockets of time and disorienting impressions. As individuals in an urban setting, when personal rhythms clashes with the rapid shifts of globalisation, how does this affect the distinction between reality and fiction, memory and imagination?
Session 7:
5:30-7:00pm (Hong Kong, UTC+8)
Speakers: Wang Yiquan, Zian Chen
Presentation by Wang Yiquan
Wang Yiquan's research on the traditional Chinese silk flower craft led him to developing a creative practice examining flowers. At the same time, he supplements his research and practice with introspection on his own life experiences and family history in relation to flowers. Wang Yiquan's new works related to the Chinese silk flower craft will be presented at CHAT's Spring Programme 2022.  
Presentation Zian Chen
From the textile industry to East Asian New Wave films, we often interpret the zeitgeist in East Asia through cultural and industrial development. Zian Chen's project examines the iteration of different textile technologies and the sense of time it refers to. The project proposes a series of schemas, collects specific visual materials and reflects on the relationship between industry and time. Between the similarities and time differences in various regions, we can find a perspective approximating Sadie Plant's The Future Looms, which can reposition the 21st century notion of 'no future'.
Session 8:
7:30-9:00pm (Hong Kong, UTC+8)
Speakers: Lau Chi Chung, Lau Ching Ping

Presentation by Lau Chi Chung
In this sharing session, Lau Chi Chung will share the bizarre and intertwining stories of the creative process of his upcoming large-scale spatial installation. Consisting of photography, moving images and text, the installation will be unveiled in CHAT's Winter Programme 2021. Eager to tell the story of Hong Kong through the legendary history of calligrapher Au Yeung Cheong and his own experience and memories, Lau will bring audiences on a imaginative journey through time to the State Theatre building.
Founding Donor
Main Donor
Partner
Supported by