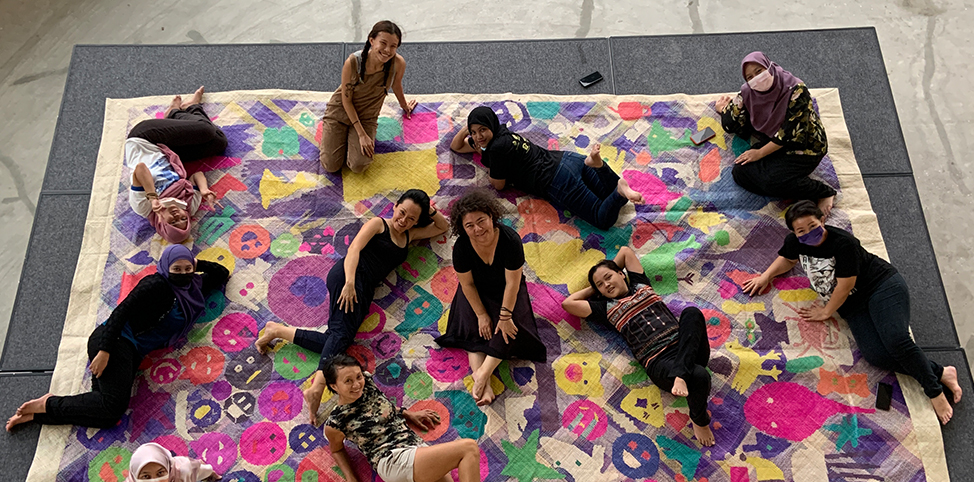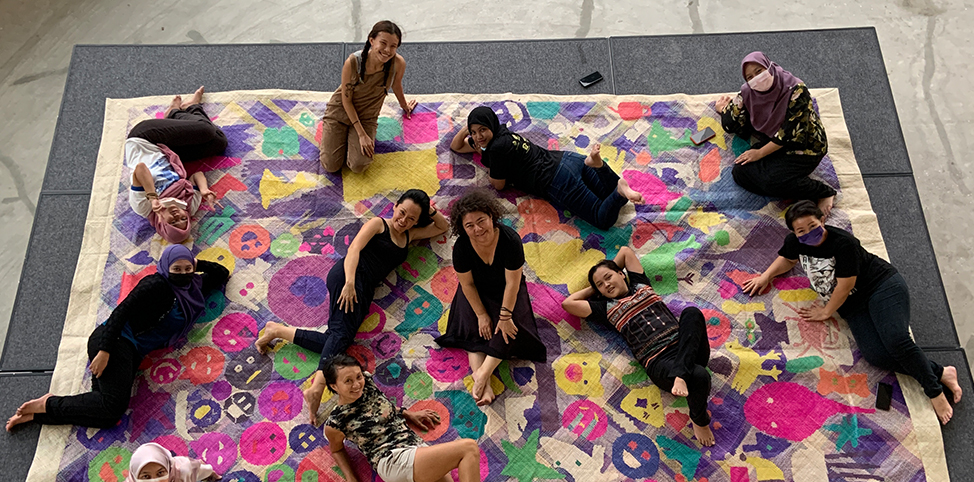 Come Closer Open Stage @ Tikar Emoji
In conjunction with the exhibition Yee I-Lann: Until We Hug Again  at CHAT, a large handwoven tikar  (mat) will be installed at The Hall of The Mills this summer as an open stage.
Titled Tikar Emoji , the colourful handwoven artwork was realised in collaboration with Yee, the Dusun/Murut land people and the Bajau Laut/Sama Dilaut sea people of Sabah. On the tikar , traditional patterns and smiling emojis are meticulously overlaid. Tikar  creates an active space for people to gather and spend time with family, friends and their communities.
Weaving creative experiences for all on tikar , CHAT will transform Tikar Emoji  into an open stage for public activities, which includes storytelling and creative events. These programmes aim to channel positive energies through the power of art from Sabah to Hong Kong, from individuals to communities.
Opening Showcase: Hong Kong Fisherfolk Ballads
04.09.2021 (Saturday), 3:00pm
Tikar Emoji  is a collaboration between the artist and weavers from indigenous land-based and sea-based communities in Sabah. When we talk about indigenous culture, among Hong Kong's rich intangible cultural heritage are fisherfolk laments, which are traditional ballads sung by fishers in the past.
On the Saturday of the opening weekend, CHAT collaborates with Lai Tai Kam and South China Research Center of the Hong Kong University of Science and Technology for an opening showcase, during which Ms Lai and her students will present audience with a musical experience of fisherfolk ballads. During the showcase, Ms Lai will debut a new song centred around the lives of former textile factory workers. Audience members will also have the opportunity to join in and learn to sing local laments.
The Hidden Fabric of Refugees
19.09.2021 (Sunday), 3:00pm
The dire situations faced by refugees may seem rather distant for many in the city of Hong Kong. But is that really the case?
Two million refugees fled from mainland China to Hong Kong between the 1940-60s as a result of the Civil War and the Cultural Revolution. Yet over time, this chapter of our contemporary history seems to have faded from collective memory. The refugee crisis is now re-entering public discussion as many difficult challenges from modernisation, political turmoil to the ongoing COVID-19 pandemic hit the city.
In this show-and-tell presented by Justice Centre Hong Kong, learn about the stories of resilience from asylum seekers and refugees through the clothes and textile items they fled home with. Their tales of courage and strength may shine a new light on our existing beliefs and values.
Soul Rhythm: Poetry and Music, Spoken from the Heart
19.09.2021 (Sunday), 4:30pm
To compliment the vibrant demonstration of African drumming by Cameroon musician Afritude Kaze, refugees and asylum seekers from Grassroot Future's World Poetry Day Poetry Competition will recite their award-winning poems along with poetic responses collected from local communities. Interweaving musical and poetic elements, this experience aims to inspire cross-cultural and multilingual discussions about the different communities in Hong Kong that otherwise rarely cross paths.
Performances Selected Through Open Call: Day 1
26.09.2021 (Sunday), 3:00-5:00pm
Happiness knows no boundaries! We celebrate solidarity and optimism through a series of musical performances by independent singer-songwriters and performers with diverse and marginalised backgrounds.
Flash Ensemble Music Performance
26.09.2021 (Sunday), 3:00pm
Flash Ensemble is a small orchestra of music enthusiasts. Visitors will enjoy a relaxing afternoon with some timeless classical favourites.
H.U.G. Ukulele Performance
26.09.2021 (Sunday), 3:25pm
Audience will be treated to a musical performance of ukuleles, cajon and singing. Songs will revolve around the experience of and companionship between rehabilitees and their mentors.
Penelope Tang
26.09.2021 (Sunday), 3:50pm
Penelope Tang will be performing original scores composed during the pandemic. Inspired by American singer-songwriter Erykah Badu, Penelope initiated the project 'Experimental Songwriting Series under Quarantine Period', inviting friends to join her in 30-minute conversations which became the inspiration for her original music.
The Harmonics Choir Hong Kong
26.09.2021 (Sunday), 4:40pm
The Harmonics Choir Hong Kong, the biggest LGBTQIA+ and Allies choir in Hong Kong, will perform 5 songs in English and Cantonese. Bring an uplifting and hopeful energy to the audience, The Harmonics Choir delivers the message that no matter our differences and the difficulties of the times, we are here to show our support and care for one another.
Written Warp
03.10.2021 (Sunday), 3:00pm; 4:00pm
Backstrap weaving is an ancient weaving practice where one end of the loom (the warp) is attached to the weaver and the other end to a stationary object, such as a tree or a pillar.
In this performative work, this ancient tradition will be reinvented with new perspectives as weavers are stationed at both ends of each loom. Through collaborative weaving, audience will observe the nonverbal communication between the weavers in the push and pull of the warp and weft, and through extension, tension, distance and connection with oneself and the others. Led by youngsters from diverse backgrounds, this performative event calls for solidarity despite our differences and highlights the intertwining connections in our community.
Performances Selected Through Open Call: Day 2
10.10.2021 (Sunday), 3:00-5:00pm
Creativity has no limit! Enjoy a heart-warming and delightful afternoon while performers from all ethnic background and abilities are respected and lovingly celebrated.
Lion Dance of the Five Directions
10.10.2021 (Sunday), 3:00pm
Lion Dance of the Five Directions was once called the Taiping Dance, representing peace. The dance involved five lions of different colours signifying different directions and move towards to centre. Combining the dance with martial art elements, students from Po Leung Kuk Anita L. L. Chan (Centenary) will bring lion dance to life with striking audio and visual elements.
Dance Ability Wheelchair Dance
10.10.2021 (Sunday), 3:45pm
A celebration of music and dance presented by a group of enthusiastic wheelchair dancers.
Maggie and Sasha Handpan Duo
10.10.2021 (Sunday), 4:30pm
Sasha and Maggie will perform songs with handpans and djembes with spoken word.
Cross-Cultural Music Fiesta at Dusk
16.10.2021 (Saturday), 5:30pm
Join us at Come Closer Open Stage @ Tikar Emoji on the last Saturday of this special programme and immerse in the delightful fusion of Southeast Asian cultures with contemporary elements.
Malaysia-born singer-songwriter Lester Lam will collaborate with multi-instrumentalist and singer-songwriter Daniel Toh for a groovy start of the evening. Later, indie band Shumking Mansion will bring to the audience the perfect combination of upbeat dance rock and synth pop, fuelled by audience's imagination!
Founding Donor
Main Donor
Partner