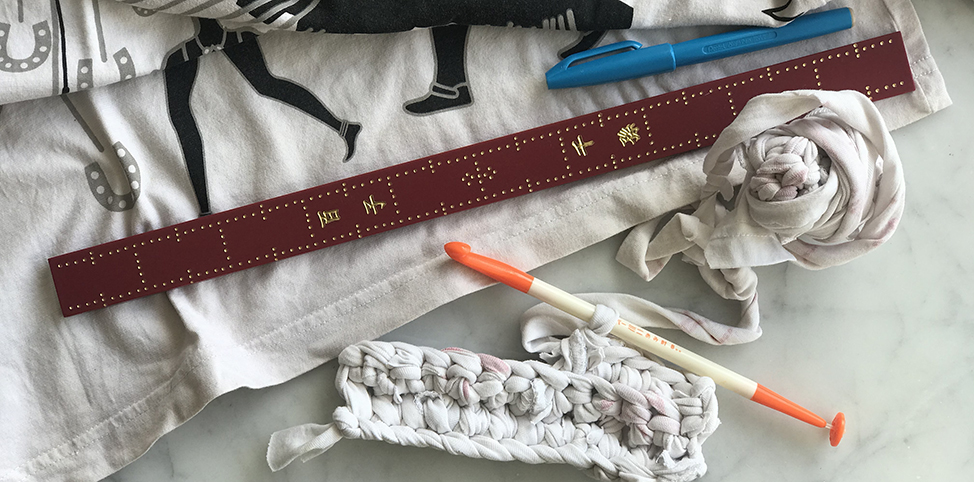 Old Tee But Good Tee: Online Crocheting Workshop
Join us to discover how to give your old T-shirts a new life!
CHAT's Summer Programme 2020 Sight Unseen – Forking Paths in the CHAT Collection features the work Fabric of CHAT by Movana Chen, whose artistic practice involves using thin paper strips sourced from books and documents and knitting them into paper fabric.
Inspired by her practice, this workshop invites participants to upcycle a T-shirt by stripping it into yarn and crocheting it into a beautiful home or fashion accessory.
Materials: Participants will receive a DIY material pack which includes a crochet needle and a small sample of t-shirt yarn 2-3 days before the workshop. Nevertheless, Participants are required to prepare a pair of sharp scissors, pencils, a ruler and one old T-shirt. Solid colours and lightweight materials are preferred for better effect and ease of cutting.
Experience Level: Suitable for participants aged 8 or above. Participants aged 8 to 12 must be accompanied by an adult. No previous experience necessary.
Zoom meeting ID will be shared with registered participants via a reminder email. Kindly download the Zoom app on your device prior to the start of the session.
Founding Donor
Main Donor
Supported by
Technical Partner