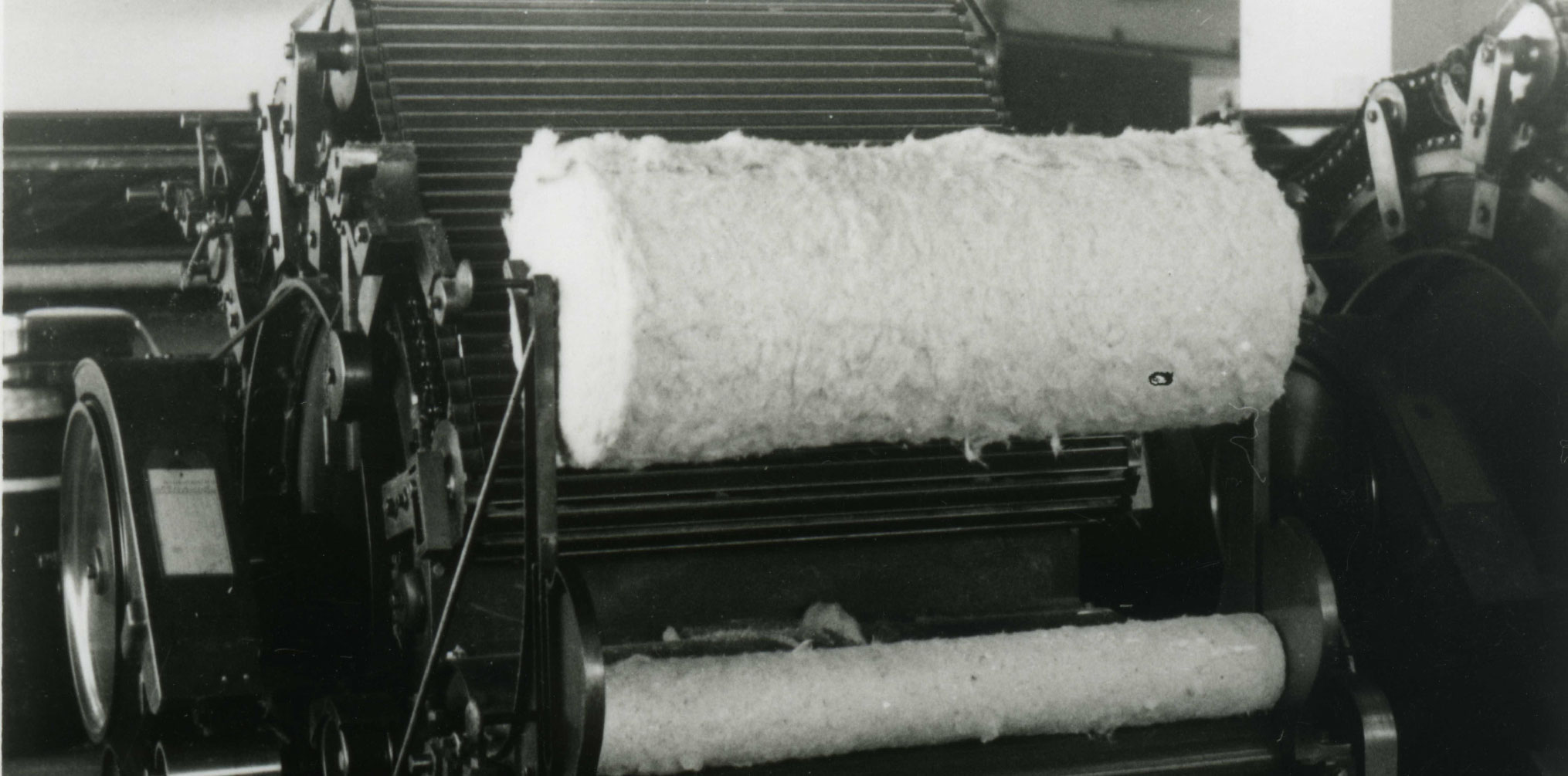 The Personal Cultivation of a Cotton Buyer (Part 1)
30.09.2021
CHAT tells the story of textile through voices spanning generations, industries and disciplines. Here at CHAT, we invite different stakeholders to respond to and activate the stories from the CHAT Memory Bank based on interviews with these former factory workers. In this article, CHAT's 2021 intern Grace Tsang brings to life the story of Alan Chan, a former cotton buyer.
The textile industry was once a thriving business in Hong Kong. When we speak of it, many of us immediately think of female factory workers working diligently in their units or technicians repairing large machines.
But Mr Alan Chan – a cotton buyer by profession – had a different role to play. Having worked in Nan Fung Textiles for decades, he reminisces about the lesser-known stories of a cotton buyer.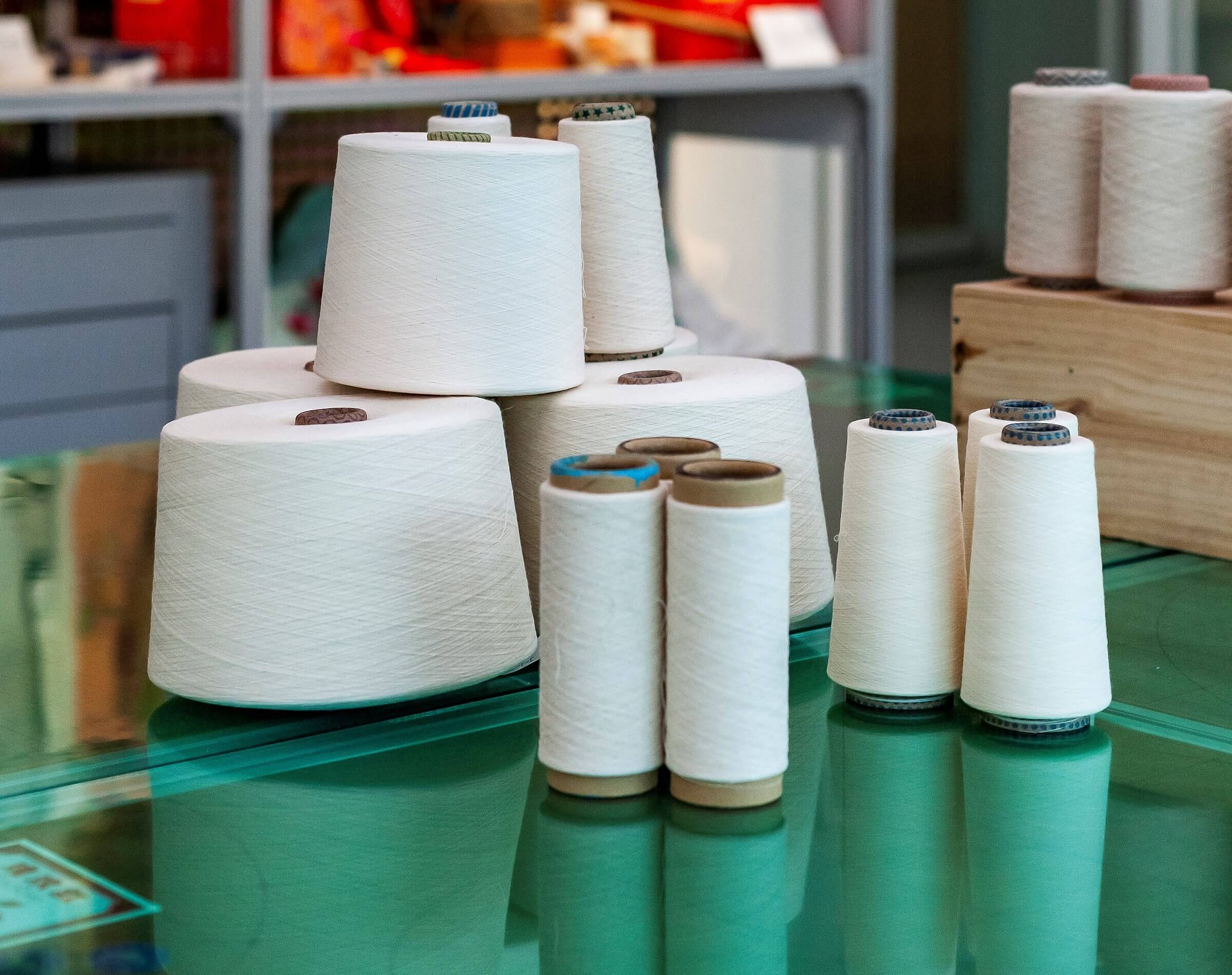 Yarn cones at Welcome to the Spinning Factory! exhibition
Nan Fung and Cotton
With no local production in Hong Kong, cotton must be imported from other countries. Back in the day, imported cotton accounted for 60% of the cost of a spinning factory. Nan Fung Textiles' main products were cotton yarn and knitted fabric, materials used in making mid- to low- grade denim. Cotton yarn buyers were mostly local factories like textile and knitting factories scattered in Tsuen Wan, Kwun Tong, San Po Kong, Yau Tong and To Kwa Kwan, while just a small portion of the cotton yarn was exported to places like New Zealand.
Boasting a high production volume and quality products, Nan Fung Textiles had established a stable customer base which facilitated their production planning for yarn types in the coming 1-3 years. 'Running a factory would hardly be considered a money-losing business back then,' says Alan. Land prices, electricity bills and labour wages were relatively low, such that the cost of cotton determined how much profit they could make. In 1990, as numerous mills sprung up in mainland China, any wrong decisions in cotton procurement could result in a net loss for the company.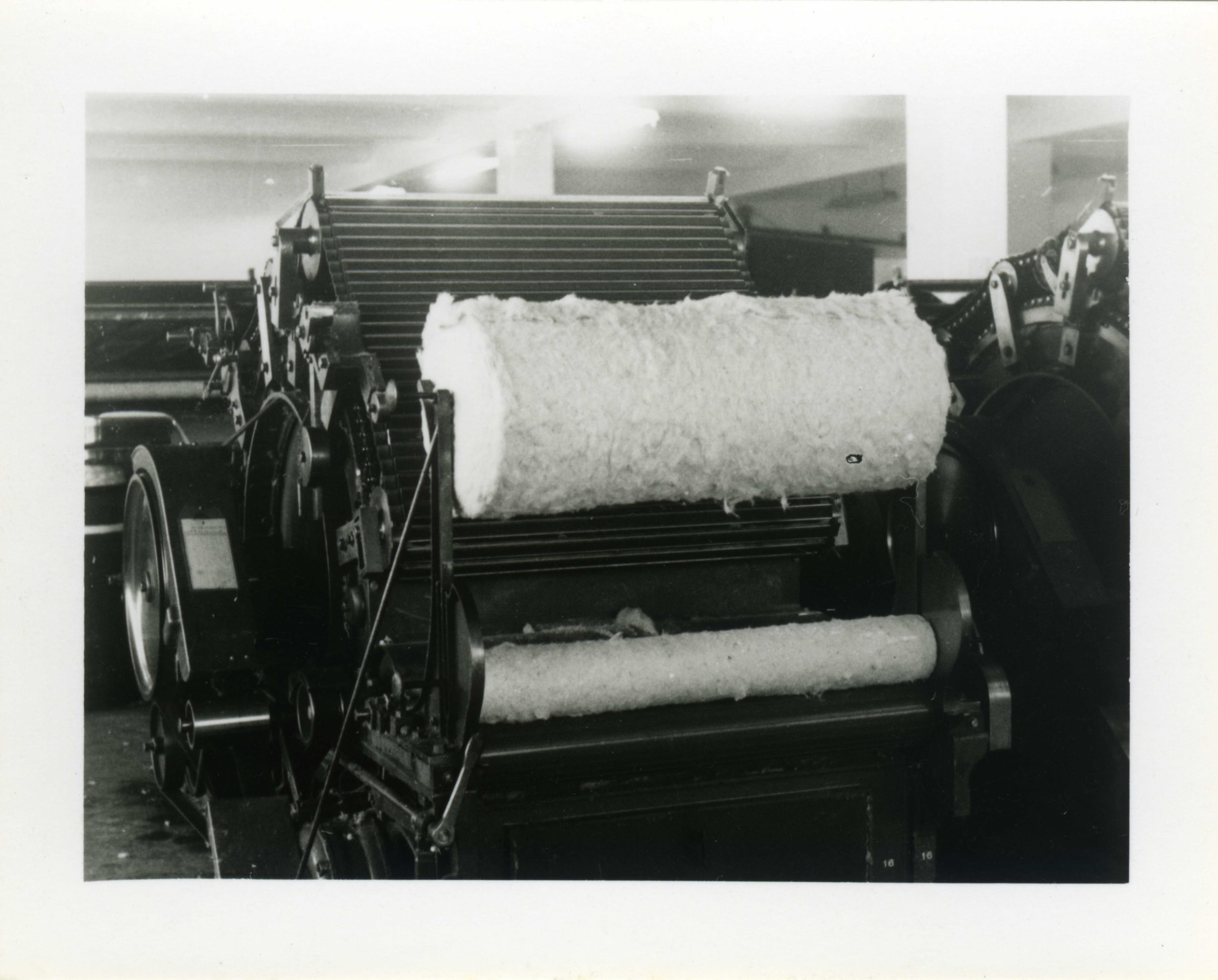 Carding process at Mill 1
Cotton and its Producing Countries
As the name suggests, a cotton buyer is someone who purchases cotton, and travels around the world to source suitable cotton for further processing or resale. At that time, cotton purchase for the spinning factory at Nan Fung Textiles was mainly handled by manager Ho Sui Ting, who was responsible for quality inspection and price setting, whereas Alan oversaw the execution and price setting. He would on occasion also need to travel overseas for business meetings with agents and cotton producers. Members from other departments also flew to India or China to learn more about the production in the cotton fields there.
To ensure a stable supply, cotton buyers need to travel around the world for diverse cotton sources instead of buying from a single country, even if it is the cheapest option. Cotton producing countries are located in as far away as Central America, South America and Africa, or as close as the former Soviet Union (mainly in Uzbekistan) and mainland China. In general, taking contingencies into account to ensure timely delivery, buyers usually procure a certain quantity of US cotton for stocking as it is known for its stable supply and consistent quality. Otherwise, compensation needs to be made for failing to output agreed deliverables. Whenever there is a sudden drop in price in particular cotton producing countries (due to reasons like a bumper harvest), buyers will purchase in bulk.
The duration of cotton transportation varies case by case. Historically, cotton from the US was grouped and shipped in cargo ships. In China, cotton was shipped in separate batches in smaller vessels back then. In Xinjiang, cotton was transported to Hung Hom by train, whereas shipments from Shandong and Henan arrived in Hong Kong within a few days after departing from their own ports. The transit from other countries such as Argentina, Brazil and the Soviet Union usually took around 30 to 40 days. Shipping from the US generally took 14 days (compared to 20 days now). Shipments from India and Pakistan transferred in Singapore, which also took 14 days.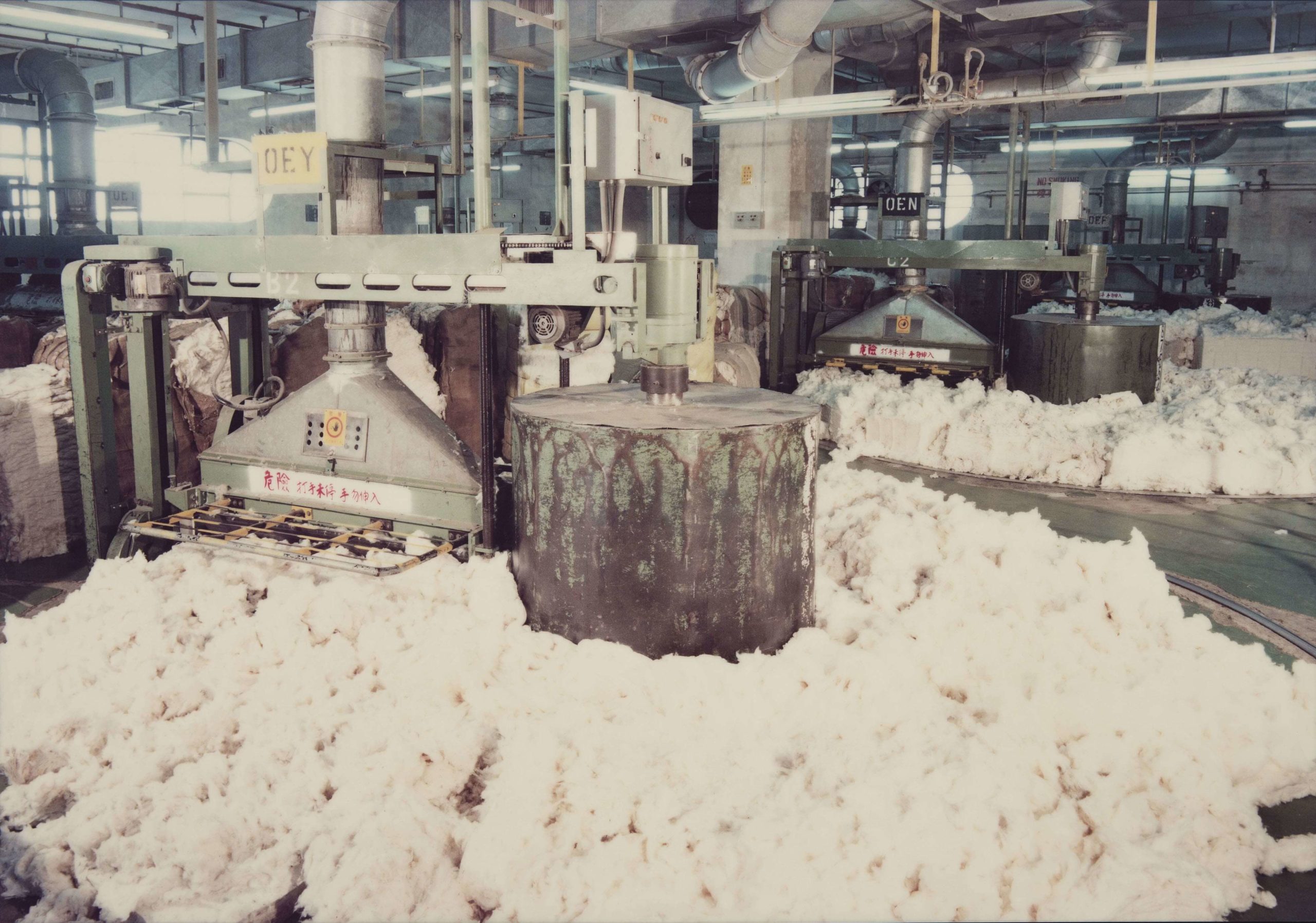 Blowing process with circular hopper feeder at Mill 5
Becoming a Master of Quality Inspection
The key to determining cotton quality lies in its tensile strength. Alan and other buyers would go to the cotton fields for a preliminary inspection on the cotton to check its tensile strength and fibre length. For him, being a cotton buyer is all about experience. In face of unexpected circumstances or unreasonable demands, one must adapt to different situations without expecting other countries to make all the accommodations. For the next step, they would receive cotton samples from the producing countries. Professional experts would then conduct the quality inspection, such as stretching cotton against black flannel to check the length and colour, before deciding on the quantity and price for the order. Aside from discerning by sight, inspections are also done by tools and machines, which also involve stretching the cotton to measure its strength.
There was no unified cotton quality standard and classification among various cotton producing countries, so buyers had to rely on their own judgment and discerning eyes. Agricultural products from the US were generally up to standard. Many professionals there were university graduates or above, and the US even established the 'Green Cards' system* for cotton classification. Cotton with fibre micronaire readings (an indicator of fibre maturity) between 3.5 and 4.9 is considered acceptable. But this measurement is only applicable in the US and not in other countries, which have their own standards of cotton quality. For example, cotton in Tanzania was categorised into 4 grades, depending on the samples received. In the Soviet Union, they had a special set of terms defining various levels, instead of delineating with numbers from 1 to 6, for example. Cotton packaging also varies depending on the producing country. For instance, Indian cotton is relatively light.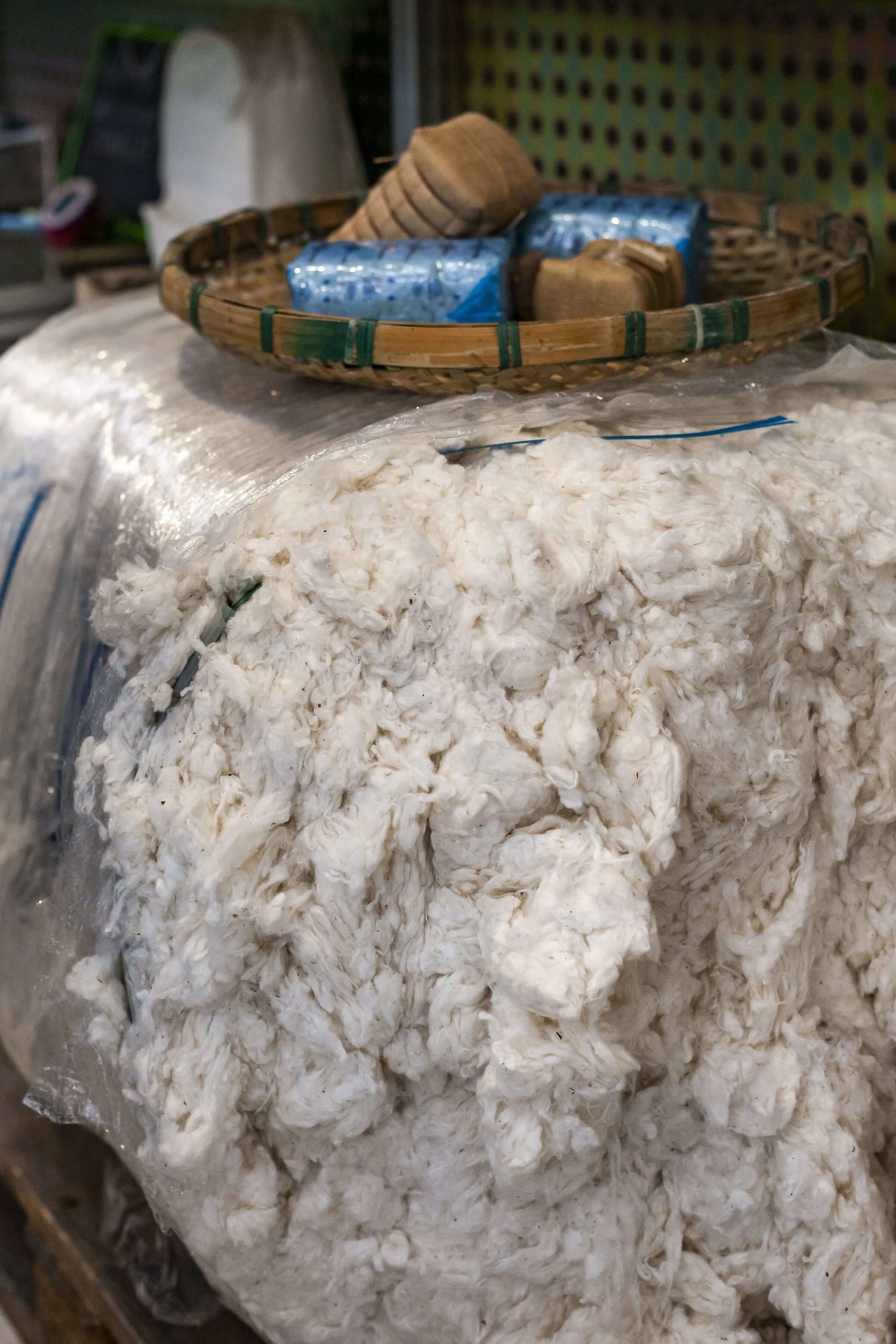 Cotton bales at Welcome to the Spinning Factory! exhibition
How does one become a master inspector of cotton quality? Back in the 1930s in China, schools, and later, even a textile university, in Shanghai provided professional knowledge about spinning, weaving and more. Eventually, even The Government Trade School (the predecessor to The Hong Kong Polytechnic University) in Hong Kong started to include similar subjects in its school curriculum. Studying abroad in countries like Japan was also another option. Nan Fung Textiles once sent their management leaders to the US for specialised training.
Read Part 2 here.
If you or anyone you know has worked in the textile industry and would be willing to share your stories, we would love to hear from you. Please get in touch by emailing enquiry@mill6chat.org with the subject line 'CHAT Memory Bank' or call +852 3108 2399.
————————————
*The Green Card system: The classification given by the USDA (U.S. Department of Agriculture) Classing Board. Shippers or sellers are required to provide proof of certification to buyers.
Cotton Council International (CCI) and the National Cotton Council of America (NCC), Cotton USA: The Guide to Buying Cotton, 2020. Available from https://cottonusa.org/buyers-guide. [29 September 2021]
---