N S Harsha
Born in 1969, N S Harsha lives and works in Mysuru, India. Drawing from diverse visual languages including Indian painting, Western modern painting, graphic novels and Japanese manga, his multifaceted artistic practice ranges from painting, sculpture, installation to workshop.
His works have been presented in numerous group shows organised by prominent international institutions, biennales and triennales such as Indian Highway (Serpentine Galleries, London and other cities in Europe, 2008), 21st Biennale of Sydney, Australia (2018), Kochi-Muziris Biennale, India (2014), Moscow Biennale of Contemporary Art (2013), Adelaide International, Australia (2012) and Asia Pacific Triennial (APT), Australia (1999).
His recent solo exhibitions took place at Glynn Vivian Art Gallery, Swansea, UK (2018), Mori Art Museum, Tokyo, Japan (2017) and the Dallas Museum of Art, USA (2015-2016). In 2008, Harsha was awarded the Artes Mundi Prize and received the DAAD scholarship in 2012.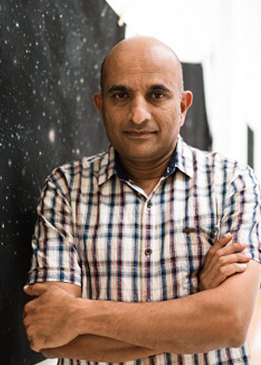 Krac-A-Dawna Organic Farm
Juli and Vivek Cariappa are the co-creators of Krac-A-Dawna Organic Farm in the Nugu River Valley situated in southern interior Karnataka, India. Since 1986, they have sustainably stewarded their land and created a biodynamic and organic livelihood and community of children, animals, plants, trees and the wilderness.
Through their endeavours, Juli and Vivek have explored and utilised the various textures of the natural landscape and have produced quality foods, organic cotton, textiles and dyes with a focus on indigo. Organic farming is a continuous process where the interdependent systems of air, water, soil and sentient beings are allowed and encouraged to flourish, a process which inspires them to continue on this journey.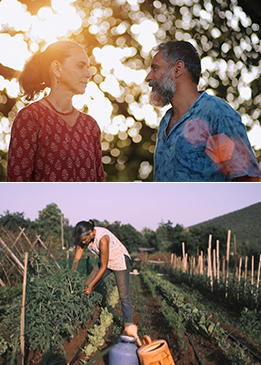 Breakthrough Art Studio
In the era of mass production and fast fashion, Breakthrough Art Studio particularly cherishes the warmth and uniqueness of weaving art. Although the ancient tradition of weaving is gradually disappearing, the legacy of its wisdom and artistry should be passed on. Incorporating modern designs, the studio is committed to promoting the continuation of traditional weaving art.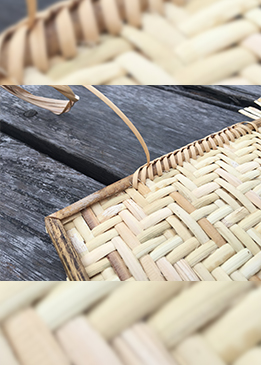 Giants Tie Dye
Giants Tie Dye was founded in 2014 by tie dye artists Siu from Hong Kong and Josh from Taiwan. Since then, they have travelled to Taiwan, Japan, Yunnan and other places to learn the art of dyeing, and are now specialised in tie dye. Their one-of-a-kind dyed fabrics, art installations and workshops have taken them to different places around the world and allowed them to present at dyeing exhibitions and collaborate with various companies and brands.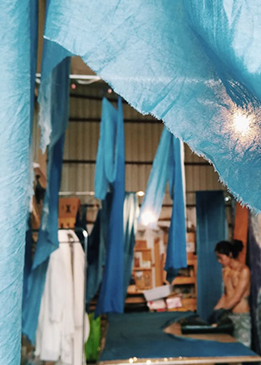 O-Veg
Founded in 2008, O-Veg is a local organic vegetarian restaurant operating only on weekends. In serving simple vegetarian dishes in a rural setting, they hope to increase the public's interest in vegetarian cuisine. By renting a farmland next to the restaurant which enables farm-to-table and human-and-nature experience, they hope to inspire reflections on food origins and the importance of local farm produce.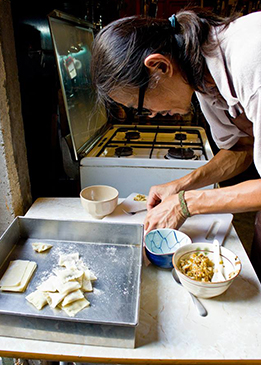 Momentous Community of Creative Compassion
Momentous Community of Creative Compassion (MCCC)believes in the peaceful coexistence of humans and land. They aim to promote permaculture farming and living through various participatory and co-learning projects, with a focus on balancing the body, mind and soul through acquiring and inheriting traditional wisdom from nature. Building a caring and sustainable community with the belief that 'land nurtures the people who treasure land', MCCC attempts to establish an all-round model for the environment and our way of life.