Aziz + Cucher
Live and work in New York. Working together since 1991, Anthony Aziz (b. 1961, Massachusetts, USA) and Sammy Cucher (b.1958, Lima, Peru) have been internationally acclaimed as pioneers of digitally manipulated photographs in a contemporary art context.
Morphing the human body, disorientating the landscape, and transposing subject matter, Aziz + Cucher create disturbing yet intriguing images which make us contemplate our past, present and future. Dragging us into their imagined world, their art poses questions about the evolution of technology in relation to our enduring humanity.
Aziz + Cucher's works have been exhibited extensively, including at venues such as the New Museum of Contemporary Art, New York (2014); Museum of Contemporary Art, Taipei (2007); Biennale de Lyon (2000); and the 46th Venice Biennale (1995). Their works are in the collections of the San Francisco Museum of Modern Art; Los Angeles County Museum of Art; Musée de l'Elysée, Lausanne, Switzerland; Museo Nacional Centro de Arte Reina Sofia, Madrid, Spain and among others.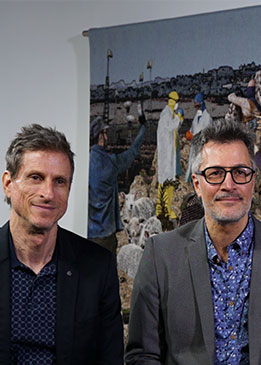 Yin-Ju Chen
Born in 1977, lives and works in Taipei. Yin-Ju Chen engages herself in the odyssey of the universe, beyond the galaxy. Evolving from her video practice, Chen's current works include photos, drawings and installations, embodying her interest in the functions of power, nationalism, racism, totalitarianism, collective thinking and the collective (un)conscious.
The multiple layers of interpretation in Chen's works combine ancient beliefs and modern history. She researches and investigates the hypotheses in both science and pseudoscience, uncovering the unforeseen circumstances beyond our usual cognition.
Chen has participated in many important international exhibitions and film festivals, such as the Liverpool Biennial (2016), 'Forum Expanded' at the 66th Berlin Film Festival (2016), the 20th Bienniale of Sydney (2016), 'Action at a Distance – Yin-Ju Chen Solo Exhibition' in Taiwan (2015), and the Shanghai Bienniale (2014).
Morgan Wong
Born in 1984, lives and works in Hong Kong
Time has always been a central subject in Morgan Wong's work. Beyond individual experiences and social connotations, his subtle actions and gestures reveal the formal aesthetics of temporality – inevitable, relentless and yet exquisite.
Morgan Wong works with a broad range of media, and focuses on performance, sculpture and video. His perceptions of time are mediated through objects as vehicles, luring us into his predicament regarding the irrepressibility of time as well as the pursuit of timelessness.
Recent solo shows include 'Mean Time', Centre A, Vancouver (2016), 'The Dashes; The Laughter; The Reservoirs', Asia Art Center, Taipei (2016), 'Filing Down a Steel Bar Until a Needle is Made', Tintype Gallery, London (2013). Also exhibited in 'Seoul Babel', Seoul Museum of Art, Seoul (2016), '8th Shenzhen Sculpture Biennale', OCT Contemporary Art Terminal, Shenzhen (2014), '18th Videobrasil', SESC Pompeia, Sao Paulo (2013), 'No Soul for Sale', Tate Modern, London (2010), among others.