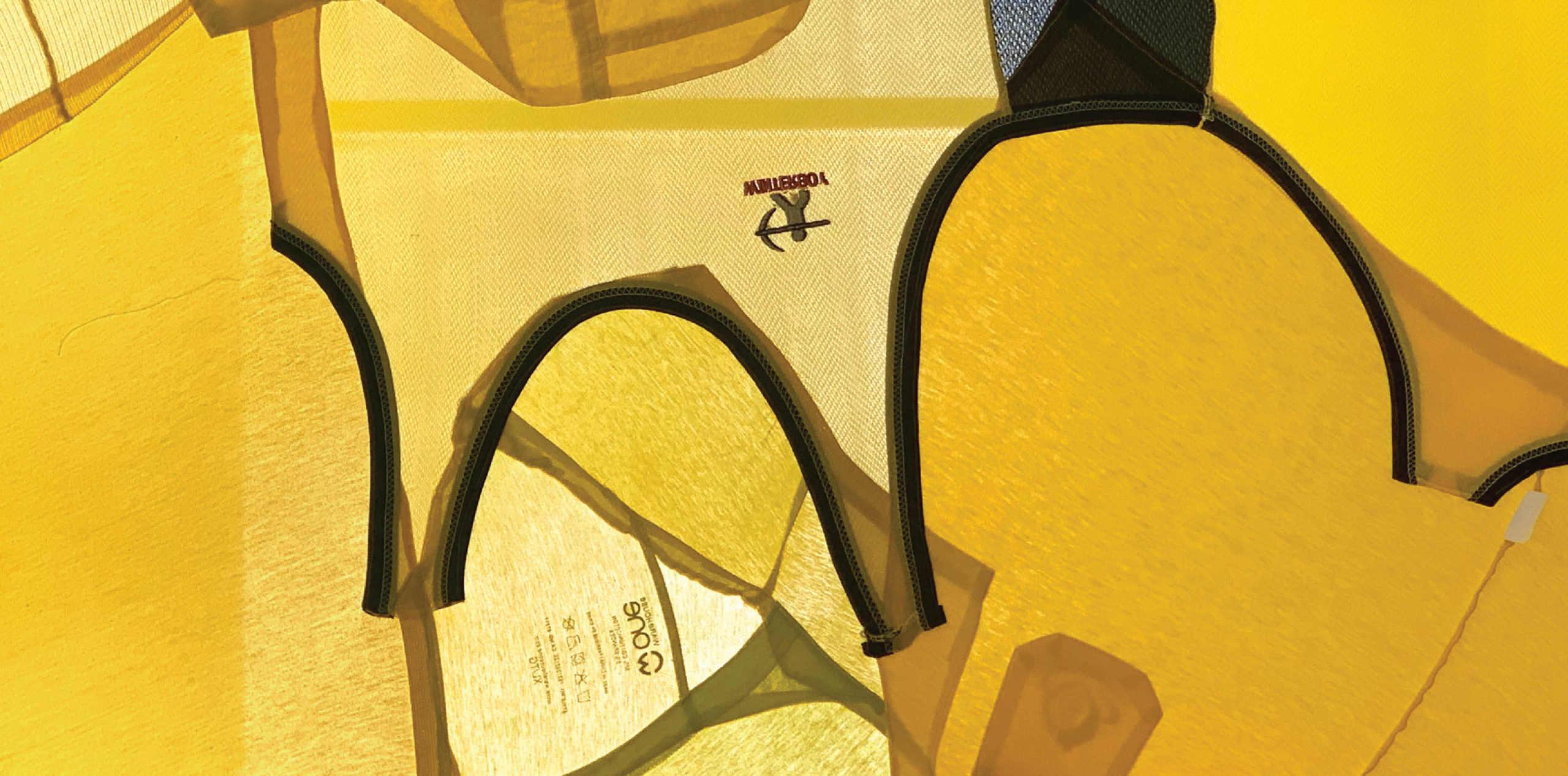 CHAT at The Mills
Special Display by Yin Xiuzhen: Sky Patch・In Transit
In this solo exhibition hosted by CHAT (Centre for Heritage, Arts and Textile), the Chinese artist Yin Xiuzhen has created a spatial installation titled Sky Patch ·In Transit specifically for The Hall of The Mills. 20 suitcase-shaped artworks hanging in the air as well as several installations on the ground is going to recreate the ambience of the atrium of The Mills. These 20 hanging works constitute a patch of 'sky' stitched out of fabric, and on the ground beneath them are various installations reminiscent of airport facilities, creating a space similar to that of an airport terminal. Majority of the works are made by sewing together a large number of second-hand clothes, a material Yin frequently works with.
6 of the 20 suitcase-shaped works came from the installation Sky Puzzle, made by the artist during the United Nations Climate Change Conference Paris 2015 (COP21). The materials for the 6 pieces of work were provided by various embassies based in Paris, who collected pieces of blue clothing previously worn by their respective nationals. The materials of 5 other works were given by 5 permanent members of the United Nations. These 'suitcases' are divided into 5 colours and made from second-hand clothing from people of different nationalities and ethnic groups. Protruding from the open suitcases are miniature models of buildings sculpted from the fabric of the clothes as a symbol of national power. The remaining 9 large-scale 'suitcases' will interact closely with locals in Hong Kong. According to Yin, the number '9' carries significant meaning in traditional Chinese culture and is an allegory for 'to the greatest extent', and she dedicates the number '9' to the people as a sign of great respect for their freedom. Two of the 9 pieces will be made by Yin, whereas the remaining 7 pieces will be made by sewing together blue clothing collected from Hong Kong residents during the course of the exhibition, with the creation and assembling process taking place directly at the 'airport terminal' at The Hall.
In response to the current situation, Yin adopts a poetic, open and humorous attitude, and sends out an invitation for discussion – in the midst of a raging pandemic, against  a turbulent global political landscape, while experiencing torn social relationships, with an uncertain and unfavourable outlook on the development of the humanities and the arts looming on the horizon, how should we act and reflect?
Founding Donor
Main Donor
Supported by
Partners