CHAT Sewing Team
The CHAT sewing team is currently composed of a retired paper pattern master and a sewing worker. They are committed to the development of textile creation and co-learning, and are a key element of CHAT's community and co-learning programmes. For many years, they worked in textile factories and witnessed the rise and fall of the textile and clothing industry. The paper pattern master once expressed, 'After the decline of the textile industry, we can hardly find a place to apply our expertise. Even though we have the experience and skills, large-scale clothing stores in the market have become mainstream, so fewer and fewer people make their own clothes anymore.' In light of this, the CHAT Lab provides a co-learning platform for young designers and sewing team members to share their expertise and learn from one another. Sewing is more than just a job for these sewing workers, but a lifelong hobby which they have kept even after retirement. It is precisely because of their passion for clothes-making that they will pass on the craftsmanship through the co-learning activities.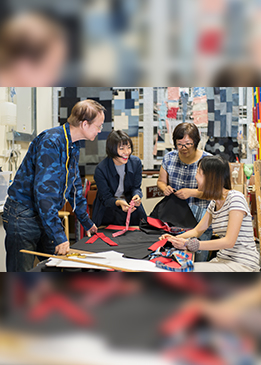 Cheung Chi Mau (Master Cheung)
Cheung Chi Mau (Master Cheung) has 47 years of experience working in a garment factory. Having been the head of the pressing department, the head of fabric cutting and a paper pattern master, he is no stranger to the operations of a garment factory. He recalled memories of when he and his fellow workers in the pressing department would compete to see who had the highest daily output, and how they would play card games together during afternoon breaks. The most memorable experience was being a paper pattern master in mainland China, working with 300 other workers at the same factory. Effective communication, even non-verbal ones, was essential between departments. The paper pattern master and sewing workers would communicate through 'notches', which are cutting points made on fabric to signal sectioning. Cheung gained much experience in management skills during that time. Later, he operated a factory of around 30 workers for small-scale production and prototyping in Shenzhen in 1997. For the following decade of operation, leather jackets remained one of the most frequent orders from their customers.
Master Cheung is a member of the CHAT Sewing Team.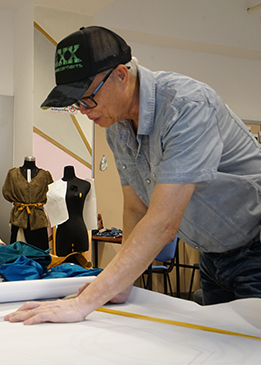 Kwok Hang Lin (Auntie Hang)
Kwok Hang Lin (Auntie Hang) worked as a sewing lady for 46 years. Her first job was working in an electronics factory when she was 11 years old. After working for a few months, her mother encouraged her to work at a garment factory instead. She excelled in using different types of sewing machines, and her years of experience enabled her to handle special designs and challenging requests with ease. She treated every production process as a learning opportunity, not only to accumulate experience, but also to refine her sewing techniques. In the 90s, when majority of the garment factories moved north to mainland China, she changed to wholesaling and provided alteration services to her customers. After retirement, she still enjoys designing and making different textile products and clothing every day. She feels incredibly grateful and finds great joy in seeing people who love and use her designs.
Auntie Hang is a member of the CHAT Sewing Team.